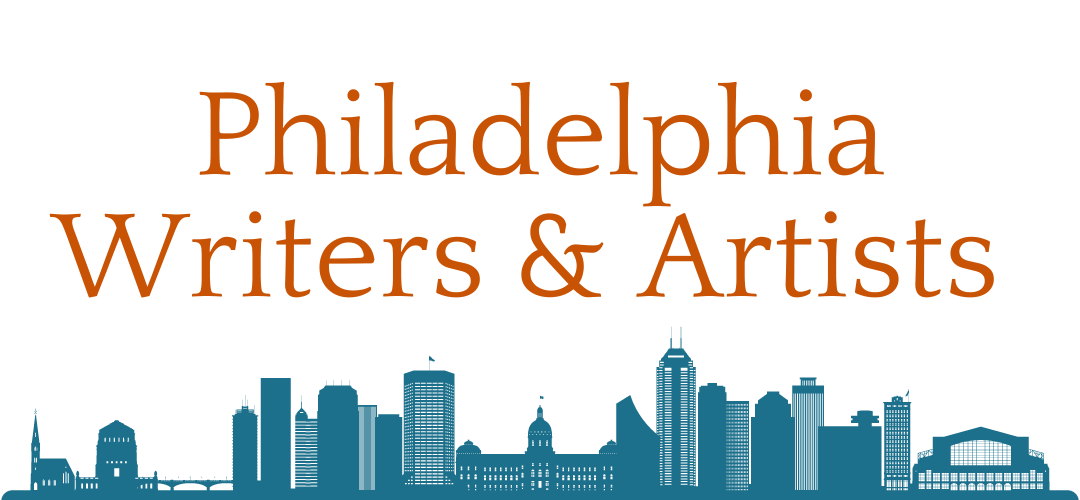 Philadelphia Writers, Artists, Partners
Philadelphia-based Cleaver Magazine showcases local literary voices among national and international literary artists. Founded in 2013, we are now celebrating more than ten years of publishing poetry, fiction, creative nonfiction, flash, profiles, interviews, craft essays, and visual narratives, many by Philadelphia-based writers and artists.
Over the past ten years, our Philadelphia partners have included Kelly Writers House at the University of Pennsylvania, which offered essential financial support during our first five years of operation; Drexel University's Entrepreneurial Game Studio, with whom we are developing site-specific Pokemon Go-style "literature games" featuring works by Philadelphia poets, flash fiction, and nonfiction writers, and funded by a grant from the William Penn Foundation, and The Painted Bride Art Center, who for ten years has supported us with their oversight as our fiscal sponsor. We are grateful to those institutions, and perhaps most of all to the City of Philadelphia and Philadelphia Cultural Fund, whose generous general operating grant goes a long way to helping us keep the lights glowing in our virtual space.
Going forward it is our intention to create more opportunities for Philadelphia-based poets and writers, as well as workshop and masterclass scholarships for Philadelphians of limited means.
For a complete list of Philadelphia-based contributors, including book reviews and craft essay authors, see this page.
---
Issue No. 42, June 2023
Leonard Kress, Colloquy of Young Mothers on Venango Street, Poetry
Emily Steinberg, Glass House, Visual Narrative
Issue No. 41, March 2023
Evan Anders, hummingbird sketches, Poetry
Issue No. 39, September 2022
Alison Lubar, Grand Slam, Poetry
Madeleine Gavaler, Zoloft Nanny, Fiction
Beth Kephart, How Are You, Creative Nonfiction
Issue No. 38, June 2022
Sadie Shorr-Parks, Winter on Earth, Modern Ledas, Poetry
Matt Thomas, Pop Song, Poetry
Emily Steinberg, War and Peace 2.0, Visual Memoir
Issue No. 36, December 2021
Bree Smith, Shelter, Creative Nonfiction
Christine Muller, Adult Swims, Creative Nonfiction
Benedicte Grima, Pushing Away the Scum, Creative Nonfiction
Grace Kennedy, Making a Cake, Flash Nonfiction
Cassie Burkhardt, Spontaneous Bungee Jump, Flash Nonfiction
Cassie Burkhardt, The Truth, Flash Nonfiction
Kelley White, I Am Losing My Hands, Poetry
Issue No. 35, September 2021
Sara Davis, Two Students Walk Into A Bar, Flash
Danny Cooper, flats, Poetry
Emily Steinberg, Men O Pause, Visual Narrative
Issue No. 34, June 2021
Lizzy Lemieux, Loaves, Fiction
Dylan Cook, Plenty of Fish, Fiction
Christine Muller, Antony and Cleopatra, Flash
Sara Davis, Ever Given, Flash Nonfiction
Emily Steinberg, The Reckoning, Visual Narrative
Issue No. 33, March 2021
Ann de Forest, Ammonites, Poetry
Valerie Loveland, I am That Group of Pictures of Spiderwebs Made by Spiders on Different Drugs, Poetry

Issue No. 32, December 2020
Louise Barry, Slow Starter, Creative Nonfiction
Dylan Cook, The Greener My Grass, Fiction
Mike Nees, Flare, Fiction
Issue No. 31, September 2020
Herman Beavers, The Esperanza Project, A Musical Collaboration
Nicole Greaves, Eidolon, Poetry
Issue No. 30, June 2020
Elaine Crauder, Undone, Short Story
Emily Steinberg, In the Woods: A Ramble in the Wissahickon with Gus, Visual Narrative
Issue No. 29, March 2020
Caroline Curran, Clean Lines, Fiction
Emily Steinberg, Ring the Bells, Visual Narrative
John Middlebrook, Autumn's Reckoning, Poetry
Issue No. 28, December 2019
Alice Hall, In Some Alien Prairie, Poetry
Issue No. 27, September 2019
Natalie Gerich Brabson, Expecting Him, Fiction
Alison Hicks, How It Is, Poetry
Debra Fox, Ricochet, Creative Nonfiction
Issue No. 26, June 2019
Cheryl Harper, PASSAGES: An Installation in Progress, Art
Lauren Jacquish, A Chameleon is a Lizard is a Constellation is an Inconstant Person, Poetry
Allison Dreier, Daisy's Boy, Flash
Emily Steinberg, Mid-Century Hipster, Visual Narrative
Issue No. 25, March 2019
Brigit Andersson, Zoë, Poetry
Rae Pagliarulo, Me and Mrs. Bee, Nonfiction
Barbara Daniels, Tall and The Week in Words, Poetry
Emily Steinberg, A National Emergency, Visual Narrative
Issue No. 24, December 2018
Heather Holmes, Terms and Conditions, Poetry
Gabriel Welsch, The Grave Your Ambition Digs for Itself, Poetry
Naomi Xu Elegant, Dinner, Fiction
Valerie Fox, Two Flash Pieces, Flash
David Marchino, Origin Story, Creative Nonfiction
Megan Lunny, A Brief Guide to Dissecting the Fingernails of a Quiet Girl, Creative Nonfiction
Blake London, Sean's Room, Creative Nonfiction
Emily Steinberg, Drawing a Blank, Visual Narrative
Issue No. 23, September 2018
Andrew Chang, Watching Po-Po Breathe, Creative Nonfiction
Jared Levy, Waiting for You in Paris, Fiction
Holly Li, The Revolution Is Not Dead: I'm Wearing It, Creative Nonfiction
Juliana Roth, This is Not a Story, Fiction
Randall Seder, Donut Shop, Creative Nonfiction
Eleanor Levine, David Bowie and the Space Motorbike, Flash
Madeline Anthes, Tell Me I'm Different, Flash
Emily Steinberg, No Collusion!, Visual Narrative
Issue No. 22, June 2018
William Hengst, Death in August, Creative Nonfiction
Gloria Yuen,From Here to There, Fiction
Matt Whelihan, The Zoo, Short Story
Emily Steinberg, Paused, Visual Narrative
Issue No. 21, March 2018
Charlotte Bausch, Driving Lessons, Creative Nonfiction
Issue No. 20, December 2017
David Satten-Lopez, Peety (Washington, D.C., 1959), Fiction
Paul Siegell, *GABRIEL*, Poetry
Angelique Stevens, The Outline of Empty Spaces, Creative Nonfiction
Rachel Nevada Wood, Pomegranate, Creative Nonfiction
Lise Funderburg's Id, Exit Strategies, Creative Nonfiction
Emily Steinberg, BERLIN STORY: Time, Memory, Place, Visual Narrative
Issue No. 18, June 2017
Sara Schuster, My Father's Hair, Creative Nonfiction
J. C. Todd, The day a little gloomy, sky, Poetry
Issue No. 16, December 2016
Kathryn Ionata, from She Walked Next Door & Her House Exploded, Poetry
John Timpane, Winter Beforelight, Poetry
Issue No. 14, June 2016
John Timpane, A Cricket in Washington Square Park, Poetry
Kea Edwards, Enchantment!, Fiction
Meg Pendoley, Birch Waters, Fiction
Issue No. 13, March 2016
Niyathi Chakrapani, Ode to the Quiet Room, Poetry
Kelly McQuain, The Empathy Machine, Part II, Visual Narrative
Issue No. 12, December 2015
Laurel Hooker, Why Draw Trees?, Art
Aimee LaBrie, The Disabled, Short Story
Lynn Levin, Pokeweed, Poetry
Eliza Callard, Shadows, Poetry
Lena Popkin, Pinto los Flores Para Que No Mueren, Poetry
Issue No. 11, September 2015
Paula Rivera, The Dogs of San Juan and the Fish of Philadelphia, Art
Donna Levinstone, Art and Healing, Art
Eliza Callard, Nature Poem, Poetry
Zoe Stoller, Something Special About This Street, Poetry
Gregory Djanikian, Beauty, Poetry
Angelique Stevens, Keeping Time, Creative Nonfiction
Kelly McQuain, The Empathy Machine, Visual Narrative
Issue No. 10, June 2015
Orkan Telhan, A Now for MENAM, Art
Eliza Callard, Pills, Poetry
Michelle Taransky, Esther Friedman, Poetry
Autumn McClintock, Arles, Poetry
Gregory Djanikian, What I Was Thinking of During the Funeral Service, Douglas, Arizona, Poetry
Emily Steinberg, A Mid Summer Soirée, Visual Narrative
Issue No. 9, March 2015
Dylan Hansen-Fliedner, Finding Babel, Art
Deborah Burnham, ABC for the child who lived twenty-six days, Poetry
Kathryn Hellerstein, The Crows, Poetry
Herman Beavers, Obsidian Blues # 36, Poetry
Catherine Nichols, Hush, Puppies, Flash
Elizabeth Alexander, Tony, Flash
Patrick Ball, Geology, Fiction
Issue No. 8, December 2014
Mimi Oritsky, Inside Rex, Art
Julianna Foster, Staring at the Sea, Art
Alina Grabowski, Bergamot, Fiction
Annika Neklason, The Herd, Fiction
David Hallock Sanders, If You Do Not Know, Short Story
John Shea, Figures of Speech, Short Story
Julia Bloch, Apology to Los Angeles, Poetry
John Middlebrook, Whispers, Poetry
Sharon White, Panic, Essay
Angelique Stevens, If Nothing Changes, Essay
Issue No. 7, September 2014
Emily Steinberg, Broken Eggs, Visual Narrative
Merilyn Jackson, Oysters, Poetry
Thomas Devaney, Photobooth, Poetry
Luke Stromberg, When I Sleep, I Dream of Tsunamis, Poetry
Issue No. 6, June 2014
Jay Pastelak, On Snapshots, Art
Ilana Ellis, Portraits of Friendship, Art
Joshua Isard, Platitudes, Flash
Erin Peraza, The Thing About a Boat-in-a-Bottle is Nobody Steers, Fiction
Teresa Leo, Guest Editor's Preface, Poetry
Grant Clauser, The Magician Considers his Audience, Poetry
Leonard Gontarek, Vehicles, Poetry
Charlotte Boulay, Scientists Have Discovered, Poetry
Elizabeth Mosier, Believers, Essay
Issue No. 5, March 2014
Anastasiya Shekhtman, The Old Man and the Pool, Art
Alina Grabowski, Scorcher, Fiction
Gabriel Ojeda-Sague, Places to Walk Out To, Fiction
Daniel W. Thompson, Daffodils, Short Story
Rachel Estrada Ryan, Hungry, Short Story
J.C. Todd, On the Romance of Parkland, Poetry
Melissa Duclos, Confessions of a Facebook Mom, Essay
Issue No. 4, December 2013
Emma Greenberg, The Ferry, Fiction
R. Daniel Evans, Blue Santa, Short Story
Lynn Levin, The Birthday Present, Short Story
Peter LaBerge, Testimony After the Varicocelectomy, Poetry
Pattie McCarthy, from x y a &&, Poetry
Teresa Leo, Miniature and Poem Ending with Six Words from a Women's Room Stall, Poetry
Catherine Mosier-Mills, Christmas 2009, Flash Fiction
DC Lambert, When Santa Came to Cherry Hill, Flash
Ann de Forest, Peace: from The Names of Roses, Essay
Anastasiya Shekhtman, Exiled from Truth: Nine Allegories, Art Interview
Anastasiya Shekhtman, Portraits of Age, Art Interview
Anastasiya Shekhtman, Five Paintings, Art Interview
Issue No. 3, September 2013
Morgan Gilbreath, The Ground Beneath My Feet, Art
Toisha Tucker, Individuation, Identity, and the Parenthetical, Art
Ashley Paxton-Turner, Liney's Sense of It, Fiction
David Poplar, Navigation by Spoonlight, Poetry
Paul Siegell, We've Come for Your Blood Test Results and We've Come for your Yuengling Yammering, Poetry
Matthew Harrison, New Worlds Are Old News, Poetry
Nicole Greaves, Sack of Scarabs and Moments in the Trees, Poetry
Hannah White, Adventures in Gym Class, Nonfiction
Desiree Wilkins, Leap Year Baby, Flash
DC Lambert, Candyland, Short Story
Issue No. 2, June 2013
Leah Koontz, Bi-Product, Art
Emily Steinberg, The Modernist Cabin, Art
Chris Ludovici, Daisy, Fiction
Daniel Torday, Air Conditioner, Flash
Mark Lyons, The Place of the Red-footed Rooster…, Short Story
Anna Strong, from Aposthropes, Poetry
Luke Stromberg, Memorial Day, Poetry
Jamie-Lee Josselyn, Dispatch from the Cat Show, Essay
Kathryn Hellerstein, My Writer's Block, Essay
Nathaniel Popkin, "The Dig" from Lion and Leopard, Novel Excerpt
Issue No. 1, March 2013
Writer Beth Kephart Interviews Artist William Sulit, Chicken Dance, Art
Kristen Martin, Between the Frames, Nonfiction
Rachel R. Taube, Worm-Dirt, Flash
Lise Funderburg, The Dilettante's Devotional, Flash
Ann de Forest, Closing the Curtains, Flash
Deborah Burnham, Albino, Poetry
Kelly McQuain, Jam, Poetry
John Timpane, In a Dry Month, Poetry
.5 Preview Issue, February 2013
Martha Cooney, Cormac, Flash Fiction
Lynn Levin, The Ask Sandwich, Flash Fiction
Beth Kephart, Scrabble, Flash Nonfiction
Elizabeth Mosier, Everything Must Go, Flash Nonfiction
Katherine Fallon, Gin A Juniper Slick, Peotry
Anna Strong, Dear Couch, Poetry
---