RUBY & ROLAND: A NOVEL by Faith Sullivan, reviewed by Beth Kephart
RUBY & ROLAND: A NOVEL
by Faith Sullivan
Milkweed Editions, 256 pages
reviewed by Beth Kephart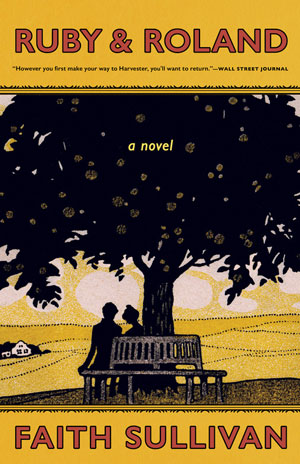 Books recalibrate our imaginations. They expect us to make room, to put on our nearest pair of shoes and walk the hall, the street, the cornfields, whispering to ourselves and to the wind.
When Faith Sullivan began writing what has become known as her Harvester books—novels like The Cape Ann and The Empress of One and Good Night, Mr. Wodehouse—she invited readers to join her in a fictional Minnesota landscape, then gave them many reasons to return. Sullivan's Harvester is a palpable place. Its people are relatable and real. They carry burdens and they engage in kindness. Their bones bend with the hills.
Now midway into her eighties, Sullivan is still finding, within Harvester, commonplace stories of everyday appeal. Her new book, Ruby & Roland, begins not in Harvester, but in Illinois, where Ruby Drake is living an idyllic childhood with a childlike mother until her parents are killed in an accident. The orphan moves in with one family and then with another, packing tokens of her youth and holding memories near. It is at the Schoonover farm, in Harvester, that Ruby becomes who she seems meant to be—a reliable and literate farm girl. She plants seeds and she harvests. She cans and she bakes. She makes the mess of mincemeat and then scrubs away the mess. It's a happy existence, but happy, Sullivan knows, is not enough. Complications make a novel novel, and so Sullivan has her Ruby fall in love with the beautiful, blue-eyed Roland, whose equally beautiful wife, Dora, lies inconsolable in an upstairs room, following the death of her infant daughter.
Things move at a rapid clip. Glances become touch. Touch becomes sex. Joy becomes guilt. Dora suspects that her husband is cheating, but, following another tragedy, she must accept Ruby's help in her house. To whom must one be true? That's the story here. Are we better people when we walk away from those we love? Best when we decide that the thing that we want most is not ours to have?
With her orphan start and her borrowed homes, her love of the seemingly unattainable Roland, and her domestic duties in an unhappy house, Ruby may be Jane Eyre inspired but she is also very much her own character, capable (most happily) of seeing the beauty of her world. She notices "the heavenly perfume of good clean smoke wafting up to one's bedroom at night when the sky was ebon and the stars icy." (34) She appreciates the piano music that drifts out of open doors and the one "moved along the wooden walk as if in the pages of a novel." (32) She's living her life, in other words, and in living hers, we, the readers, are escaping ours, walking the hills and riding the trains, wondering whose happiness should matter most, burnishing the secret that propels the novel forward.
Reading Sullivan is like spending time in a hammock beneath a tree on a day when there is just the right degree of breeze. Somebody's baking peach pie and the air is sweet. Somebody's dog is singing.
---
Beth Kephart is the author of more than two-dozen books, an adjunct teacher at the University of Pennsylvania, and the co-founder of Juncture Workshops. Wife|Daughter|Self: A Memoir in Essays will be published by Forest Avenue Press in spring 2021. More at bethkephartbooks.com.