POKEWEED
by Lynn Levin
In my deathwish days when I was young
I reaped the bitter from the field
and ate the poison pokeweed raw.
What did I know of boiling and washing
of throwing the bad soup out?
In my deathwish days, I never had enough
of wretchedness. A bird in the pokeberries
I drank the toxic wine and warbled
my bitter thoughts. Oh, I had lived a life
of deferment: of little I never had enough.
Then early one morning, sick of it all
I caught the wild perfume of the honeysuckle.
I heard the chorus of its delicate tongues.
I drew the stamens through the butter
and moon. I sucked the clear sweet drops.
I left my house. Dawn came up.
---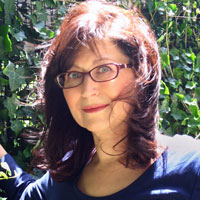 Lynn Levin's newest books are the poetry collection Miss Plastique (Ragged Sky, 2013), a Next Generation Indie Book Awards finalist in poetry, and Birds on the Kiswar Tree (2Leaf Press, 2014), a translation from the Spanish of a collection of poems by the Peruvian Andean poet Odi Gonzales. She is co-author of Poems for the Writing: Prompts for Poets (Texture Press, 2013), a Next Generation Indie Book Awards finalist in education/academic books. Her poems, essays, short fiction, and translations have appeared in Painted Bride Quarterly, Michigan Quarterly Review, Cleaver, The Hopkins Review, Rattle, Young Adult Review Network, and other places. She teaches at Drexel University and the University of Pennsylvania. Her story "The Birthday Present" appears in Issue 4 of Cleaver and her flash piece "The Ask Sandwich" in Cleaver's .5 Preview Issue.