THE GROUND BENEATH MY FEET by Morgan Gilbreath
Morgan Gilbreath
THE GROUND BENEATH MY FEET
My artwork is a product of the ground beneath my feet. I do not own a car, so my experience of a place is created entirely through biking, walking, and the occasional use of public transportation. Because of this, I have a very intimate relationship with sidewalks, as well as the buildings and streets with which they are connected. I am endlessly curious about the things that people discard onto the streets, a no-man's-land of both public and private space in which no one is held accountable, allowing for a strange sort of freedom. This concrete space between roads and homes has proven to be one of the greatest influences in my work.
In the morning I go to buy milk from the bodega across the street, where the shopkeeper's knowledge of English is limited to "hello" and "thank you." I like them there. People loiter in the doorway of the tiny corner store, socializing with the shopkeepers who talk to them from behind scratched bulletproof glass complete with transparent compartments with every sickly sweet candy wrapper meticulously organized into its own secure drawer. In this wonderful community gathering space, however, people are constantly separated by these peculiar safety glass barriers, by a need for security that implies distrust. This observation led me to create a series of barriers in which I replicated three different models of bulletproof transaction windows using sheet mirror. By making these forms reflective, I wanted to make the viewer aware of the physical and metaphorical barriers that exist between humans and even within the individual. The mirrored surface also displays the great extent to which people are shaped by their environment.
During my extensive walks through the city, I began to notice all of the empty drug bags strewn about the streets of Philadelphia, blown into concrete corners and against fences by the wind. I find these tiny objects, suddenly useless and cast away into the world, to be evocative vessels that are deeply and tragically symbolic of the issues plaguing my community. As objects completely foreign to me, the drug bags fascinated me for their specialized purpose. Their range of specific sizes, colors, and prints indicated a sort of forbidden language. I began to obsessively collect these tiny bags and cast them in various materials such as glass, wax, plaster, and paper pulp, transforming the scorned and rejected vessels into a ghostly wall tapestry.
There are over 40,000 vacant lots within the city of Philadelphia, each overflowing with weeds, shattered glass, mismatched shoes, telephone poles, scrap metal, broken televisions, food packaging, concrete rubble, and almost any thing you could ever imagine. Given the fact that these treasure troves of rejected objects are particularly common in my neighborhood, I find many abandoned and decaying objects as sources to include in my artwork. For this untitled work, I selected a car tire from an empty lot, as it is an ever-present yet unnoticed object that also holds iconic significance within the history of modern and contemporary art. In this untitled sculpture, thousands of flame-worked, thread-like glass creatures drip with wax and creep out of the inside of the tire, mimicking the way that nature inevitably reclaims abandoned man-made objects.
While walking to my studio each day with my head toward the ground, eyes scanning for objects to inherit, I tend to trip over large cracks in the ill-maintained sidewalks. These cracks, although commonly seen as a testament to a neglected and crumbling community, are a beautiful symbol of nature's way of creeping into our very controlled and harsh human architecture. I wanted to find a way to express to others the beauty I saw in those fractured sidewalks, and to change people's negative perceptions of a public space. In Maintenance, I repaired and hand-filled every crack in my studio with various colors of plaster in order to fix, yet accentuate and highlight, the imperfect networks of crevices beneath our feet. This highly labor-intensive performance resulted in colorful bolts of lightning, veins rushing across the ground in a map of harmonious, poetic lines that only nature could create—illuminating the very cracks that humans try so hard to contain.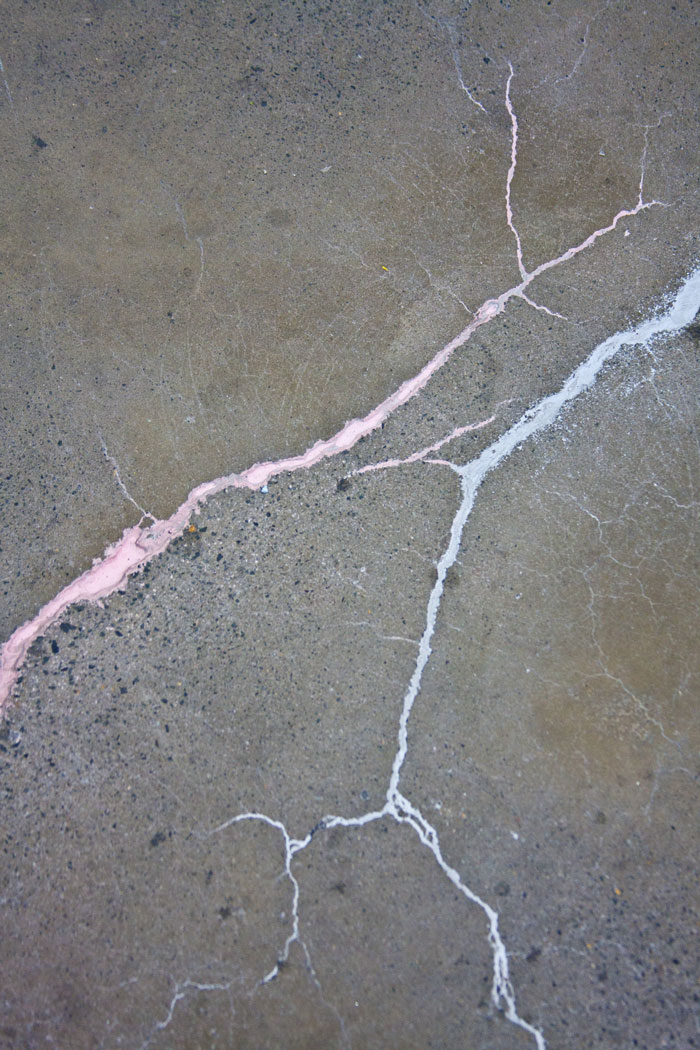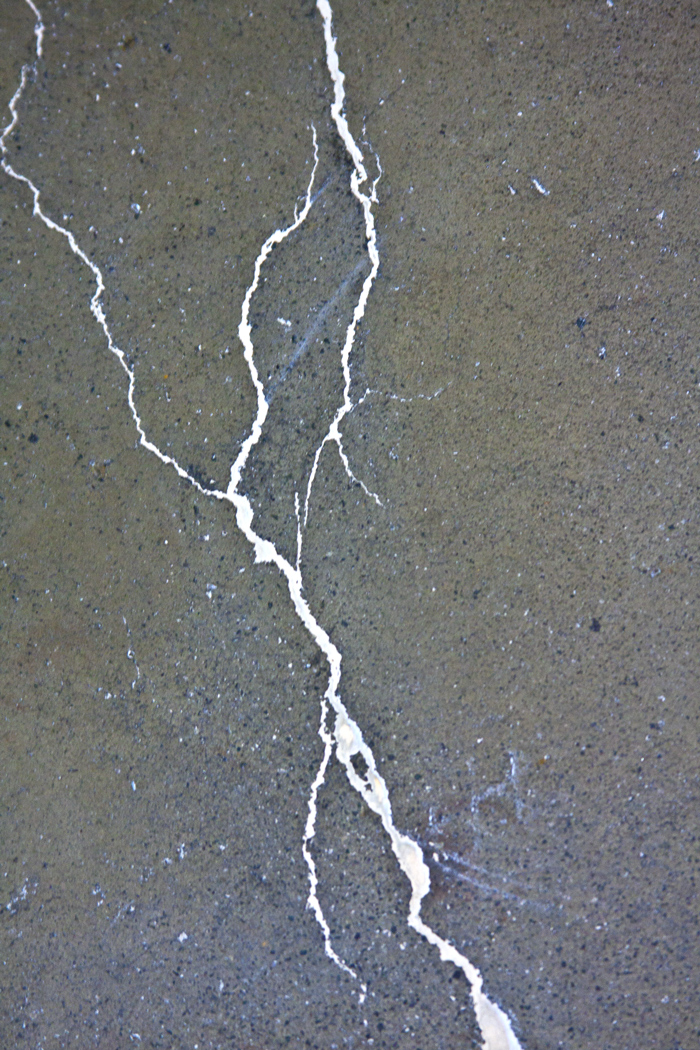 I view disregarded urban communities as places where artists are needed most in the world. In this body of work, I have been ritualistically collecting the mundane residue of urban life and reconfiguring it into a conceptual, artistic vocabulary, thereby infusing it with a sense of permanence and spiritual significance that transcends its previous connotations. This will allow people to reimagine their cities how to interact within them. I create these installations with the goal of sharing my ideas, improving communities, and, ultimately, revealing the spiritual beauty I see in the urban world.
---
Work:
Barriers 1, 2, & 3, Sheet Mirror, 22x24x3 in, each, 2012
Angel, Kiln-Cast Glass, Plaster, Paper, Wax, Approx. 4×4 ft., 2012
Untitled, Found Tire, Flameworked Glass, Wax, Approx. 1x2x2 ft., 2012
Maintenance, Site-Specific Performance & Installation using Plaster & Acrylic Pigment, Dimensions Variable, 2013
---
Morgan Gilbreath is a mixed-media artist, art historian, and community activist whose work deals with concepts of place, labor, and urban life. She is currently pursuing a Bachelor of Fine Arts with a concentration in Glass, a Bachelor of Arts in Art History, and a Certificate in Community Arts from Tyler School of Art, Temple University in Philadelphia, PA. Morgan is a Saint Andrews Society of Philadelphia Mutch Scholar, through which she studied the History of Art at the University of Edinburgh in Edinburgh, Scotland in 2012-13. She was most recently awarded the Tyler School of Art Partner Scholarship to study kiln-formed glass and public art at Pilchuck Glass School in Stanwood, Washington in the summer of 2013. Morgan Gilbreath currently lives and works in Philadelphia, PA.