TWO FLASH PIECES by Leonard Kress
Leonard Kress
TWO FLASH PIECES
Ex-Biker Chicks        
Friend, I want to change
My horse for your house,
My saddle for your mirror,
My knife for your blanket.
—Federico Garcia Lorca, Somnambule Ballad
There must be more of them than you suspect, here in the Midwest—maybe every tenth, every fifteenth woman you pass. Those who used to ride clinging to some guy's leathery back, bruised and battered and passed from one biker to the next, and then reapplying makeup in the fender's reflection. Like the one who dropped by my office last week, her second skin peeled back to reveal her trinity: Harley, Triumph, BMW. Her name was Lorca, after García Lorca, I hoped, imagining one of his dark Gypsy ballads recited at her conception.
They're everywhere, in suburbs ringing the city, in cul-de-sacs and drives, lanes through which a chopper would never navigate. And not even a toy or scale model, passed on to a son or daughter for old time's sake. Her hair trimmed, toned down with color, tattoos covered—shoulders, thighs, nape of the neck, small of the back, with baggy sweaters and workout sweats all year round, trying so hard to let the smashed skull and blasted kneecap heal, slits and contusions zip shut, brush burns with death. Far from the checkout line at Kroger. And don't discount all those messengers lined up at her door, dropping off out-of-date love letters, confessing a deep and abiding love of oblivion. They almost always scare the current husband off.
You can almost make out their exalted past in each impetuous smile, affixing itself to the wrong person, the wrong sex, the wrong side of safety, for no longer than a sneeze, when bike and rider alike fail—the sound of trying to rend for good the venerable precincts of loss, the very same piercing howl the helmetless child also hears, as she flips over her handlebars onto the pavement.
---
Foxholes

My father never served in the war. Something about his organic chem degree from Columbia that qualified him for telecommunications work vital to the war effort. He never had to leave his wife or his Upper West Side apartment to crack the enemy's DNA code. (Or was it headphones emitting alien rays?) His suspicious neighbors, suspecting a draft-dodger, were always ringing up the FBI to ask why he was exempt.
I was suspicious too, a decade later. You'd think it would've been enough for me in the age of Sputnik and space-bound chimps, but it wasn't. Not compared to my friends' fathers: one whose helmet worn through years of constant battle led to painful scalp rashes. And one whose arm withered from that hand-grenade that exploded upon launch. I pictured him yanking the pin between his teeth. And the tropical parasites, nightly drowned in shots of Seagram's—which actually might have been one of my father's secret projects. (Or was he involved in top-secret orders transmitted through ocean currents?)
It only mattered that he remained on the outer precincts of battle and glory. No tales of Korean or Filipino whores with razor blades (Gillette, double-edged?) placed inside their cunts to slice and shred. The blades must have dulled by the time their fathers came seeking relief from the deadly ravages of battle…or else their sons wouldn't be here now. Slaughtering Nips and Krauts left and right. Dying to take the hill. Then easing down into hastily dug and way-too-shallow-foxholes.
---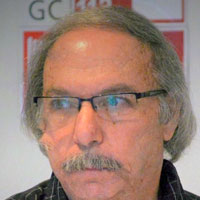 Leonard Kress has published fiction and poetry in The Missouri Review, Massachusetts Review, The Iowa Review, American Poetry Review, Harvard Review, etc. His recent collections are The Orpheus Complex, Thirteens, and Walk Like Bo Diddley. Leonard Kress teaches philosophy and religion at Owens College in Ohio and edits creative nonfiction for Artful Dodge.
Image credit: Morgana Bartolomei on Unsplash