PASSAGES: An Installation in Progress by Cheryl Harper

Cheryl Harper
PASSAGES: An Installation in Progress
I am one of those artists who thinks my work has to say something. I have nothing against paintings that bring together a disparate room décor or just make one feel good, but that's not what I want to do. If you happen to like my work for any of those reasons, that's fine, but if you are intrigued and compelled to think about bigger issues, that is my goal.
Since 2006 I've been making small statues of politicians, particularly of women in the national spotlight, in addition to works that address issues like anti-Semitism, terrorism, and gun violence. But in the last few years, I've been thinking about how I came to where I am now, a Jewish woman who lost extended family in the Holocaust and who married a direct descendant of a Southern plantation family that owned other people. I am a descendant of the oppressed who married into a family who oppressed.
I used to think of this in terms of predator/prey imagery but I've become more immersed in the complex history of both families, especially through the lens of today's rising intolerance. We now live at a time to witness the last generation of Holocaust survivors, the rise of white nationalists, and the progeny of many generations of African slaves who are struggling with the past — and we see how these histories intersect. For example, American Jews were helping achieve civil rights legislation for African Americans in the 1960s, after half of the world population of Jewry was enslaved and mass murdered in Nazi Germany. Meanwhile, many whites in America are descendants of those who escaped persecution in Europe during the years of the Atlantic slave trade.
• • •
[click any image to enlarge]
My current project, Passages, is a proposed traveling installation to American colleges. I am hoping to create dialog about who was privileged, who was enslaved, and how to approach a better understanding of our generational histories in order for all to move forward.
The point of view is female. There are original family wedding dresses overlaid with other clothing and accessories owned by mothers, grandmothers, and great-grandmothers.
There are hangings and floor objects related to their standard of living and aspirations. Hand-printed wallpaper brings together imagery culled from family photographs and objects that refer to immigration, plantation life, and slavery.
My mother was a daughter of immigrants from the Pale, an area that straddles Poland and Russia. Her parents were first cousins, often the case in Europe, who scrabbled for a living in tiny villages, ironically similar to the practice of cousin marriage in royal families who sought to keep their families blue-blooded. My new-to-America grandparents were considered a match even in their teens, perhaps earlier; it was not a matter of love. My zayde (Yiddish for grandfather) had the responsibility of bringing over siblings to America. He was a man of very modest means, a cantor of Jewish Orthodox tradition, moving his family of four daughters and a housewife with poor English skills to a small town in New York State.
Here is a photograph of the other family members he was obligated to bring to America. The man in the oval, the father, was deceased. The two daughters died in the Bergen-Belsen concentration camp. In this photograph, the girls hold proof they are educated as one holds a book and the other a scroll. Had my zayde and bubbe not emigrated, this likely would have been the fate of their four daughters, including my mother. I always had a sense of being hunted and unsafe, probably because of family stories that in childhood I overheard between adults. Post-war was a very confusing time for Jewish children in America. We knew everyone was sad but we didn't know anything specific. It was only as teenagers when we read the Diary of Anne Frank that we began to understand what was lost. That was the beginning of our awakening.
• • •
My husband's family came to the Colonies in the late 17th century. Isaac Lesesne was Huguenot, one of the French Protestants who suffered severe persecution at the hands of the Catholic majority and who emigrated for religious freedom and opportunity. It didn't take him long to establish a rice plantation, then an indigo plantation for dyestuff. He settled in the wetlands near Charleston, known as Daniel Island, eventually expanding to several plantations and a dry goods store in Charleston. Lesesne had many slaves, the majority of whom were likely from Sierra Leone and knew how to grow rice and indigo. We found evidence of his family ancestors, particularly the Laurens, who marketed slaves, and an early runaway slave advertisement by the Lesesnes in the main regional newspaper.
My husband and I researched objects that came down through his family through the centuries, studied the permanent exhibit of an archaeological excavation of the Daniel Island Lesesne plantation at the Charleston Museum, and visited the 18th century Lesesne family cemetery. We know who married whom and how the Lesesne branch of our family migrated to New Jersey through family fortune based on slave labor.
In this project, I am taking inspiration from Lesesne family objects dating back to the plantation, never sold, as the family was still wealthy during the Depression. In fact, this branch of the family was still collecting sterling silver service, Chinese snuff bottles, and semi-precious necklaces well into the 20th century.
• • •
My family had no trappings of wealth, only entering the middle class in the mid 20th century. Among the very few objects passed down in my mother's family was a brass plate, brought over in 1913. My father's family, one generation ahead in America, had a few more objects of value such as cut glass and a pair of English brass candlesticks dating back to the 19th century. By sheer chance, we discovered a wonderful paper cutting dating to 1878, made by my great-grandfather's brother as a going-away gift. In fact, it turns out to be a very important example of an artistic tradition in Galicia, Poland. Called a mizrah (Hebrew for "east"), it was mounted in the Brooklyn family home in the direction of Jerusalem. I used elements from this image, still owned by a branch of my family, as a part of my installation's wallpaper. The lions, gazelles, birds, and snakes all had spiritual meaning to the maker and the recipient.
I saw similarities between the photos in families, such as little girls wearing matching dresses. I also saw differences. In my family, the clothing was the product of my great-grandfather's home sweatshop, probably sewn by him, his wife, and older daughters. In my husband's family, the picture I used was of my mother-in-law and her sister, who lived in a charming mansion in Northern New Jersey; their dresses were certainly not homemade. I also looked to the industry of the plantation, where the product alternated between indigo, then rice, then back to indigo.
In this installation, I plan to use Isaac Lesesne's own words in an ad he placed for his runaway slaves, whom he considered lost property. As a culture, we need to acknowledge how black slaves were monetized, and the sorrow of Jewish slavery in recent history. If loss and misery can be shared and understood beyond our singular point of view, I think it will be helpful. The enslaved never leave this trauma behind completely.
I want to share these family histories through my art to create an experience and a vehicle for dialog. I envision a forest of dresses and collected objects and photos surrounded by wallpapers for an immersive experience. Beneath and above the dresses and perhaps in the floor spaces are collected objects that refer to the lopsided domesticity of the families, evidence that reflects privilege, hardship, ownership, and aspiration. Depending on the size of the space, the installation — as does history — can expand or contract.
---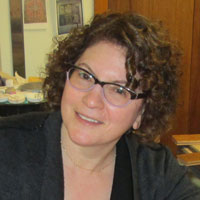 Cheryl Harper is an artist and independent curator in the Philadelphia, Pennsylvania area. She holds a BFA and an MFA in printmaking (Tyler School of Art and The University of Delaware) and an MA in art history (Temple University). Harper has received numerous awards and honors including a residency in 2018 at the Virginia Center for Creative Arts, the Fleisher Challenge (2008) and first prize in sculpture in Pennsylvania Art of the State (2008). She has had two solo shows at the James Oliver Gallery in Philadelphia, was a juried artist in ArtShip Olympia (2016) and many other exhibitions. Her curatorial projects include the upcoming Seamless: Craft media and Performance (spring 2020) at Rutgers-Camden. Visit Cheryl's website at www.cherylharper.com