ARLES by Autumn McClintock
Autumn McClintock
ARLES
It's a good beard. Stop yanking it
like a strapless dress.
See what I did there? Fit
the last puzzle piece
and voilá, Starry Night!
You aren't half as weird
as you'd like. In the morning,
you'll drive me home,
sit in the coffee shop, wonder
what made you do it.
I made you, stupid.
Take the room with the small bed,
red bedspread, floor full of splinters.
Try hiding under the mattress,
weight on your chest like
a broad woman. See what I did there—
gotta stop thinking about me.
---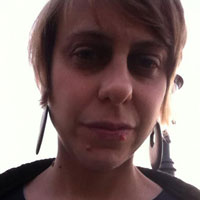 Autumn McClintock lives in Philadelphia and works at the public library. Her poems have recently appeared in B O D Y, The Carolina Quarterly, Drunken Boat, RHINO, THRUSH, and others. Her essay, "Responsible for Death" appears in the 2013 anthology The Poet's Sourcebook, published by Autumn House Press (no relation). She is a staff reader for Ploughshares.
Read more from Cleaver Magazine's Issue #10.