ART AND HEALING by Donna Levinstone
Donna Levinstone


ART AND HEALING: Pastel Landscapes

Art enhances the healing process. My work is meditative and has been used in hospital settings and other situations where healing is called for. My mother and a few of my friends, in the last stage of their lives, have used my work as a source of calm and focus during their bed-ridden illnesses. As a cancer survivor, I, too, have found that artwork provides calm in my life. My pastel landscapes have often been referred to as "landscapes of the soul."
The use of wide skies in my work promotes a sense of well-being. I have memories, as a  young child, of riding in our convertible and gazing up at the sky for hours. According to Jack Borden, founder of For Spacious Skies, people who have sky awareness in their lives often have an added sense of optimism. They look at their lives, like the skies, with an endless sense of possibilities.
My drawing "Daybreak" was acquired by Sarah Campbell, curator for Memorial Sloane Kettering Hospital:
"Marshland" was commissioned for the University of Connecticut Health Center. Both drawings provide a sense of calm and light. Patients are able to feel safe, inspired and comforted while looking at these works. There is a direct link to content of the images and the brain's reaction to stress and anxiety. Merely looking at art makes the hospital environment less stressful.
Spiritual healers often use color and chakras in their practice. For example, green is the color of nature, creating balance and harmony, and linked to the heart. Blue is cooling, positive energy and connected to the throat. My pastel "Changing Skies" also speaks to the beauty of nature and changing skies.
I have also found comfort in the darkness. When my father was dying, I would stay at a hotel by the ocean and study night skies and the moon for hours. In those moments, there was an instant connection to God and healing.
I recently completed a series called "Nocturnes," a grid of pastel drawings:
My work provides a sense of calm in the midst of fear and exhaustion. My pastel landscapes have an added advantage of allowing patients to dream and travel away into their memories. A lot of my work has this reflective light. "Eternal Waters," a black and white pastel, is another example:
---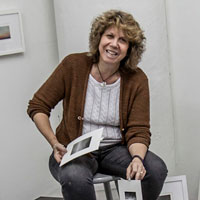 Donna Levinstone's pastel drawings have been included in many private and corporate collections, including Pfizer, Citibank, Time Inc, Nabisco, IBM, and Verizon. Her pastel drawings are part of the collection of the Library of Congress, the New-York Historical Society, the Museum of the City of New York, and the US Department of State. A black-and-white pastel drawing from her 9/11 Series will be part of the new 9/11 Memorial and Museum in New York. Her work appears on several book covers and has been published in The New York Times and Drawn in New York: Six Centuries of Drawing and Watercolor, among others. As an arts educator, Levinstone has also received various grants to teach art to the elderly and to cancer patients. Her teaching work also includes working with various school aged children. She is also a member of the Cloud Appreciation Society. More at www.donnalevinstone.com.
All works © Donna Levinstone. Click any image for a higher resolution.
Works Discussed:
1. Nocturne Grid, pastel, 18″ x 18″, collection of the artist, 2015
2. Eternal Waters, b/w pastel, 18″ x 28″, collection of Tom McCarthy, 2013
3. Marshland, pastel, 44″ x 60″, University of Connecticut Health Center, 2014
4. Daybreak, pastel, 24″ x 36″, collection of Memorial Sloane-Kettering, 2013
5. Changing Skies, pastel, 10″ x 14″, collection of Wendy Schrijver, 2014
Read more from Cleaver Magazine's Issue #11.