THIS IS THE STORY OF YOU, a young adult novel by Beth Kephart, reviewed by Rachael Tague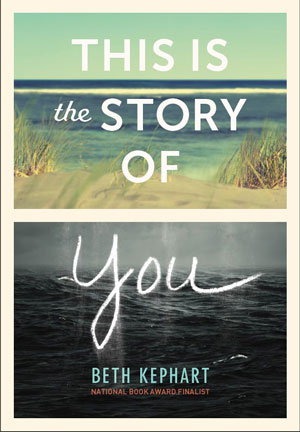 THIS IS THE STORY OF YOU
by Beth Kephart
Chronicle Books, 256 pages
reviewed by Rachael Tague
When I sat down to read Beth Kephart's newest novel, This Is the Story of You, its title and cover art caught my attention—personal, serene, then chaotic. I read the first line of chapter one—Blue, for example—and fell in love with the writing. A quarter of the way through the book, I adored each character, and connected with Mira, the narrator and protagonist. Kephart's mesmerizing writing, wonderful characters, and themes of strength and endurance thrilled me from beginning to end.
Mira Banul is "medium everything—blond, built, smart." She lives on Haven, where "We were six miles long by one-half mile…We were The Isolates. We were one bridge and a few good rules away from normal. We were causal bohemians, expert scavengers, cool." Haven, a tiny island on the East coast, is a vacation destination in the summer. At the end of the season, the year-rounders return to their school in a refurbished bank and rule the island after-hours.
Mira's best friends, Eva and Deni, have done everything together for as long as they can remember. They work together, study together, compete together, and explore together. And when Shift, a new student, joins their small senior class of 2016, his budding affection for Eva looks like the most dramatic event the trio will face this school year. When Mira goes home, however, she doesn't have time to worry about Eva's love life. Mira lives in her late aunt's cottage on the beach with her mother, Mickey, and her little brother, Jasper-Lee, who has a rare disease called Hunter syndrome. Mickey, working four jobs, can barely make ends meet, and, on top of that, Mickey and Jasper-Lee must travel to the mainland every week for an Elaprase drip, Jasper-Lee's best chance at survival. During Mickey and Jasper-Lee's weekly trip the storm hits.
When this mother-of-all-storms smashes Haven to bits, the community watches as their homes, belongings, and friends disappear. Mira must rely on instinct, basic storm survival training, and Old Carmen, the mysterious woman who disappears during vacation season and reappears only to fish and keep to herself during the winter. This Is the Story of You, however, is not your basic dystopian or apocalyptic Young Adult fantasy. To the contrary, it stands out as a bright spot against so many common plots and characters in contemporary YA fiction.
This story isn't about high school hook-ups, saving the world against all odds, corrupt governments, or scientific experiments gone wrong. While there is certainly a place for these plots in all literature, the characters in Kephart's story are real people, surviving real life, with real problems in the here and now. When her home is destroyed, Mira's clothes get stiff, salty, and sandy. She lives in muck, and the reader can feel it. She's not concerned with the next boy she'll kiss but with the well-being of her brilliant little brother, her hard-working mother, her best friends, and her community at large.
Through it all, Mira learns about herself, her home, and the island she loves. She commits to survival for her family's sake and grows as a daughter, sister, friend, and human being. This book's language and characters refreshed my YA palate, and I recommend it to readers, young and old, who appreciate stories with characters and plots of depth and integrity. Kephart's engaging characters and vivid scenery are described almost lyrically. Readers who love the experimental writing style of The Book Thief will find much to love in this novel. Short chapters, poetic language, snappy dialogue, and flowing story punctuated with bursts of italics— This Is the Story of You will not disappoint any reader who enjoys powerfully poetic prose. The novel showcases real life, the power of nature, and the power of people in the midst of disaster.
---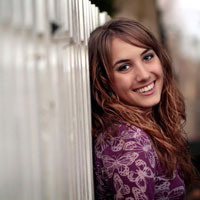 Rachael Tague grew up in the Indianapolis area and is a recent graduate of Cedarville University, where she studied English and Creative Writing . Her creative nonfiction and book reviews appear or are forthcoming in The MacGuffin and in Cleaver Magazine.