Five Paintings by Tish Ingersoll

Tish Ingersoll
FIVE PAINTINGS
Interviewed by Anastasiya Shekhtman
How do you begin a painting? I often start a painting using a level and making several horizontal lines, varying distances apart. Then, using black acrylic, I use gestural lines to overlap them. Finally, I add color. I often use memories of places I have walked or otherwise experienced. The painting and content emerges over a long period of not painting.
The transformation of paint, a loose substance, into rigid lines and geometric shapes in your paintings is particularly intriguing. How does the form of your work play into the content? For twenty years, I worked as a lead artist for the Mural Arts Program. When creating a muraI, I use a grid to work up my concept for the wall, using a 1″ to 1′ ratio. About nine years ago, I decided to use a grid for my studio work. Rather than make me more rigid, it served as a freeing experience. I began reading about the history of grids and discovered that ancient Polynesian fishermen used a grid construction of sticks to navigate the waters; I liked the idea of this moveable grid. As I often depict layers of water, this was so exciting to discover. The grid is a never ending source of inspiration for me. It leads me to a more abstract way of painting that I really like.
In a palette primarily dominated by blues and similarly cool hues, the color red creates a jarring effect. What role does color play in your paintings? I use color as a vehicle to loosely represent some aspects of landscape. Most of the time, the blue is sky or water, but it takes on a life of its own as the painting progresses. I often use red to catch and guide the viewer's eye. Other times, I think of the changing color of a leaf, or a lily pad dying on a pond. In many of these pieces, I limited my color palette to simplify the experience, and focused on creating an illusion of space.
You speak about the canvas as an entry point into more meaningful spaces. Please tell us about the philosophical concerns you explore in this series. My philosophy concerns the process of making lines, color, and form, and seeing where they lead me. In Triangulation, I was not at all sure where I was headed. Then, it became clear that the layered horizon lines, vanishing points, and planes of colors functioned as levels of water, reflections, and floating shapes; the process built itself. In this way, I discover meaning that goes beyond the personal, which is how my work sometimes starts out. I like removing myself. Sometimes, I feel I should go further and further into the picture plane, and hopefully will in the future.
THE PAINTINGS
1. Triangulation, 2013, acrylic on paper, 26 x 26 inches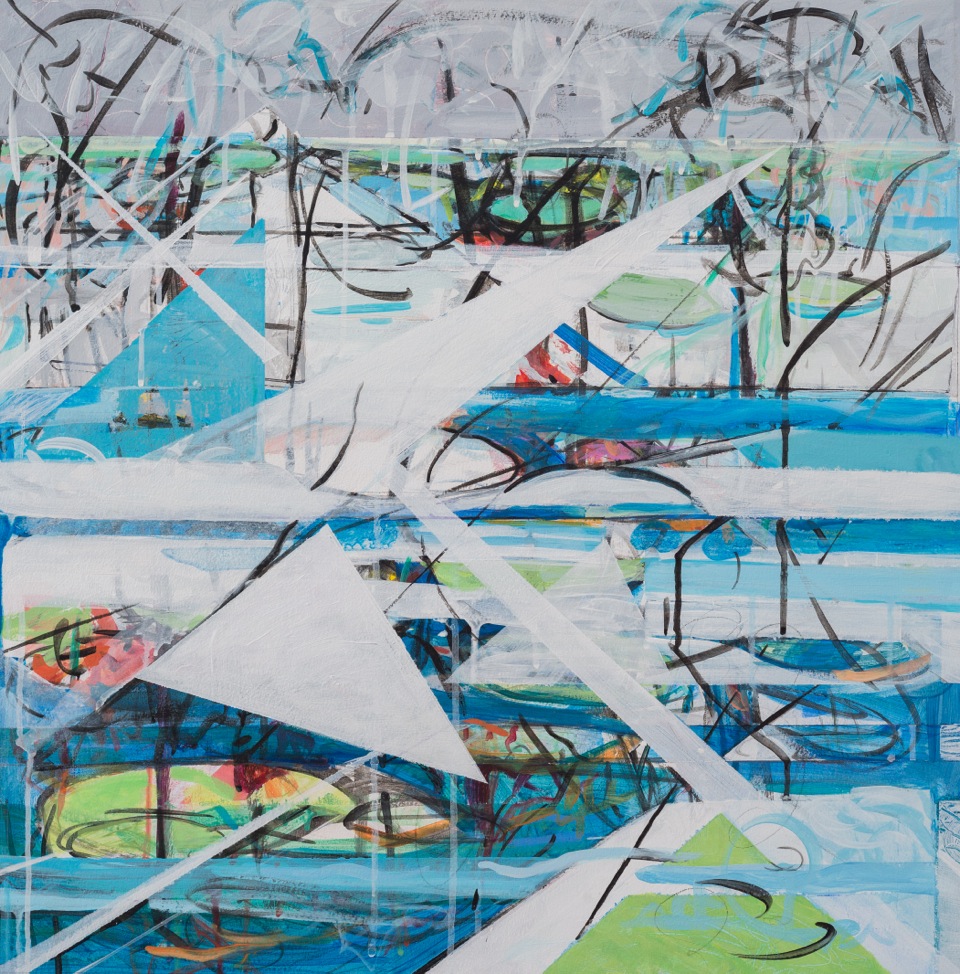 ◊
2. Currents, 2011, oil on mylar, 24 x 24 inches
Painting with oil and acrylic on mylar for the first time, I loved the way the paint worked on the surface. I think this piece has a real translucence that I can achieve because of the mylar. There is an illusion of space that seems very immediate.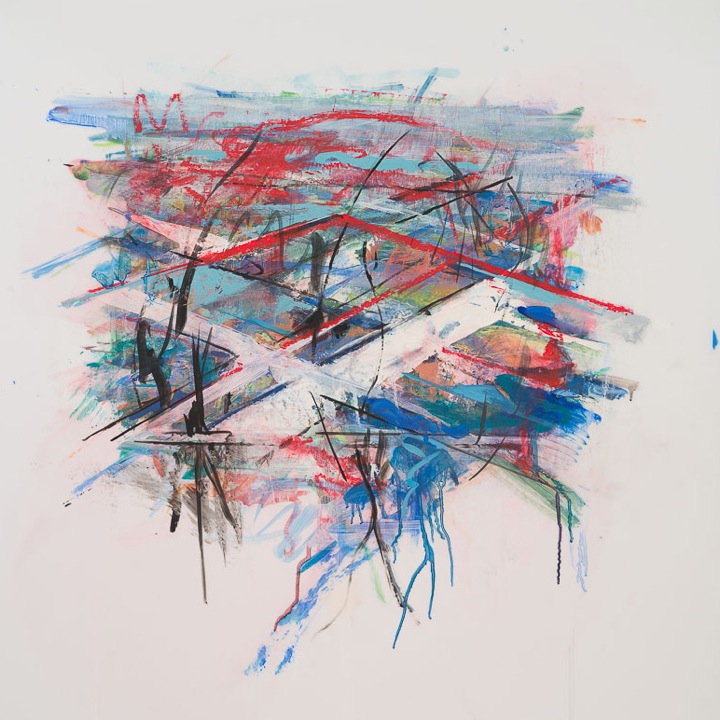 ◊
3. Mapping, 2012, acrylic on paper, 26 x 26 inches
I used blue tape to mask areas, repeating the process of adding and removing tape to create spaces that did not receive the paint. When the painting was finished, I felt like it had led me to a new place, the way a map would.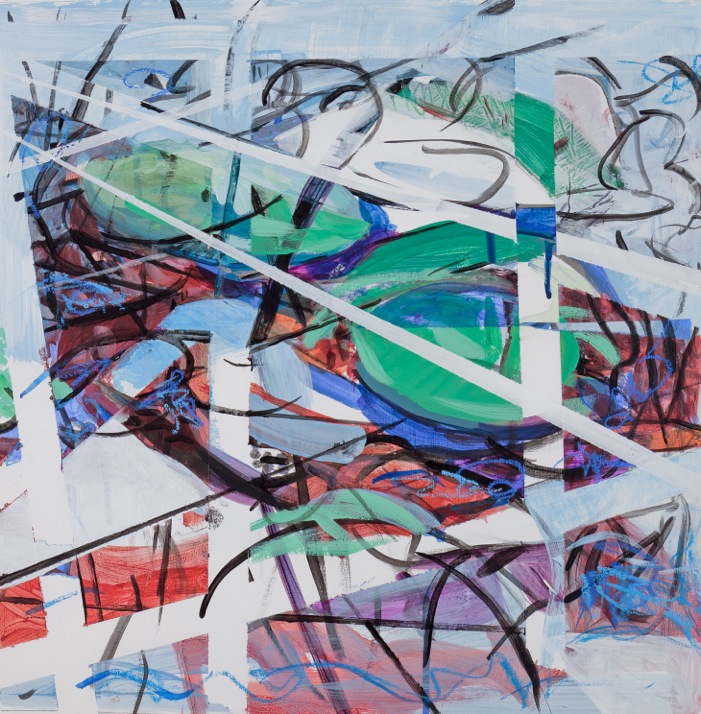 ◊
4. Crossroads and Cairns, 2012, acrylic on paper, 26 x 26 inches
In Maine, where I spent every summer since I was five, I have hiked the same trails many times over. Some years, one trail is my favorite. The next year, I find a new favorite. Cairns are the markers on the trails. My work has always represented some aspect of my life in Maine—on the trails or mountains, on the water, or walking around a pond. When I removed the tape I use, I discovered a cross in the middle, with all the direction lines and vanishing points crisscrossing.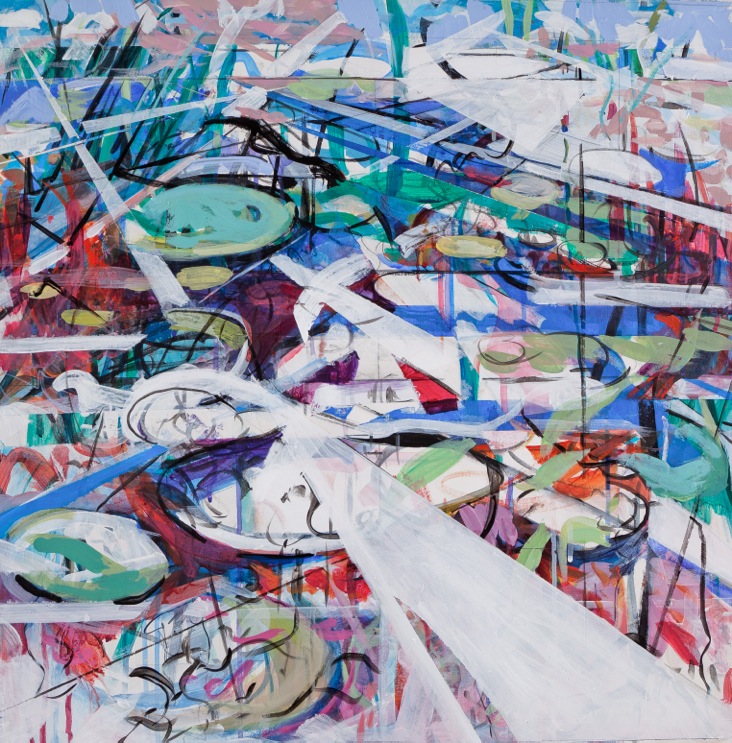 ◊
5. Sounds of Fog, 2013, acrylic on paper, 12 x 12 inches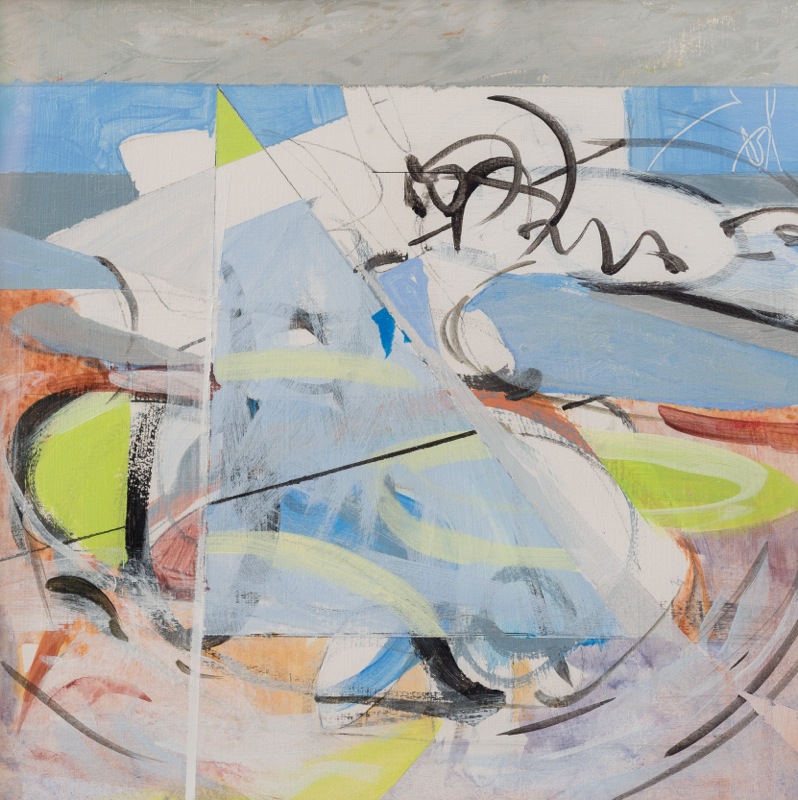 ◊
---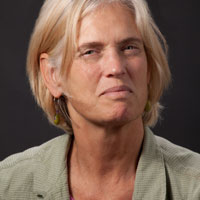 Tish Ingersoll's paintings have been featured in solo and group exhibitions in museums and galleries, including the Woodmere Art Museum, the Paley Museum, the LG Tripp Gallery, the JMS Gallery, and the Nexus Gallery in Philadelphia; the Allegheny Museum of Art in Pennsylvania; the Ganser Gallery of Millersville University in Pennsylvania; and the State Museum in Harrisburg, Pennsylvania; the Art Space Gallery in Richmond, Virginia; and the Ethel Blum Gallery of the College of the Atlantic in Bar Harbor, Maine. In New York City, Tish Ingersoll work has been exhibited at the Krasdale Gallery, the Viridian Gallery, the Prince Street Gallery, and the Phoenix Gallery. She is the recipient of many awards and fellowships and was a lead muralist for the renowned Philadelphia Mural Arts program, 1992-2003. Tish Ingersoll resides in Philadelphia. Photo credit: Jack Ramsdale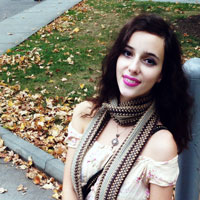 Anastasiya Shekhtman is a senior Communication Design major at the University of Pennsylvania, minoring in Russian and Creative Writing. Displaced from Ukraine at the age of four, Anastasiya is currently chasing childhood images, sorting the real from the imagined, only to blur them again in her work. Until recently, Anastasiya lived in a love triangle between writing and design. Then she found her heart in the overlap. Her website is www.anastasiyashekhtman.com.
Read more from Cleaver Magazine's Issue #4.