THE MODERNIST CABIN by Emily Steinberg
Emily Steinberg
THE MODERNIST CABIN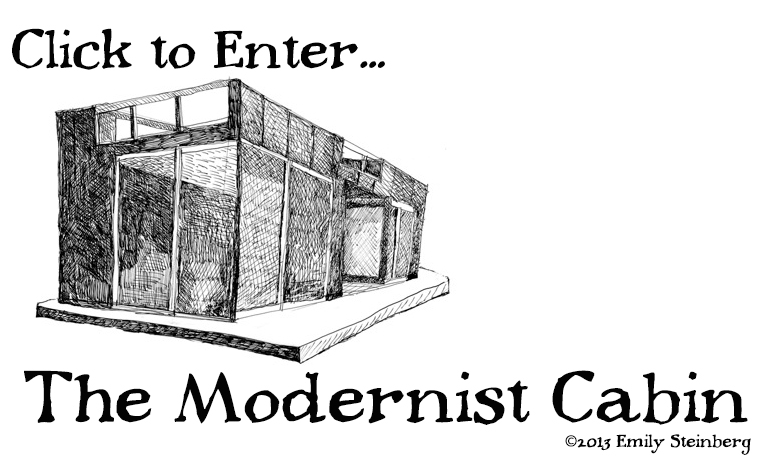 I began creating graphic novels or illustrated stories in 2005.
I realized that I not only wanted to make visual imagery, as I do in my paintings, but I wanted to tell stories as well.
I found that the combination of words and images created a visceral way of storytelling.
Most of my material is autobiographical.
Stories that have happened to me along
the way that have shaped my being.
The Modernist Cabin
is a story about my family
set against the pristine lines
of a modernist cabin
on Cape Cod.
The architecture
and the story
serve as
companions
to each
other.
They are
independent of
each other
but dependent
nonetheless.
–Emily Steinberg, June 2013
Photography by Paul Rider
---
Emily Steinberg is a painter and graphic novelist who earned her MFA and BFA from the University of Pennsylvania. She has shown at 55 Mercer Gallery and The Westbeth Gallery in New York, and has exhibited at several Philadelphia area venues, including Mangel Gallery, The Borowsky Gallery, The Woodmere Museum of Art and the Michener Museum of Art in Doylestown, PA. Most recently, she exhibited in the solo series at the Abington Art Center and at The Crane Arts Center in Philadelphia. Her graphic novel memoir, Graphic Therapy, can be read online at Smith Magazine. Her short comic, Blogging Towards Oblivion, was included in The Moment (Harper Collins, 2012). She currently teaches painting and the graphic novel at Penn State Abington. She lives in Philadelphia with her husband, photographer Paul Rider, and her puppy Gus.
Read more from Cleaver Magazine's Issue #2.