A MID SUMMER SOIRÉE by Emily Steinberg
A MID SUMMER SOIRÉE
A Visual Narrative
by Emily Steinberg
Introduction by Tahneer Oksman
[slideshow_deploy id='17736′]
First sort through Emily Steinberg's A Mid Summer Soirée in quick succession. Then go back and read it slowly. This appealingly energetic set of captioned images is a storyboard of sorts. Each slide displays a beguiling creature or character, and sometimes a pair, pictured just above a crisply worded sentence encased in a neat, if bourgeois, font. We are presented with a simple trajectory: the individuals, spotlighted in medias res, are about to attend, or are attending, a party. These experiences do not clearly build on each other: "He'd been out of circulation a while." "They argued just before arriving." "She rooted through her closet and was dismayed." Trying to fill in the narrative gaps is part of the pleasure of the journey, as is, on the contrary, moving past those gaps in favor of experiencing the piece's seductive rhythm.
The artworks—some fashioned in delicate colors, some in black-and-white—are offset by clean white backgrounds. Many of the images are clearly collages, intricately inked cut-ups of crossword puzzles, newspaper articles, and cartoons. "I'm interested in the idea of chance, and what happens when you don't control the situation," Steinberg explained about the piece's composition.
Viewing A Mid Summer Soirée, one is cast into a framework in which whimsy and fantasy meet a morning coffee-and-newspaper ritual. To transform daily minutiae into otherworldly events, to dive into the looking glass: therein lies the delight of this piece.
—Tahneer Oksman, June 2015
---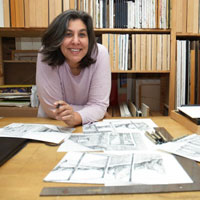 Emily Steinberg, a painter and graphic novelist, earned her M.F.A. and B.F.A. from the University of Pennsylvania and has shown her work widely in New York and Philadelphia. Most recently, she exhibited in a solo show at SFA Gallery, Frenchtown, NJ, and at the Woodmere Museum in Philadelphia. Her graphic novel memoir, Graphic Therapy, can be read online at Smith Magazine. Her short comic, Blogging Towards Oblivion, was included in The Moment (Harper/Collins 2012). Her visual narratives Broken Eggs (2014) and The Modernist Cabin (2013) have been published in Cleaver. She currently teaches painting, graphic novel, and the History of Comics at Penn State Abington. She lives in Philadelphia.
.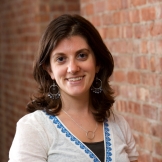 Tahneer Oksman is the Graphic Narrative Reviews Editor for Cleaver Magazine. Her book, "How Come Boys Get to Keep Their Noses?": Women and Jewish American Identity in Contemporary Graphic Memoirs, will be published in February 2016 by Columbia University Press. She is Assistant Professor and Director of the Academic Writing Program at Marymount Manhattan College.