PHOTOBOOTH by Thomas Devaney
Thomas Devaney
PHOTOBOOTH
Black-and-white film
is instant toner
for Americans
and their famous tans,
our fantasy faces, free
of talent and a free shot.
What summer looks like
when the sound is on:
bronzed, burnt, black,
and red. Just look at us
crushing our crush:
our closest friends
are as close as we get.
There's no need to point
out anyone: Fresh.
Lusty. Full-sized. Bad.
All clamor, no fear
our every move is enterprise.
The second hand swimsuit.
That hoodie. A soda face
and a T-shirt slogan
that can't be read—
and then nothing.
We, free, and again out
of the last frame, all
of us together.
One strip left behind;
and by now the sea shook
loose, and who knows
how many stories
have been concocted.
These pictures aren't
private photos
that our mother
mailed to our father.
She went to the drugstore
to take those. We
were not even born.
But just look at her
looking, hair off face, just
look at the way she looks.
---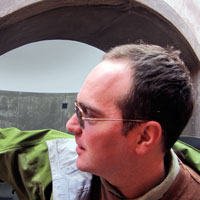 Thomas Devaney is the author of Calamity Jane (Furniture Press Books, 2014) and The Picture That Remains (The Print Center, 2014). Recently he was awarded a Pew Fellowship in the Arts. He teaches at Haverford College. More at www.thomasdevaney.net.
Image credit: adapted from A.Curell's "Photo Booth at P.T. Flaggs Baltimore Inner Harbor circa 1989", on on Flicker
Read more from Cleaver Magazine's Issue #7.