INSIDE REX by Mimi Oritsky
INSIDE REX
by Mimi Oritsky
Oil on Linen
[slideshow_deploy id='14094′]
I was born in a small town sixty miles northwest of Philadelphia, called Reading. It was an industrial city on the Schuylkill River, full of brown-brick factories and heavy gambling with lots of strip joints. It usually appeared dark with silvery smoke in the air.
Fine art and culture were not nearly as popular there as building automobiles, shooting squirrels, and drinking Old Reading Beer. However, the town was surrounded by mountains and farmlands, and this landscape was filled with cornfields, milk cows, and small herds of sheep. It all appeared to me much lighter and more colorful.
Twenty years later the town's industry stopped, and my personal gaze turned to the river, which had sustained generations of factory workers, in the hope of illustrating their livelihoods.
My mother, Marcia Sarna, went to school in Philadelphia and went on to become an illustrator for Harper's Bazaar until the end of WWII. My early exposure to art and design was in the home, and also inside the studio of my mother's sculptor friend. Here we spent time rubbing 100-year-old gravestones with charcoal. This was my first experience with the creative process. As a four-and-a-half-year-old, I was taken by my father on an airplane to his job in New York City. After turning green and throwing up, I was in awe of being above the land—looking down on Berks County, Manayunk, Newark, and eventually the Statue of Liberty. At six I experienced New York City at ground level; everything I saw there remains with me to this day.
My working process involves the quality of airspace and how it can be translated into paint. While drawing the elements from above, I am aware of how we lose eye-level perspective and normal angles. These losses force me to explore space, scale, and time. In moving away from the aerial sense of perspective, but remaining above the view, I watch the air as it is contained within its predefined spatial parameters. When I am moving fast, as on a moving train, the elements seem to have a sense of urgency, a desire to catch up, within the vast stillness of the airspace.
The Inside Rex series of rock and tree debris is inspired by a random and scattered landscape along Rex Avenue, near my neighborhood in Philadelphia. In this sense, I come to terms with my environment to create a space organized by light and a surface marked by the rhythm of moving air.
The Images:
#1: Inside Rex #1, 2014, oil on linen, 14 x 14″
#2: Inside Rex #2, 2014, oil on linen, 14 x 14″
#3: Inside Rex #3, 2014, oil on linen, 14 x 14″
#4: Inside Rex #4, 2014, oil on linen, 14 x 14″
#5: Inside Rex #5, 2014, oil on linen, 14 x 14″
#6: Inside Rex #6, 2014, oil on linen, 14 x 14″
---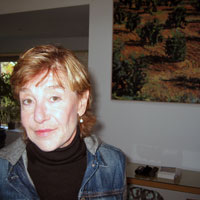 Mimi Oritsky is an abstract landscape painter residing in Philadelphia, Pa. She entered the Philadelphia College of Art (now the University of the Arts) in 1968, and transferred to the Maryland Institute, College of Art in 1973 where she earned her BFA degree. In 1976 she entered the Graduate School of Fine Arts, University of Pennsylvania, earning her MFA in Painting and Printmaking. Oritsky has travelled the world and has shown extensively in museums and galleries in the United States. Her current work can be viewed at the A.I.R. and the Amos Eno Galleries in Brooklyn, New York, as well as the Chestnut Hill Gallery in Philadelphia.