A CRICKET IN WASHINGTON SQUARE PARK by John Timpane
A CRICKET IN WASHINGTON SQUARE PARK
by John Timpane
It is, it is, it is — it's you, cool as the night, scraping toothy wing on
wing. Yeah, man. Your it is is far from my it was, in this town
I never knew I'd know. Yo, first violinist of Washington Square,
slave picnic site, burial ground a shout from Independence Hall.
It is, it is — it is fall, it is here, it is you and I and your
it is I never saw coming. It is always past me before I know. Thanks
for that. It is, it is, it is — yeah, man, no it was for you. For me
plenty. It is, it is. I hear you. Is makes it a miracle; it makes is a
mystery. You, in is, in act, rub wings with God. Me, too, only I
don't know. Fine, it is, far from it was; will be even
further. It is what it is. Hey — MC of it is, of
desire, time, and fact of the matter, apart from, yoked with
the stars, of whom we are, and they of us – you
have no idea you're in these words. I walk to violins
of was and will be, and you can't hear them,
fiddler in the rough. I am, I am, I am in
your it is, it is, it is in my ears. We are, we are, we are.
---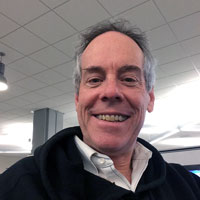 John Timpane is the media editor/writer for The Philadelphia Inquirer. His work has appeared in Sequoia, The Fox Chase Review, Apiary, Painted Bride Quarterly, The Philadelphia Review of Books, The Rathalla Review, Per Contra, Vocabula Review, and elsewhere. Among his books is a chapbook, Burning Bush (Judith Fitzgerald/Cranberry Tree, 2010). His poem "In a Dry Month" appears in Issue No. 1 of Cleaver. He is the spouse of Maria-Christina Keller. They live in New Jersey.