ABOUT US

Cleaver Magazine shares "cutting-edge" artwork and literary work from a mix of established and emerging voices.
We publish poetry, short stories, essays, flash prose (approximately 500 words or less), visual art, graphic narratives, radio plays, craft essays, and book reviews. Look for our literary quarterly in March, June, September, and December. In each issue we present several emerging writers and at least one emerging visual artist alongside established writers and artists. We see ourselves as facilitators and stewards of the literary and artistic work that we publish.
In addition to our literary quarterly, we publish weekly writer-to-writer craft essays, travel essays, radio plays, and reviews of books from small and independent publishers.
About our name: "cleave" is a Janus word, also known as an "auto-antonym", meaning both itself and its opposite. To "cleave" is both to stick tight and to fall away. A cleaver is the most broad-edged and brutally efficient kitchen knife, designed to be swung like a hammer for the most effective channel of force. "Cleave" also means to come together with strong attachment.
Our editors have deep ties to the Philadelphia community. We are an international magazine, but maintain a commitment to publish about 15% Philadelphia-based writers in each issue.
We are independent and self-funded and are grateful for support, in part, from the Philadelphia Cultural Fund and Kelly Writers House.
---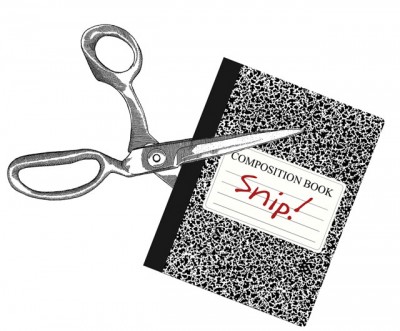 "…There's lots to love here, and the editors make it easy by not only selecting great work but also by presenting it in a desirable manner with accompanying images with each piece, artists' statements with the visual work, contributor bios, and easy navigation. I look forward to following Cleaver along with the many issues I'm sure are to come."—Kirsten McIlvenna, NEW PAGES.
"Despite its name, the new online journal Cleaver Magazine is neither a venue for the latest Hannibal Lechter fan fiction nor one for decidedly more sane foodies to wax poetic about their favorite cuts of meat. Instead, Philadelphia-based Cleaver is a slick and inviting site that takes full advantage of its online environment to enhance both the written and visual work it publishes." — Emily Hoffman, THE REVIEW REVIEW.
"I can certainly see why CLEAVER has put forward a preview issue; with a solid design and an already established style with crisp writing, it has me licking my lips in anticipation for the first full issue (due out next month)." — Kirsten McIlvenna, NEW PAGES.
---
WRITERS: To submit fiction, flash, poetry, or essays to Cleaver, visit our Submissions Page. If you are interested in writing book reviews, craft essays, or travel essays for Cleaver, contact the editors directly.
PUBLICISTS: Query the editors for book reviews of poetry, literary fiction, and creative nonfiction.
Cleaver is ♥ grateful ♥  to The Philadelphia Cultural Fund and to Kelly Writers House at the University of Pennsylvania for partial support with our operating costs.
Literary-related advertisers appear on Cleaver through the Litbreaker network.
Cleaver is proud to be a member of CLMP, the Council of Literary Magazines and Presses.
ISSN 2330-2828