NATURE POEM by Eliza Callard
Eliza Callard


NATURE POEM



Worrisomely fat dog—a silken nut brown ale color—
belly swaying near the bouldered trail, with his wolfish
mates. A family under the budding trees, the girl twisting
a butterfly net in her hands. "What are you trying to catch?"
"Anything." Pitbulls Hazel—with the wet grin—and Pele—licking
and nibbling so vigorously he awakens the years-old bone bruise
where a stranger punched my jaw on a crowded street. Instant
friends with t-shirt-wearing Phillies fans, commiseration alone our
bond. Woman with animal medicine tattoo covering one calf.
"The wolves are being slaughtered," she says and hikes
ahead. Overheard: "Is he friendly?" "Yes, but he might
try to steal your stick." River water sparkles
like the equalizer on a hi-fi.
---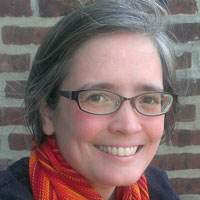 Eliza Callard is a Philadelphian by birth and choice. A product of the Philly public schools and Skidmore College, she enjoys urban hiking, and spends much of her time trying to read all the poems. She's been published in Hobart, and will soon appear in Stoneboat, Hobart, The Sacred Cow, Front Porch Review, and Thirteen Ways. Her website is elizacallard.com. Her poem "Pills" appeared in Issue No. 10 of Cleaver.
Image credit: 3off on Flickr
Read more from Cleaver Magazine's Issue #11.