BOOT LANGUAGE, a memoir by Vanya Erickson, reviewed by Elizabeth Mosier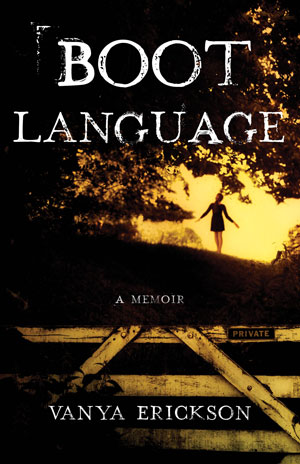 BOOT LANGUAGE
by Vanya Erickson
She Writes Press, 179 pages
reviewed by Elizabeth Mosier
The paradox in writing a postmodern memoir is that the author must somehow convince readers she's telling the truth—typically by admitting to subjectivity and fallible memory, and by interrogating her version of events.
But that's not the strategy Vanya Erickson employs in her post-WWII coming-of-age story, Boot Language. With vivid detail and some implausibly long passages of remembered dialogue, she presents herself as the sole reliable narrator of her life in California, where she was raised by an abusive, alcoholic father and a mother who failed to protect her (but did "soften Dad's blows" with inherited money). If Erickson asks readers to trust her story without evident corroboration, it may be because she's had to learn to trust herself to discern the truth, in order to steer safely through her parents' contradictory behavior and conflicting beliefs.
Mom was compassionate, musically talented, and although independently wealthy, searching for some deeper meaning to life other than social standing. A staunch supporter of the underdog, the arts, and liberal politics, she found her way to Christian Science not long after she married my father. Dad was of humbler stock, stoic and charming in his Naval dress-whites when they first met. But years later he returned war-worn, a staunch atheist. When Mom converted to Christian Science, the sparks flew.
This incendiary debate begins in the author's infancy, as her mother prays over new baby Vanya to heal severe bleeding from her umbilical knot. For Erickson, this harrowing event has the power of an origin story, casting her parents in the conflict that will drive family life for decades. Recounting how her mother's helper fortuitously interceded in the crisis, calling the grandfather who rushed the listless baby to the hospital, she writes,
Had my mother healed me? Or had the blood transfusion? It all depended on who was telling the story. But no matter the truth, I knew I was lucky. My earliest memory is of being four years old, lying on a blanket in the backyard of my home in Saratoga, California, looking up at the lush Santa Cruz Mountains and marveling that I was alive.
Signaling perspective with lines like these, Erickson both banks the reader's trust in her sincere intentions, and reassures us she's survived her mother's faith and her father's cruelty, which she goes on to relate in scene after scene. Rather than replicate her trauma through a fragmented narrative, she employs a more traditional psychotherapeutic plot for her story, one that progresses from confusion to clarity. But in the process, her tendency to casually reference significant events has an interesting effect of suggesting hidden wounds beneath visible scars. "Walt was in Canada, avoiding the draft, and Don had left for Vietnam. I was struck by the emptiness their absence created," she writes, startling me with this abrupt reminder of the tumultuous times and these shadow siblings, neither of whom bear her scrutiny for long. Whether this is a stylistic tic or a deliberate strategy, this tendency conveys trauma that feels authentic, like surfacing evidence of a long-running, private rumination to which we are only partially privy.
Erickson comes to understand her complicated parents in terms of the California terrain: her opera-loving mother craves the city culture of nearby San Francisco, while her father seeks—and sabotages with his drinking—a big-sky life of ranching at the family's summer home in the Sierra Nevada Mountains. She makes meaningful use of the physical landscape not only to characterize her parents in opposition, but also to convey the emotional effects of her father's abuse. In an especially revealing scene, Erickson's father tries to teach her to graft fruit trees. He's inspired by a family trip to horticulturist Axel Erlandson's "Tree Circus" in Santa Cruz; she recalls the trees they saw there as "contorted into some manner of madness, forced to grow at disturbing angles and curves." Back on the ranch, he hands her a knife and then mocks her as she hesitates before the damaged mother tree, now a mere trunk with amputated stubs. When she says, "I can't do it," she invites his rage—but begins to free herself from her father's designs.
If Erickson asks readers to trust her story without evident corroboration, it may be because she's had to learn to trust herself to discern the truth, in order to steer safely through her parents' contradictory behavior and conflicting beliefs.
Such details from the natural landscape are fascinating, and one could read Erickson's debut memoir just for a glimpse of ranching life most of us only know from watching television westerns. But Erickson's real subject is the inner landscape of her parents' failing marriage and her father's long decline. The story gains momentum when he bottoms out and Erickson reflects, "I didn't kid myself that this was the last time I'd have to confront my drunken father, or shield myself from the terror of his words, but tonight I felt an opening of something new. I had faced him, spoken the truth, and survived." Still, a shadow of love and longing hangs over her memory of this time and place as she laments "that good Dad" that might have been. Artfully rendered yet devoid of artifice, Erickson's heartfelt, emotionally honest book is like a letter to that father, whom she sought but never knew.
---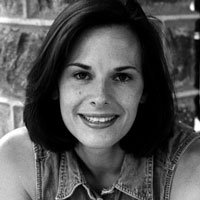 Elizabeth Mosier logged 1,000 volunteer hours processing colonial-era artifacts at Philadelphia's Independence National Historical Park Archeology Laboratory to write Excavating Memory: Archaeology and Home (forthcoming from New Rivers Press in 2019). A graduate of Bryn Mawr College and the MFA Program for Writers at Warren Wilson College, her nonfiction has been selected as notable in Best American Essays and appears widely in journals and newspapers including Cleaver, Creative Nonfiction, and The Philadelphia Inquirer. She writes the "Intersections" column for the Bryn Mawr Alumnae Bulletin.