I AM LOSING MY HANDS. by Kelley White

Kelley White
I AM LOSING MY HANDS.
The right hand middle finger middle joint swollen. I can almost see it. And hurt. Three times I try to open a bottle and hurt. Struggle. Will I need to ask for help? And who? There is the caretaker and I do so little. Last night the bulk the sheer bulk of him in bed. I move and it is a truck. A seismic dinosaur. The bedclothes shifting. Bedclothes. How many he saved. And all the tolls. He took tools he saved from his raggedly van. Sad. How sad. We did sleep in it and once I shivered shivered shivered big me. On skyline drive where there were deer and I saw them in the misty morning. And that boy hitchhiking with his dog. I don't remember their names, the boy or the dog. Might have been Australian. He drew us both. Not what I think I look like. Yet my braids are gone now. So many shears. Years. It would not harm be me now to grow them back. How could it? This is this is a draft. Automatic s writing with a malfunctioning finger. Will it improve if I go faster? If I exercise it? Too cold to walk outside. Pain pain burning cold blueness. Poems and pines. Turning pines to omens. Poems to ounces. That's good and if my fingers slside on the ssskeyboard well. This could all be interesting and now.
---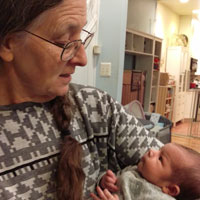 Pediatrician Kelley White has worked in inner-city Philadelphia and rural New Hampshire. Her poems have appeared in Exquisite Corpse, Rattle, and JAMA. Her most recent collection is A Field Guide to Northern Tattoos (Main Street Rag Press). She received a 2008 Pennsylvania Council on the Arts grant and is currently Poet-in-Residence at Drexel University College of Medicine.
Cover Design by Karen Rile