Matt Thomas
POP SONG
These eggs that I wash every morning
before tucking them into the carton
remind me of washing my daughter
no less carefully, with an eye to the future
knowing her cost and improbability.
Like stroking a pocket rabbit's foot,
thumb stopping
on the sharp bone beneath the fur:
the luckiest things are the least likely.
Roll an egg in your palm:
it's a spirit level finding true.
Once, stumped around a friend's deathbed,
a nurse suggested some music to pass to
I think of that phrase, humming
to the radio above the hens squawking,
winners to date, praising.
---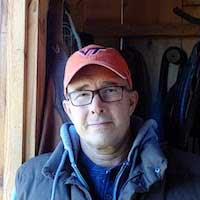 Matt Thomas is a smallholder farmer and occasional community college teacher. His work has appeared recently in Triggerfish Critical Review, Killing the Buddha, and the Hampden-Sydney Review. He lives with his partner and their daughter in the Blue Ridge Mountains of Virginia.
Cover Design by Karen Rile