THE REAL SKY, a mixed-genre chapbook by Valerie Fox & Jacklynn Niemiec, reviewed by Kendra Jean Aquino
THE REAL SKY
by Valerie Fox & Jacklynn Niemiec
Bent Window Books, 30 pages
reviewed by Kendra Jean Aquino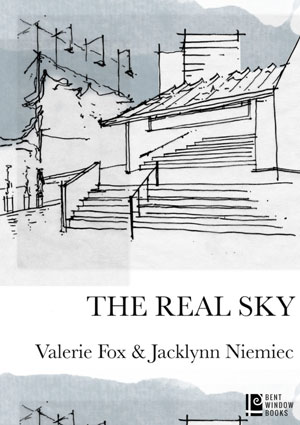 Within the first few pages of The Real Sky by Valerie Fox and Jacklynn Niemiec we meet a theatrical tour guide in a haunted town, a man named Andrew who might turn into someone else at the end of the day, and a mother, covered in plaster, who walks into a field and never returns. Valerie Fox's hybrid writing in The Real Sky is unexpected and surreal. Her ten pieces in the chapbook range in style from dreamlike micro fiction to short snapshot-style poems. At any given moment, you may be introduced to a new place, character, or theme. This meandering and fantastical narrative takes the reader on an unpredictable adventure. Throughout The Real Sky one is left to question what is real, what is imagined, and where the boundaries of possibility lie.
Fox's imaginative work is paired with equally exploratory architectural sketches by Jacklynn Niemiec. She combines harsh black lines, shadows, and pastel watercolors to recreate the spaces that Fox describes in her writing: the house the pet basilisk lives in, the haunted town the tour guide takes us through. Niemiec explained that she "considered the character of each place with Valerie, then used various photographic angles as well as memory to understand and reconstruct the structures as they were, and are now." Interpretative sketches of these scenes are placed adjacent to passages of prose and poetry. This allows the reader to feel like they are inhabiting the space along with the narrator. The clouded pastel hues bordering the stark black pen strokes also add ambiguity to where the spaces, and reality, begin and end.
Fox and Niemiec collaborated to create a mixed-genre chapbook that delightfully blurs the lines between what is "real" and what is not. The two mediums draw seamlessly from each other, creating a picaresque reading experience. At once you can be transported to a "big party house with a lot of grown-ups floating around wearing goggles," a "small boat, facing the center of Lake Harmony," or a small New York City apartment with music playing on vinyl. Stories that drip with curious imagery, paired with ethereal sketches, bring the scenes to life. The best part is, you get to decide what you believe, and interpret the meaning for yourself. Examine this phenomenon in an excerpt from "For the Kiddos":
Consider my life, and learn. Exhibit A. An imp in my water tumbler leaps up onto my shoulder. He has a leafy celery nose. His graffiti face is surprisingly complex. I am clutching this imp's knitted goods, which he is trying to seize away from me.
This is all happening right now inside my human house. The ceilings are blown out, the curtains azure. From speakeasy days there's a painted upright piano. Staying inside all day used to be such a joy, wearing a taffy tie and a slipper of green cheese, reading The Pickwick Papers.
In this instance, you could interpret the imp as a physical creature that is jumping about, or possibly as a pestering thought that is distracting you. Fox implies that it is real ("This is all happening right now inside my human house"), but the language is coy and mysterious. The content of each page promotes the use of innovative thinking and imagination. What does it mean for the ceilings to be blown out? What is a slipper of green cheese?
A final aspect of the chapbook that I admired was how the artists did not shy away from confronting more serious topics, in conversation with the wondrous and whimsical ones. One notable example is the marauding behavior of a skeleton man in the prose piece "Ribs, Cat Claws." He focuses his attention on a naked woman who is seated on a parlor couch. He moves toward her and his words "reach her with a beckon and growl: I was once flesh, too. We should be together. Your skin will cover me." He is merciless in his pursuit. This scene could serve as a commentary on sexual harassment, or a reflection on the imminence of death. Either way, it is a reference to issues that occur in reality. Whimsical as well as moving, abstract forms in the chapbook link to serious themes. In The Real Sky Fox and Niemiec create surreal spaces and narratives that exist somewhere between dreams and reality—both puzzling and astonishing.
---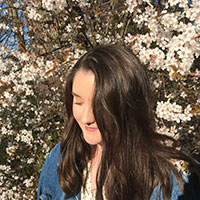 Kendra Jean Aquino is a writer and editor with a B.A. in English & Sociology from Cornell College. She has completed internships for the Chautauqua Writers' Center and Cleaver Magazine, and edits professionally for various web publications. In her free time you can find her reading, writing poetry and creative nonfiction, and spending time with her family and pets.