BEAUTY by Gregory Djanikian
Gregory Djanikian


BEAUTY



In the eye of the beholder, we say, disregarding
what the beautiful might spring from,
an oil slick's satiny iridescence, the ravishing
splash of orange in the smog-ridden sky.
Yesterday, someone pointed to the loosestrife
overtaking our garden, praised the lovely
delicate petals, the long magisterial stalks.
Sometimes the beautiful is a fire
that takes the whole of a tree in its arms,
sometimes a wild and engorged river
cutting deeply into the land.
The beautiful floats beyond us
immune to our beholding.
Once, on a slow train home
it was the hundred refinery towers
looming eerily over our passage,
flaring like dark angels.
Sometimes it touches us
without scruple or intention,
this arrow's fletching
against my fingers, the soft art
required to bring down, make war.
Sometimes it's almost nothing at all,
a long whistle in the distance,
a startle of new rain,
a woman's delicate hand appearing
in a window, then disappearing
before any implication.
---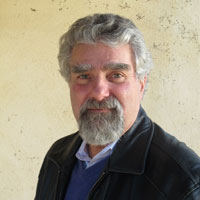 Gregory Djanikian has published six collections of poetry with Carnegie Mellon University Press, the latest of which is Dear Gravity (2014). His poems have appeared in many journals including American Poetry Review, The American Scholar, Boulevard, The Georgia Review, Iowa Review, Pleiades, Poetry, Poetry Northwest, The Southern Review, Shenandoah, and TriQuarterly, and he has been featured on NewsHour with Jim Lehrer. He teaches in the the undergraduate creative writing program at the University of Pennsylvania.
Image credit: 5demayo on morgueFile
Read more from Cleaver Magazine's Issue #11.