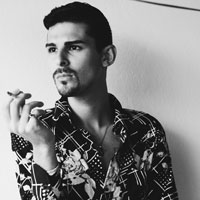 John Manuel Arias (¡Than Call Brad for Help!, Poetry) is a gay Costa Rican/Uruguayan poet and crepe-maker who was raised in a DC ghetto when it was the murder capital. His poems have appeared in Red Paint Hill, The James Franco Review, and others and will soon appear in upcoming issues of The Journal and Assaracus. He currently lives in San José, Costa Rica with his grandmother and five ghosts. His debut poetry collection, I'd Rather Sink, will be published in 2017 by Red Paint Hill.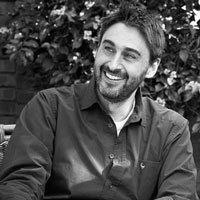 †Daniel Aristi (Benthic, Flash) studied French literature as an undergrad at the French Lycée of San Sebastian. A native of Spain, he now lives and writes in Switzerland with his wife and two children. His work has been published in many journals, including Meat for Tea, and is forthcoming in the Los Angeles Review and Fiction Southeast, among others. His story "Tempus Fugit" from SAND was listed among The Best Small Fictions. He can be contacted at [email protected]. Daniel is a Cleaver Emerging Artist. 
C.B. Auder (The Iceberg in Future Retrospect, Flash) has micromanaged a full-time pursuit as a perambulating ecosystem for nearly half a century, which is as exhausting as it sounds. Auder's recent work can be found in Random Sample Review, 3Elements Review, Jersey Devil Press, and Queen Mob's Teahouse. Follow Aud's tweets on Twitter at @cb_auder.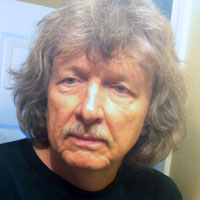 Roy Bentley (The Color Yellow, Love, The Fall of Leaves in Autumn, Poetry) has received fellowships from the NEA, the Florida Division of Cultural Affairs, and the Ohio Arts Council. Poems have appeared in The Southern Review, Shenandoah, Pleiades, Blackbird, North American Review, Prairie Schooner, and elsewhere. Books include Boy in a Boat (University of Alabama), Any One Man (Bottom Dog), The Trouble with a Short Horse in Montana (White Pine), and Starlight Taxi (Lynx House). His poem "And Blood on the Tracks in the Tape Player" appeared in Issue No. 12 of Cleaver. He has taught creative writing and composition at universities and colleges throughout the Midwest and in Florida.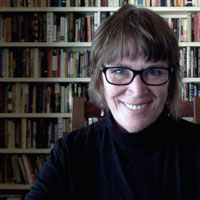 Shelley Blanton-Stroud (Who's in Charge, Creative Nonfiction) teaches college composition in Northern California. Her stories appear in Brevity Blog, Eunoia Review, and Mamalode and are forthcoming in Soundings Review. She has brought pieces of her novel-in-progress to Bread Loaf, Napa, and Squaw Valley writing conferences, where nice people have tried to teach her how to be a fiction writer.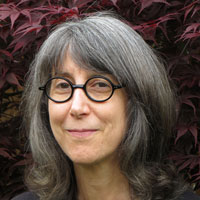 Laurie Blauner (Diary of a House, Creative Nonfiction) is the author of three novels and seven books of poetry.  Her fourth novel, The Solace of Monsters, won the 2015 Fiction Contest at Leapfrog Press and is forthcoming in October 2016. Her work has appeared in Mississippi Review, The Collagist,Caketrain, The Georgia Review, The Best Small Fictions 2016, and other magazines. Her flash piece "Assembling an Anatomical Life" appeared in Cleaver's Issue No. 5. This is her first published piece of non-fiction.  Her web site is www.laurieblauner.com.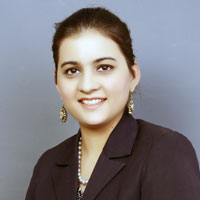 Mohineet Kaur Boparai (Waiting for the Festival of Lights, Poetry)  has published four books of poetry. She has been nominated for the Pushcart Prize twice. She has been widely published internationally and her poetry has appeared in Phantom Drift, Zymbol, Lindenwood Review, South Asian Ensemble, and Nether Magazine, among others. In December 2014, Zymbol Magazine published her interview, which they titled "India's Rising Star." She lives in Toronto and is also an Assistant Professor in DAV University, Jalandhar in India. She is a mother, fashionista, introvert, and self-proclaimed connoisseur of interior decoration. Her website is sipping-sunshine.blogspot.in.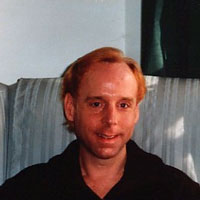 Bruce Bromley (What Betsy Was, Creative Nonfiction) teaches writing at New York University, where he won the Golden Dozen Award for teaching excellence. Able Muse Review nominated his fiction for a 2013 Pushcart Prize. His poetry, essays, and fiction have appeared in Out Magazine; The Nervous Breakdown; 3:AM Magazine; Fogged Clarity; the Journal of Speculative Philosophy; Gargoyle Magazine; and in Environmental Philosophy, among other journals. Dalkey Archive Press published his book Making Figures: Reimagining Body, Sound, and Image in a World That Is Not for Us in 2014.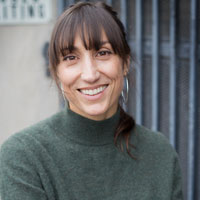 Jennifer E. Brown (My Shining Demon, Poetry) is a writer from San Francisco. Her work has appeared in Lungfull!, The Indiana Review, Fourteen Hills, The New Orleans Review, Digital Americana, and other American literary journals. In 2015 she was nominated for the Pushcart prize by Short, Fast & Deadly. She hold a master's degree in Creative Writing from San Francisco State University and works at Mills College in Oakland.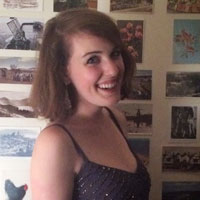 †Kaitlyn Burd (* fictitious forces, Flash) lives in Madrid, Spain, and studied English at Kenyon College and the University of Oxford. Her work has been published or is forthcoming in Atticus Review, Sonder Review, Susquehanna Review, the First Line Journal, Underwired, and elsewhere. She works on the editorial staff of Paper Darts Magazine and spends as much time as she can drinking coffee with her grandpa. Kaitlyn is a Cleaver Emerging Artist.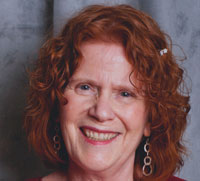 Constance Campana (Two Deaths, Poetry) teaches writing at Wheaton College in Norton, MA. Her poetry has appeared in Brown Journal of the Arts, Three Rivers Poetry Journal, 491 Magazine, Dogwood, Clerestory, SNReview, and several other small press magazines. Her poem "Road Trip, 1957" appeared in Cleaver's Issue No. 14. Besides poetry, she is currently writing personal essays that examine family myths and the detailed events that determine identity. She grew up in Kentucky and received her MFA from Brown University.
Jay Duret (Angel, Fiction) is a San Francisco-based writer and illustrator who blogs at www.jayduret.com. More than two dozen of Jay's stories have been published in online and print journals, including Narrative Magazine, Blue Fifth Review, Gargoyle, and December. Jay's cartoons have appeared in Huffington Post. Jay's first novel, Nine Digits, was published by Indigo Sea Press.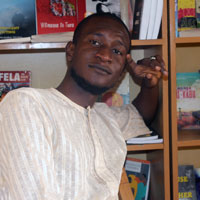 Saddiq Dzukogi (Parenthesis, Poetry) is a graduate of Ahmadu Bello University in Zaria, Nigeria. He has poems featured or forthcoming in literary publications such as Chiron Review, Vinyl Poetry, About Place Journal, Helicon, Off the Coast, The Volta, The Blue Lotus Art Journal, Grey Sparrow, and numerous others. Saddiq is the poetry editor at Expound Magazine.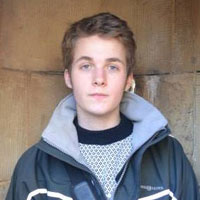 †Connor Fieweger (A Family, Fiction), a Chicago native, is a student at the University of Chicago, where he plans on double majoring in Physics and Fundamentals. He frequently has to remind himself that Arnold Schwarzenegger being the Governor of California was a real thing because it seems like something that he would make up as a joke at first and then just start accepting as reality. This is his first instance of published writing, hopefully with more to come. Connor is a Cleaver Emerging Artist.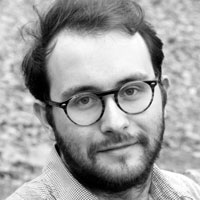 Matthew Gellman (Cause, Poetry) lives in New York and is currently an MFA candidate at Columbia University. His poems are featured or forthcoming in Thrush, H.O.W. Journal, Lambda Literary, Poetry Quarterly, DIALOGIST, Two Peach, and elsewhere. His poem "Trip" appeared in Issue No. 14 of Cleaver. He is the recipient of an Academy of American Poets prize and a scholarship from the NYS Summer Writer's Institute.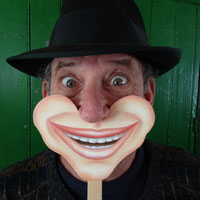 Mitchell Krockmalnik Grabois (Hard Drizzle Falling, Flash) has over a thousand poems and fictions published in literary magazines in the U.S. and abroad. He has been nominated for the Pushcart Prize, The Best of the Net, and Queen's Ferry Press's Best Small Fictions for work published in 2011 through 2015. His flash piece "Pick" appears in Issue No. 10 of Cleaver. His novel, Two-Headed Dog, based on his work as a clinical psychologist in a state hospital, is available for Kindle and Nook, or as a print edition. To see more of his work, google Mitchell Krockmalnik Grabois. He lives in Denver.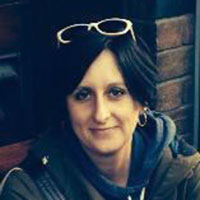 Allison Hall (Viscosity, Flash) is a writer and librarian from Ontario, Canada. Her short story "A Funeral for Carl" was published in the Mulberry Fork Review. She is currently working on her first novel.
.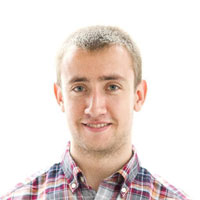 Alec Hill (Persimmons, Fiction) is a writer and student at the University of Pennsylvania majoring in English and Creative Writing. His work has appeared in the Kelly Writers House publications Symbiosis and Peregrine. He helped found and currently edits for the new Civic House blog "Seeds to Revolution." You can find out more at alechill.squarespace.com.
.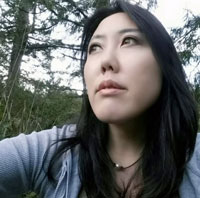 Hannah Lee Jones (In Eden, Flash) has published poetry, fiction, and essays in Superstition Review, Literary Orphans, The Boiler, Limehawk, and Orion. She founded and edits Primal School, a resource for poets pursuing their craft without an advanced degree, and lives on Whidbey Island in northwest Washington. 
.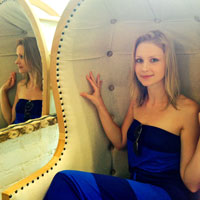 Anita Olivia Koester (Top Hats and Puppets, Poetry) is a Chicago poet. She is the author of the chapbooks Marco Polo (Hermeneutic Chaos Press) and Year of the Dogs (Back to Print). Her poetry is published or forthcoming in Vinyl, Tahoma Literary Review, CALYX Journal, Stirring, and elsewhere. Her poems have been nominated for Best New Poets and a Pushcart Prize and won the Jo-Anne Hirshfield Memorial Poetry Award. She is also the recipient of the Bread Loaf Returning Contributor Award, and her writing has been supported by Vermont Studio Center, Art Farm, and SAFTA. Visit her online at www.anitaoliviakoester.com.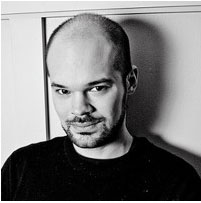 Nick Kolakowski (Illuminati Dance, Poetry and Alone With Your Own Disaster, Fiction) lives in New York City. His work has appeared in The Washington Post, McSweeney's, The Evergreen Review, 7×7.la, Carrier Pigeon, and Shotgun Honey, among other publications. He's also the author of How to Become an Intellectual, a book of comedic nonfiction, and Somebody's Trying to Kill Me, a short-story collection. His flash fiction "Little Orestes" appeared in Issue No. 8 and his story "The Valley" appeared in Issue No. 10 of Cleaver. His poem "Illuminati Dance" appears in this issue.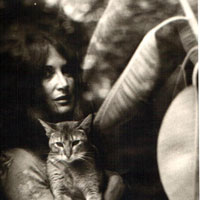 Lyn Lifshin (I think of my grandfather, Poetry) has published over 130 books and chapbooks including three from Black Sparrow Press: Cold Comfort, Before It'sLight, and Another Woman Who Looks Like Me. BeforeSecretariat: The Red Freak, The Miracle. Recent books includeBallroom, All the Poets Who Have Touched Me, Living and Dead. All True, Especially The Lies, Light At the End: The Jesus Poems, Katrina, Mirrors, Persphone, Lost In The Fog,  Knife Edge &Absinthe: The Tango Poems, and others. Forthcoming are Degas' Little Dancer and Winter Poems from Kind of a Hurricane Press, and others. Her poem "But Instead Has Gone Into the Woods" appears in Issue No. 10 of Cleaver. "The Affair" appears in Issue 13.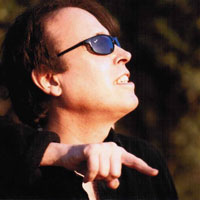 Ken O'Steen (A Few Quirks of Surrender, Fiction) lives in Los Angeles. His fiction has appeared or is forthcoming in New Pop Lit, Litbreak, Literary Juice and British publication The Wolfian. "Dinner at Musso and Frank" appears in the anthology, The Muse in the Bottle: Great Writers on the Joys of Drinking. He blogs on an irregular basis under the screen name Baron Von Compos Mentis.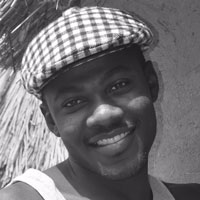 †David Ishaya Osu (What Was Told, Poetry), born in 1991 in Nigeria, is a board member of the Babishai Niew Poetry Foundation based in Uganda. His poetry appears in Chiron Review, The Lampeter Review, CutBank, Vinyl , Transition, The Nottingham Review, New Coin Poetry, Maintenant 10: A Journal of Contemporary Dada Writing & Art, among others. David is a fellow of the Ebedi International Writers Residency, and is currently the poetry editor at Panorama: The Journal of Intelligent Travel. David is a Cleaver Emerging Artist.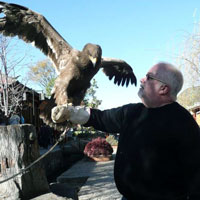 Dennis Potter (A Pilgrim's Fugue, Art) has been a painter, printmaker, and fiber artist for more than forty years. He grew up in the deep South and has lived in the Bay Area since earning an MFA from the University of California at Berkeley in 1983. His work has been shown extensively in San Francisco, Boston, and New York. For the past ten years his work has been focused on a Buddhist conceptual model.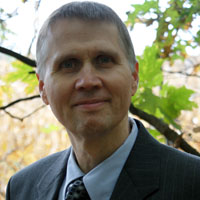 Doug Ramspeck (The Old Worlds, Flash) is the author of five poetry collections. His most recent book, Original Bodies (2014), was selected for the Michael Waters Poetry Prize and is published by Southern Indiana Review Press. Individual poems have appeared in journals that include The Kenyon Review, The Southern Review, and The Georgia Review. Stories have appeared in Iowa Review, Green Mountains Review, Gargoyle, and others.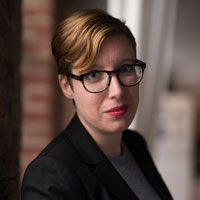 Lisa Rowan (Election Night, Creative Nonfiction) is a writer and editor living in Washington, D.C. She co-hosts Pop Fashion, a weekly podcast that discusses fashion, culture, and creativity. Her flash piece "Kitchen, 1999" appeared in Cleaver's Issue No. 10.
.
.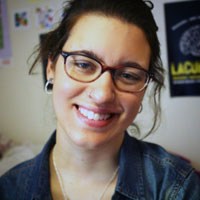 †Meggie Royer (Testimony, Poetry) is a writer and photographer from the Midwest who is currently majoring in Psychology at Macalester College. Her poems have previously appeared in Words Dance Magazine, The Harpoon Review, Melancholy Hyperbole, and more. Her poem "Sugar" appeared in Issue No. 13 of Cleaver. "Graduation Day" appeared in Issue 14. She has won national medals for her poetry and a writing portfolio in the Scholastic Art and Writing Awards and was the Macalester Honorable Mention recipient of the 2015 Academy of American Poets Student Poetry Prize. Meggie is a Cleaver Emerging Artist.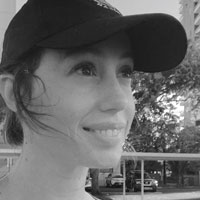 †Crystel Sundberg-Yannell (Dancing Doe and the Go-Go-Go, Fiction) holds an MA in Creative Writing. She currently lives in Hawaii with her husband and daughter. This is her first publication—thanks, Cleaver Magazine! You can find the rest of her writing in "Awesome Wordy Things!", which is what she renamed the trash bin on her desktop. Crystel is a Cleaver Emerging Artist.
.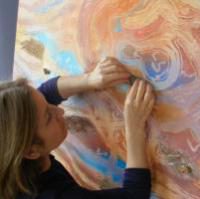 Jacqueline Unanue (Color Out Loud, Art) is a Chilean-born visual artist of Spanish ancestry residing in Philadelphia since 2000. She studied design at the Universidad de Chile de Valparaíso, traveling extensively through Chile's Atacama Desert, and the pre-historic Altamira caves in the Basque Country. She created her own graphic language in her book "El Arte Rupestre Chileno, un encuentro con el Hombre Primitivo" ("Chilean Rock Art, An Encounter with Primitive Man"), for which she received her graphic design degree. Unanue has received numerous awards and grants and has exhibited her work in Chile, Spain, Finland, Ecuador, and Argentina, as well as in galleries in Washington DC, Philadelphia, Chicago, and New York. Her work can also be found in many private collections in the Americas and Europe, and she is currently represented by the 3rd Street Gallery in Philadelphia. www.jacquelineunanue.com.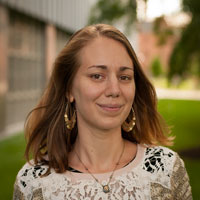 †Cady Vishniac (Panhandle, Gulf, Poetry) has published poetry in Sugar House Review, Tupelo Quarterly, and Verse Daily. Her stories have won prizes at New Letters, Mid-American Review, and New Millennium Writings. She's earning her MFA at The Ohio State University, where she is an associate fiction editor for The Journal. She's also fiction editor for Reservoir, and reads for Raleigh Review. Cady is a Cleaver Emerging Artist. 
.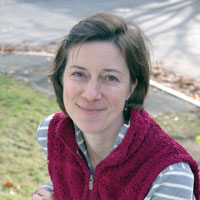 Kris Willcox (In God's Mailroom, Flash) has work published or forthcoming in Beloit Fiction Journal, Cimarron Review, Literary Mama, and other publications. She is a regular contributor to UU World magazine and was a finalist in the 2016 Massachusetts Cultural Council Artist Fellowship program. She lives in Arlington, MA with her family.
.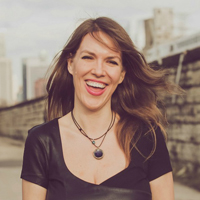 Melissa Wiley (The Lions' Murder Ballad, Creative Nonfiction) is the author of Antlers in Space and Other Common Phenomena, an essay collection forthcoming from Split Lip Press. Her creative nonfiction has appeared in journals such as DIAGRAM, Juked, Drunken Boat, PANK, Atlas and Alice, Superstition Review, The James Franco Review, Tin House Open Bar, Mud Season Review, Under the Sun, Pinball, Squawk Back, Gravel, Eclectica Magazine, Gone Lawn, Specter, Lowestoft Chronicle, Souvenir Lit Journal, Pithead Chapel, and pioneertown. Her travels in Lapland are also anthologized in Whereabouts: Stepping out of Place.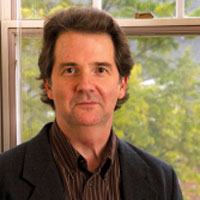 David Wolf (Unsteady On, Creative Nonfiction)  is the author of four collections of poetry, Open Season, The Moment Forever, Sablier, and Sablier II.  His work has appeared in The Hampden-Sydney Poetry Review, New York Quarterly, Poet and Critic, River Styx, and elsewhere. He is a professor of English at Simpson College, where he teaches writing and literature and serves as the literary editor for Janus Head: Journal of Interdisciplinary Studies in Literature, Continental Philosophy, Phenomenological Psychology, and the Arts.