CLEOPATRA AND FRANKENSTEIN, a novel by Coco Mellors, reviewed by Stephanie Fluckey

CLEOPATRA AND FRANKENSTEIN
by Coco Mellors
Bloomsbury, 384 pages
reviewed by Stephanie Fluckey
I was attracted to the novel Cleopatra and Frankenstein because the title characters and I share something in common: a short courtship followed by elopement. In Coco Mellors's debut novel, I was curious to see what she would do with this scenario, long fabled in movies and books, but also very real to me. My elopement was born out of love, seventeen hundred miles of distance, and an international border, while Cleo's and Frank's marriage was born out of love and an expiring visa. Though Cleo and Frank had to bear the same accusations of a marriage of convenience, which was neither of our motivations, our stories quickly evolved into something entirely different.
Cleopatra and Frankenstein is part glamor and part monster, as the name suggests. Mellors bravely tells the story of a marriage that never shies away from the uncomfortable; she tackles hard subjects without embarrassment or deflection. This story is not a warm hug on a Sunday morning; it's a wake-up call after a long night. Sometimes we need a wake-up call.
The novel opens with a charming meet-cute, where young, beautiful artist Cleo meets confident, middle-aged advertising executive Frank while leaving a New Year's Eve party. With their natural, witty banter—their chemistry is immediately felt—we want them to be together. They go from newly introduced to newly married in a few months. Mellors fast forwards from their meeting directly to their marriage, which is the subject she really wants to address.
Marriage is never as simple as a rom-com meet cute, and Cleo and Frank's relationship devolves into a monster of their creation. Cleo refuses to acknowledge the true impact of family trauma in her life, while Frank soaks his memories and regrets with alcohol. Their initial frivolity and charm comes undone as their hasty marriage spirals into betrayal and loneliness. With neither of them willing to fully examine their past, they don't find their way to each other through their pain. Their friends and family struggle equally around them, often pulling them into their painful orbit. Cleo's best friend Quintin struggles with his sexuality, Frank's sister Zoe lacks self-awareness and relies on her brother's hand-outs, while his best friend Anders desires his wife. As Cleo and Frank drift from one another, their friends don't throw them a life line but instead take them further out to sea.
The narrative is interrupted with the introduction of Eleanor in Frank's life. Eleanor is the comedic but truthful interloper, and her point-of-view shows a kinder, funnier Frank. While Frank is drawn to Eleanor, Cleo escapes to Anders, who absorbs her into himself. Anders's desire for her is born out of desperation and a lust for a different life, not love.
This is not just a story of a marriage in turmoil, but one of two people desperately trying to belong. This is a story of how loneliness and addiction drive people into their own dark interiors, instead of bringing them together. As Cleo desensitizes Frank's alcoholism with infidelity, and Frank rebels against Cleo's frustration with anger and self-aggrandizement, they both fail to meet the other's need: connection. As their friends' lives bump and hurdle through space, they become a mirror of Cleo and Frank's untethering. Their relationship irreparably changes when Cleo's desperate action severs their marriage: she sees him as the cause of all her pain, and he sees her as the death of all they had.
This may sound sad, and at times it is. It is Mellors's deft ability to lighten a scene with humor and honesty that sees the reader through the hard moments. We cry with these characters, but we also laugh with them—they're so human. They share deep desires and weaknesses with a vulnerability that will make any reader feel less alone. Though the ending is not a neatly tied bow, as many stories that open with a meet-cute are, Cleo and Frank do find a way back: not to each other, but to themselves.
Thankfully, my elopement took me in a different direction, but my empathy for Cleo and Frank runs deep, because they started in the same place: in love. There is no perfect love story, but unlike Cleopatra, Cleo doesn't succumb to the viper, nor does Frank become Frankenstein's monster. Their change, however difficult, creates something entirely new out of each of them. This is not the story of a happy marriage, but it is the story of two people who discover what it takes to find their happiness: a better understanding and acceptance of themselves.
---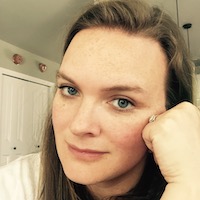 Stephanie Fluckey (she/her) is a writer and artist living in the Pacific Northwest. She holds an MFA in Creative Writing from Lindenwood University and draws on her experience as an artist to visually inform her writing. Surrounded by nature and the beauty of Washington, Stephanie's literary fiction is influenced by the natural world with a focus on characters seeking redemption, belonging, and acceptance. Her poem "Silent Night" was published in Survivor Lit.