AND BLOOD ON THE TRACKS IN THE TAPE PLAYER by Roy Bentley
AND BLOOD ON THE TRACKS IN THE TAPE PLAYER
by Roy Bentley
Recall any moonlit part of an hour by a road's edge:
the snow on the limbs of scrub pine, the silent falling
through night air beside miles of two-lane blacktop.
There is no equivalent to wanting someone that much.
If you think about it, the cop who stood in deep snow
to tap at the window was anything but rude, though
he did flashlight you. Turns out, it takes a uniform
to bring Original Sin into a space scented with sex.
And he did turn away as you wriggled into clothes.
In those days, the mat of beer cans was nothing.
And you got a warning and felt lucky to be young
in Ohio where the police knew your name, hers,
and followed in a cruiser to where you dropped her,
your Firebird or Ford Torino idling for a long kiss
in the driveway of a house with the porchlight on.
---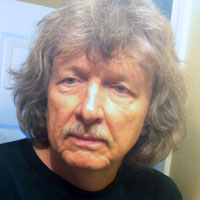 Roy Bentley has received fellowships from the NEA, the Florida Division of Cultural Affairs, and the Ohio Arts Council. Poems have appeared in The Southern Review, Shenandoah, Pleiades, Blackbird, North American Review, Prairie Schooner and elsewhere. Books include Boy in a Boat (University of Alabama), Any One Man (Bottom Dog), The Trouble with a Short Horse in Montana (White Pine), and Starlight Taxi (Lynx House). He has taught creative writing and composition at universities and colleges throughout the Midwest and in Florida. These days, he teaches for Georgian Court University in New Jersey and lives near the Jersey Shore.