TWO DEATHS by Constance Campana
TWO DEATHS
by Constance Campana
What should I remember, what release? My mother's hot hand in mine as she was dying.
My dog's heart stopping. I felt it.
My arm under her belly, my cheek on her spine—two quick beats
and that was all. But certainly not. I fell on her dark fur.
My mother's breathing was harsh; she seemed like someone else.
I sat by her and listened. I knew she was dying. I knew
she was not there—my head hurting, my hand
losing feeling. Don't die now, I thought.
On the floor with my dog, breathing her in, I felt the end of her heart. Yet I feel her, still
here. Perhaps I want her, still here.
My mother left me. When I knew she was leaving, I left. I was too young to pretend.
How could my mother leave me?
But my dog is with me. I have shut all the doors. I don't look
at the backyard. I don't go out on the porch and sit. I stay in, where she last was.
If my mother were here, she would help me. She would say, you will remember her.
What you are doing is remembering your dog. You loved her. You are doing the right
thing.
I would argue, no. Haven't you been listening?
---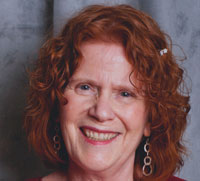 Constance Campana's poetry has appeared in Brown Journal of the Arts, Three Rivers Poetry Journal, 491 Magazine, Dogwood, Clerestory, SNReview, and several other small press magazines. Her poem "Road Trip, 1957" appeared in Cleaver's Issue No. 14. Besides poetry, she is currently writing personal essays that examine family myths and the detailed events that determine identity. She grew up in Kentucky but, after receiving her MFA from Brown University, stayed in Rhode Island and recently moved to Massachusetts, where she teaches writing at Wheaton College in Norton, MA.
Image credit: Christopher Harris on Unsplash