Meggie Royer


SUGAR



When my mother takes us to the sea
my father does another line.
At night when someone comes downstairs
for a drink of water
the kitchen table stretches itself into shadow
like a paper tiger.
Once, at the bottom of the steps,
wavering before the stove,
I saw him take so much
his eyes rolled back in his head.
On some mountains, the bodies
are never recovered.
Just salvaged.
A string of beads, a broken glass,
bloodwork losing itself to memory.
The things we do to ourselves
trail like tire marks into snow.
---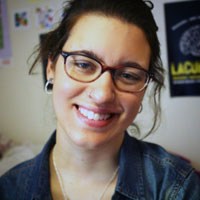 Meggie Royer is a writer and photographer from the Midwest who is currently majoring in Psychology at Macalester College. Her poems have previously appeared in Words Dance Magazine, The Harpoon Review, Melancholy Hyperbole, and more. She has won national medals for her poetry and a writing portfolio in the Scholastic Art and Writing Awards, and was the Macalester Honorable Mention recipient of the 2015 Academy of American Poets Student Poetry Prize.