CENTER OF AN IMAGINARY WORLD: Place in Fiction, a craft essay by Mandira Pattnaik

CENTER OF AN IMAGINARY WORLD: Place in Fiction
A Craft Essay by Mandira Pattnaik
Recently, while compiling my short stories and flash fiction for a possible collection, I was surprised by how many of those stories were based in the culture and climate markers of the place I live. Some place markers appear by explicit mention geographically, while other stories wore badges of a common identifiable whereabouts. I realized these references represented the center of my imaginative world, much like Calcutta does for novelist Amitav Ghosh. The same way James Joyce records his short stories upon the scaffolding of the city of Dublin:
In Westmoreland Street the footpaths were crowded with young men and women returning from business, and ragged urchins ran here and there yelling out the names of the evening editions… full of the noises of tram gongs and swishing trolleys and his nose already sniffed the curling fumes of punch. — "Counterparts", from Dubliners
Consider the accurate sketch of Dublin, the stage is the city's pavements: urban working class on the throes of change are characters, drama in a state of flux. Compare the above with a similar passage from Ghosh's novel "The Shadow Lines":
…he was a familiar figure within the floating, talkative population of students and would-be footballers and bank clerks and small-time politicos and all the rest who gravitated towards that conversation-loving stretch of road between Gariahat and Gole Park. 
It was while I considered my appreciation of this, that I began to examine the importance of place in fiction writing and how a work needs to be seen through the prism of the places themselves. Simultaneously, it also intrigues me why fiction should be strongly rooted in place anyway. Accomplished writers deftly use cities and hometowns, like wefts and warps, looped into their writing. The chosen locales, then, lend themselves to superlative imagery and metaphors, becoming the fabric on which character nuances are woven in, like a rich tapestry. Authors use the place's dramatic historical upheavals and even mundane daily affairs. Remember Ray Bradbury's Dandelion Wine? The novel is set in the summer of 1928 in fictional Green Town, Illinois, based upon Bradbury's childhood home in Waukegan, Illinois. The main character is a 12-year-old boy patterned on himself.
In writing drawn artfully in context and reference from places that flow in the veins of its authors, I find that writers are in love with those places, sometimes subconsciously, like soil before a seed takes root.
Looking at my own writing and that of others, I have noticed some patterns:
I tend to braid in references to rural India, where I spent my earliest years. It is with some effort, I might acknowledge, that I avoid cliches and focus on lived experiences, aided by observations of the nuances of life in miniature forms.
Drawing attention to diverse dialects, regions, and cultures pays richly, for they make for great story-telling. Blending in an author's unique perspective can be charming to the appreciative reader. A pop culture reference—such as a popular song, actor or political figure associated with a particular region—often further enhances the link.
To highlight labor and love in peasant land is resonant to a wide spectrum of readers, particularly when writing traditional or classical fiction, something I hope to bring to new and urban readers, giving attention to a low-key but lived-in region. By doing so, I can incorporate references to markets, streets, parks, hills, brooks, and unassuming local folk, embellishing them with my sincere observations. This sort of approach shows up in the work of great poets and writers, including Rabindranath Tagore, (poet and Nobel Prize winner for the poetry collection Geetanjali), novelist and current International Booker winner Geetanjali Shree (for the novel Tombs of Sand), and cartoonist and short-story writer R. K. Narayan (winner of India's second highest civilian award).
Finally, I like to intrude upon "Indian" folktales, myths and stories, every once in a while, retelling a favorite childhood fable, although the phrase "folktales from India" is a misnomer. There are scores of regions, and diverse stories broadly identifying as "Indian," all different under the surface. In "Indian" tales, translations could include stories from places as varied as the Thar desert and the place with the highest rainfall in the world; from as many as twenty-two different regional languages, encompassing the harrowing and comic, sardonic and allegorical, mysterious and romantic. (Since so little of it has been collected, writers like me can learn a lot simply by reading these place-centric tales because there's a treasure trove waiting to be explored.)
I realize writing should be tethered to roots and place, and should ooze both authority and authenticity. To fall back on origins and identity to build imaginary worlds seems natural. For example, I can easily recall the fragrance of rain-washed black soil, the bounty of nature as much as its ferocity, the warmth of a neighborhood where you knew what was cooking in others' kitchens, and I write about those. I can effortlessly visualize childhood summer fairs, cobbled lanes, cattle sheds, and the weekly marketplace: these are now some of the recurring themes and images in my narratives. I hope to project these images like a series of frames, together with their unique sounds and experiences, through my work, bolstering and vivifying the narrative.
Writers may open tiny windows out into the places that are centers of their creative minds, and readers can glimpse a new, previously undiscovered world. This sort of place-centric approach piques the reader's interest and helps enhance and expand character and plot.
---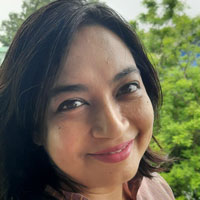 Mandira Pattnaik is an Indian poet, fiction writer, essayist, and columnist published in more than two hundred magazines, journals, and anthologies, in fifteen countries. Learn more at mandirapattnaik.com