WHAT WAS TOLD by David Ishaya Osu
David Ishaya Osu
WHAT WAS TOLD
was triangle &
the sayings of an
apple full
of iodine. what
was told before the
kiss. has a toad
swollen at
a word
of divorce? elegy
no cry again
for the coming
coming nights, no
no, no, quickly
quickly as a rain
rinsing a
dress made
from ash
—the second coming
of judas—how are
you, mr. xylophone? have
you got some
new mallets
for this old
b
old
body?
---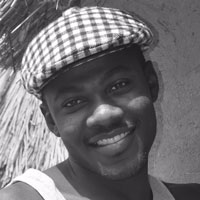 David Ishaya Osu, born in 1991,born in 1991 in Nigeria, is a board member of the Babishai Niew Poetry Foundation based in Uganda. His poetry appears in Chiron Review, The Lampeter Review, CutBank, Vinyl , Transition, The Nottingham Review, New Coin Poetry, Maintenant 10: A Journal of Contemporary Dada Writing & Art, among others. David is a fellow of the Ebedi International Writers Residency, and is currently the poetry editor at Panorama: The Journal of Intelligent Travel. 
Image credit: yurijw on Flickr
Read more from Cleaver Magazine's Issue #15.