GRADUATION DAY by Meggie Royer
GRADUATION DAY
by Meggie Royer
My grandmother braids her hair with salt,
forgives my brother for every broken-legged deer
he coaxes out of the brush.
We draw their hot red flanks into our mouths
for every new meal we can afford,
antlers hanging beneath the chipped mantle
like sullen ghosts.
Years later he will graduate
to bringing women home for feasting,
their bodies smeared into want
on the basement floor.
Grenadine and rum until neither of them
can tilt without swelling,
my grandmother floors above,
oblivious to the way longing
sounds so much like grief.
---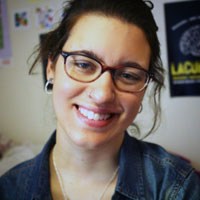 Meggie Royer is a writer and photographer from the Midwest who is currently majoring in Psychology at Macalester College. Her poems have previously appeared in Words Dance Magazine, The Harpoon Review, Melancholy Hyperbole, and more. She has won national medals for her poetry and a writing portfolio in the Scholastic Art and Writing Awards and was the Macalester Honorable Mention recipient of the 2015 Academy of American Poets Student Poetry Prize. Her poem "Sugar" appears in Cleaver's Issue No. 13.
Image credit:Oscar Keys on Unsplash