VISCOSITY by Allison Hall
VISCOSITY
by Allison Hall
I wore my grey dress to the funeral, the one with the scratchy sleeves. My tights had a hole under the knee that got bigger when I poked my finger into it. The coffin was closed and I wondered if Nancy looked like she was sleeping in there. There was a single white rose lying on top. I didn't even know they made roses in white. A skinny lady with a stern face and a hat played the organ while everyone stood up and sang. I didn't know the words.
Afterwards there were little sandwiches in the basement of the church. The crusts were cut off and they were overlapping on silver trays. My dad gave me a cup of milky tea with three sugars. It was my first time for tea. It was warm and sweet and made my eyes feel droopy. Nancy's mom was sitting on a folding chair that we used for Christmas concerts. Her arms had stopped working; they hung useless from her shoulders. An old man went to talk to her but she didn't look at him. Her eyes stayed on the squares in the carpet. The egg sandwich I picked was full of mayonnaise that squished out the sides of the bread when I took a bite.
There was a boy from school running laps around the punch bowl. A lady came and pulled him away. Nancy was in my class. She wore a different dress every day. Her hair was in braids with little coloured ribbons tied at the bottom. I liked those ribbons, I only had elastics.  There was a big picture of Nancy propped up beside the dessert table. Her ribbons were pink and they matched the frilly white dress with the pink trim she was wearing. It was her school picture. I remember that dress.
Last night, my parents came into my bedroom with smiling, worried faces. They asked me if I knew what death meant. I told them it was when you went away and didn't come back. They both looked a little less worried then, so I guess I gave them the right answer. When she tucked me in, my mom brushed my hair back and stroked my forehead. She looked into my eyes and asked me if I was alright. "Yes, I'm alright," I said.
After we finished our sandwiches, my teacher Mrs. Chowen stood at the front of the room. Her feet were squeezed into pointy black shoes with gold buckles. She told us how much she would miss Nancy and what a great student she was. She said that Nancy had the top marks in our class. Not anymore, I thought.
Mrs. Chowen didn't tell everyone about the time Nancy pushed me off the monkey-bars and nearly broke my arm. I guess her family wouldn't want to think about something like that. A few more people I didn't know came up to say nice things about Nancy. Then her dad said thank you to everyone for coming. Nancy's mom didn't look up at all. I thought maybe she had gone to sleep but once and a while I saw her head bob up and down a bit.
Outside the church, the snow was melting and running down the road in little rivers. Everyone stood there like they didn't know what to do. I saw the old man shake his head. "Such a tragic accident," he said.
I was playing in the park with Nancy when she fell and hit her head on the ice. She never woke up again after that. I wonder if she even knew what had happened; one minute she was standing up and the next, she was asleep. I remember how her eyes looked right into mine before she fell. They were wide open as her hands reached out and grabbed at the air. On the ground, she was still and quiet like a forgotten doll. I sat beside her and watched the kids sledding down the hill across the valley. The sun was going down and the sky was orange and pink. Nancy would have liked it.
My parents told me to sit in the car while they went to say sorry to Nancy's mom and dad. I put my hand into the pocket of my puffy coat and stroked the shiny purple ribbon. I didn't even say goodbye.
---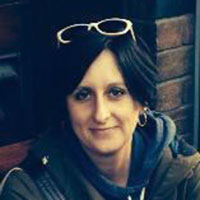 Allison Hall is a writer and librarian from Ontario, Canada. Her short story, "A Funeral for Carl," was published in the Mulberry Fork Review. She is currently working on her first novel.
Image credit: Terry Matthews on Unsplash