UN PETIT D'UN PETIT by Unknown discovered by Luis d'Antin Van Rooten
UN PETIT D'UN PETIT
from Mots D'Heures: Gousses, Rames
by Unknown
discovered by Luis d'Antin Van Rooten
Un petit d'un petit
S'étonne aux Halles
Un petit d'un petit
Ah! degrés te fallent
Indolent qui ne sort cesse
Indolent qui ne se mène
Qu'importe un petit d'un petit
Tout Gai de Reguennes.
---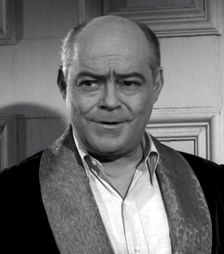 Luis d'Antin van Rooten, was born in Mexico City, coming to the U.S. as a child. He graduated from the University of Pennsylvania with a BA degree in architecture, and worked in that field until the second World War. He developed an interest in the stage, and acted at the Cleveland Playhouse. His vocal qualities got him into radio, and in addition to radio serial work ("Nero Wolfe" was a prominent starring role), he got recruited by the Army as a radio announcer. His excellent language skills made him especially valuable, as he could broadcast in Spanish, French, and Italian, in addition to English.
 Image credit: psyberartist on Flickr