ILLUMINATI DANCE by Nick Kolakowski
Nick Kolakowski
ILLUMINATI DANCE
The Illuminati holds its annual recruitment dance
In Williamsburg, Brooklyn, in that bar with the antique signs,
And the program includes waltz, disc jockeying, and finger paints,
Because color choice will always weed out the likely rejects.
You know how these things work.
I'd like to think I'm the last person I should be afraid of,
That pleasure and noise would distract my inner lizard
From sinking its teeth into its own tail, an infinite loop
Of aggravated energy, nerves stripped raw and singing.
Late autumn, the midnight air sour with rotting pumpkin,
The blackness rendering all streets sub rosa, as I walk
Down the avenue with my skin aflame, my jacket smoking,
Practicing my footwork, that fleckerl, ready for the dance.
---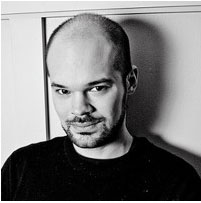 Nick Kolakowski's work has appeared in The Washington Post, McSweeney's, The Evergreen Review, 7×7.la, Carrier Pigeon, and Shotgun Honey, among other publications. He's also the author of How to Become an Intellectual, a book of comedic nonfiction, and Somebody's Trying to Kill Me, a short-story collection. His flash fiction "Little Orestes" appeared in Issue No. 8 and his story "The Valley" appeared in Issue No. 10 of Cleaver. His poem "Illuminati Dance" appears in this issue. He lives and writes in New York City. 
Image credit: Chris Remus on Unsplash
Read more from Cleaver Magazine's Issue #15.