IN GOD'S MAILROOM by Kris Willcox
IN GOD'S MAILROOM
by Kris Willcox
I thought we'd go with the other recruits to Ping Pong, Mahjong, or Sing-Along, but we get Mailroom. Stay here until you work things out, He says, then leaves with the Key. Mother's not intimidated. Sits down and smooths her skirt. What have we here? Form letters for every person on earth, explaining what happens—not why. Sign on the wall says a few will get their letters while most, poor fools, do not, but even if yours slips behind the mailbox or falls into a flower bed, its contents hold true: You'll marry that man in the blue suit. Your brother survives the crash, but his right arm doesn't. Baby for you, you and—yes, I'm serious—you.
Stuff, seal, sort by continent.
Boring, Mother says, licking an envelope. Even now, she makes me go first.
It's not that I didn't love you, I say, pushing letters aside. I was busy. You were unpleasant. She makes a face.
Glue tastes awful. You'd think He'd have peel-and-seal.
A dozen letters in a row say, You'll break her heart. We fold, press, fold, until our skin is dry. So much nonsense. You'll tear the fender off in a snowbank. The better job was in Columbus! Then a heavy stack we split: cancer of the lung, the liver, the breast.
Tsk, she says. Too bad.
Is that all?
What do you want me to say? Tell me. What did you ever want me to say?
Go to hell, I once thought. And look: timelessness, made of times we might have spoken but did not. By the set of her mouth, she thinks she's winning and will soon be at Campfire, Buffet Station, or wherever those river boats go, but I'll show her. Eternity is not for the faint of heart.
---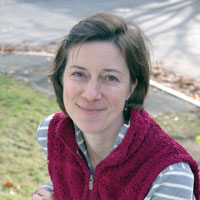 Kris Willcox's work has appeared or is forthcoming in Beloit Fiction Journal, Cimarron Review, Literary Mama, and other publications. She is a regular contributor to UU World magazine and was a finalist in the 2016 Massachusetts Cultural Council Artist Fellowship program. She lives in Arlington, MA with her family.
Image credit: wes hill on Flickr