Rick Bailey, Cardio, Lightbulbs, and a Funeral (Creative Nonfiction)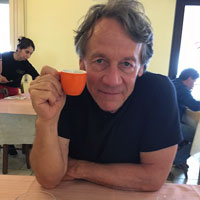 Rick Bailey writes about family, food, travel, current events, what he reads and what he remembers. The University of Nebraska Press will publish a collection of his essays, American English, Italian Chocolate in summer 2017. He and his wife divide their time between Michigan and the Republic of San Marino.
Roy Bentley, Waking Up in an MGM Musical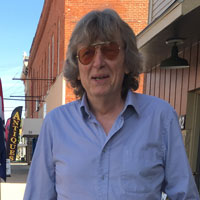 (Poetry) Roy Bentley has won six Ohio Arts Council fellowships, a fellowship from the Florida Division of Cultural Affairs, and a Creative Writing Fellowship from the National Endowment for the Arts. Poems have appeared in The Southern Review, Shenandoah, North American Review, Prairie Schooner, and Cleaver among other journals. He is the author of Boy in a Boat (University of Alabama), Any One Man (Bottom Dog Books), The Trouble with a Short Horse in Montana (White Pine Press), and Starlight Taxi (Lynx House Press) which won the 2012 Blue Lynx Poetry Prize. These days, he makes his home in Pataskala, Ohio.
Sam Brighton, Tiny's Heart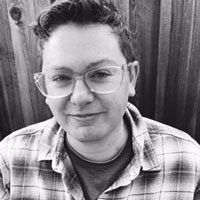 (Creative Nonfiction) Sam Brighton is currently working on a collection of personal essays. Her work has appeared or is forthcoming in Exposition Review and Memoryhouse. She regularly contributes health and wellness essays filled with exclamation points and enthusiasm to a regional newsletter for people living with multiple sclerosis. She lives in Portland, Oregon where she works as a nurse. Sam is a Cleaver Emerging Artist.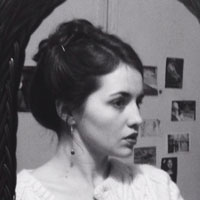 Elisabeth Lloyd Burkhalter, Don't Touch (Poetry) Elisabeth Lloyd Burkhalter graduated from the University of Virginia's Area Program in Poetry Writing and moved to Paris, where she organized conferences in the wood construction industry. Her poetry has appeared in the The Mississippi Review and The Collagist. She now works as an apprentice to a tailor and writes in Bandjoun, Cameroon. Elisabeth is a Cleaver Emerging Artist. 
Matthew Burns, December (Poetry)
Matthew Burns teaches writing and literature in upstate New York. His poem "Rhubarb" won a James Hearst Poetry Prize from North American Review; other poems have received Pushcart and Best of the Net nominations and have appeared or are forthcoming in Posit, ellipsis…, The Raleigh Review, Camas, Spoon River Poetry Review, Quiddity, LimeHawk, and others.  He also serves as a poetry editor for Heron Tree.
Alexander Cendrowski, The Observationalist  (Fiction)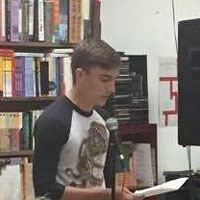 Alexander Cendrowski is a lemonade, cartooning, and ocean enthusiast pursuing his MFA in fiction at the University of South Florida. His favorite animal is the octopus, and his favorite color is none of your business. His fiction has recently appeared in Word Riot, Perversion Magazine, and Crack the Spine. He enjoys being harassed on Twitter @CendrowskiAlex. Alex is a Cleaver Emerging Artist.
Michael Corrao, Beat Boy (Fiction)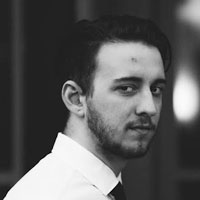 Michael Corrao is a student at the University of Minnesota studying English and Film. When he isn't writing, he enjoys spending time with friends and watching old movies. His work can be found in publications such as Thrice, Eureka, Potluck, Century, and Ivory Tower. Michael is a Cleaver Emerging Artist.
.
Karen Donovan, Seven Pieces (Flash)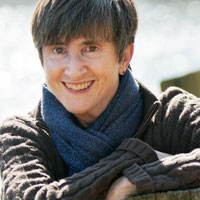 Karen Donovan is the author of Fugitive Red, which won the Juniper Prize for Poetry. Her new book of poems, Your Enzymes Are Calling the Ancients, won the Lexi Rudnitsky Editor's Choice Award from Persea Books and was published in 2016. These 7 small essays are from a collection called "Aard-vark to Axolotl," written in collaboration with the engravings in her grandfather's 1925 Webster's New International Dictionary. Other essays from the collection have appeared in Diagram, Sweet, Web Conjunctions, Conduit, and Smokelong Quarterly. She co-edited the prose journal ¶: A Magazine of Paragraphs and works in Providence as a writer.
Kika Dorsey, The Unborn (Poetry)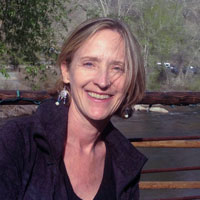 Kika Dorsey is a poet and professor living in Boulder, Colorado.  She wakes up at sunrise every morning and crafts poetry out of dreams, myths, her body, and her travels. Her poems have been published in The Denver Quarterly, The Pennsylvania Literary Journal, The Indiana Voice Journal, The Dr. T.J. Eckleburg Review, KYSO Flash, The Columbia Review, among numerous other journals and books. She has published two books, Beside Herself  (Flutter Press, 2010), followed by her full-length collection, Rust (Word Tech Editions, 2016). Currently, she is a professor of English at Front Range Community College and the poetry editor of Plains Paradox. She lives with her husband, two children, and a mischievous dog and cat. When not writing or teaching, she taxis her teenagers to activities, swims miles in pools, and runs and hikes in the open space of Colorado's mountains and plains.
Michael Fischer, Welcome Home (Creative Nonfiction)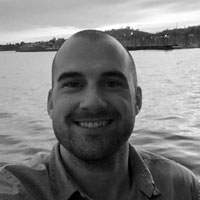 Michael Fischer was released from state prison in 2015 and is currently earning an MFA in Creative Writing from Sierra Nevada College. He is an editor of the school's literary journal, Sierra Nevada Review, and a Moth Chicago StorySlam winner. His work is forthcoming in Hotel Amerika, Hippocampus, Vagabond City, and the 2016 TulipTree Review anthology. Michael is a Cleaver Emerging Artist.
Nicholas Fuenzalida, Conditional [Fall 2009] (Poetry)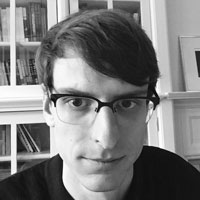 Nicholas Carlos Fuenzalida is originally from Colorado but now lives in New York. His work has appeared in The Indianola Review, Bodega, Rust+Moth, Potluck Magazine and elsewhere.
.
.
.Matthew Gellman, Still Life in a Shivering Town (Poetry)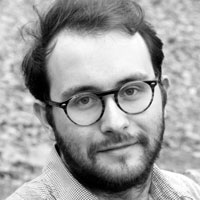 Matthew Gellman's poems are featured or forthcoming in Thrush, H.O.W. Journal, Lambda Literary, Poetry Quarterly, DIALOGIST, Two Peach, and elsewhere. His poem "Trip" appeared in Issue No. 14 of Cleaver. "Cause" appeared in Issue No. 15. He is the recipient of an Academy of American Poets prize and a scholarship from the NYS Summer Writer's Institute. He lives in New York and is currently an MFA candidate at Columbia University.
Charles Green, The Gravity of Joy (Creative Nonfiction)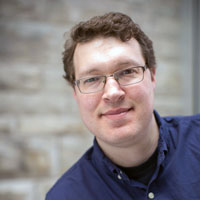 Charles Green's writing has appeared or is forthcoming in Fiction International, The Southeast Review, and The New England Review, among other venues. He lives in Cortland, New York, with his wife and cats, and he teaches writing at Cornell University.
.
Cris Harris, For Joseph, At the Birth of his Grandson (Poetry)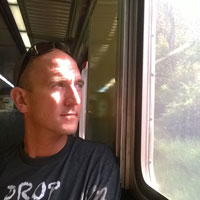 Cris Harris spends the school year teaching writing and experiential education at an independent high school outside of Cleveland. He devotes his summers to growing vegetables and fixing up a century old barn in rural Ohio. Cris Harris spends the school year teaching writing and experiential education at an independent high school outside of Cleveland. He devotes his summers to growing vegetables and fixing up a century old barn in rural Ohio. His poems and essays have appeared recently in The Flexible Persona, Alice Blue Review, Proximity, Skylark Review, New South, Rogue Agent, and The Gambler.
Marc Harshman, A Toast and Begging For Our Lives (Flash)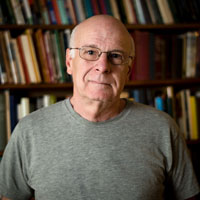 Marc Harshman's second full-length collection, BELIEVE WHAT YOU CAN, is out from West Virginia University. Periodical publications include The Georgia Review, Emerson Review, Salamander, and Poetry Salzburg Review. His poems have been anthologized by Kent State University, the University of Iowa, University of Georgia, and the University of Arizona. His thirteen children's books include The Storm, a Smithsonian Notable Book. He was an invited reader at the 2016 Greenwich Book Festival in London. His monthly show for West Virginia Public Radio, "The Poetry Break," began airing in January. He is the poet laureate of West Virginia.
Robert Hinderliter, Jinju in the Dust (Fiction)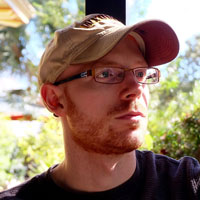 Robert Hinderliter's fiction has appeared in Fourteen Hills, SmokeLong Quarterly, Night Train, decomP, and other places. He grew up in Kansas and is now an Assistant Professor in the English Literature Department of Chosun University in Gwangju, South Korea. He lived in Jinju for a year.
.
Kathryn Ionata, from She Walked Next Door & Her House Exploded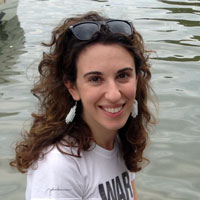 (Poetry) Kathryn Ionata is the author of the poetry chapbook Yield Signs Don't Exist (PS Books, 2016). Her writing has appeared in The Toast, The Best of Philadelphia Stories, Hawai'i Review, Wisconsin Review, Schuylkill Valley Journal, Aries, and elsewhere. She is a two-time Pushcart Prize nominee and was a runner-up for the Sandy Crimmins National Prize for Poetry. She teaches writing at Temple University and The College of New Jersey.
Justin Jannise, Chameleon and Camera Man (Poetry)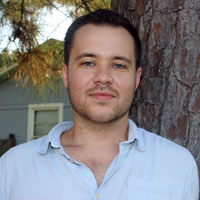 Justin Jannise received his MFA in poetry from the Iowa Writers' Workshop. His work has appeared in North American Review, The Yale Review, and Zocalo Public Square, among other places. He lives in Houston.
.
.
Michele Leavitt, Sheepscot Wellspring Cemetery (Poetry)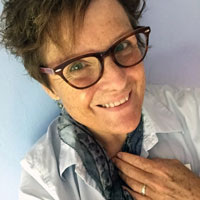 Michele Leavitt, a poet and essayist, is also a high school dropout, hepatitis C survivor, and former trial attorney. In 2016, her essays appeared in Narratively, Guernica, and Catapult. Poems appear most recently in North American Review, concis, and Hermeneutic Chaos. She's the author of the Kindle Singles memoir, Walk Away.
Amin Matalqa, The Maestro (Fiction)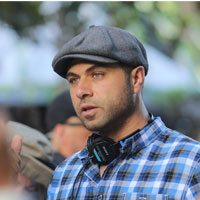 Born in Jordan, raised in Ohio, Amin Matalqa is a writer/director whose feature films include the Sundance-winning Jordanian Oscar entry, Captain Abu Raed; Walt Disney Studios' soccer drama, The United; the romantic comedy, Strangely In Love based on Dostoevsky's White Nights; and the upcoming adventure, The Rendezvous, starring Stana Katic (Castle) and Raza Jaffrey (Code Black) which premiers in the fall.  Amin lives in Los Angeles and has an MFA in Film Directing from the American Film Institute.  Next up: his debut book of short stories: Heroes & Idiots: Vol 1.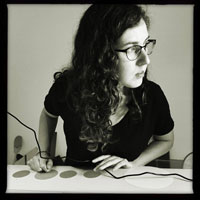 Meredith Leich, The Maestro (Illustrator) Meredith Leich is a videomaker, painter, drawer, and writer, who works with video installation, 3D animation, watercolor, music, and text. Born and raised in Boston, she has made her home in Berlin, Brooklyn, Jaffa, San Francisco, and now Chicago, making and teaching art. You can see her work at meredithleich.com and vimeo.com/outmoded.
Erin McIntosh, frost-bite (Poetry)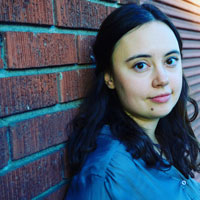 Erin McIntosh is a writer and actress currently living in Los Angeles. Her writing has appeared and is forthcoming in various journals including Two Serious Ladies, Noble / Gas Qtrly, Hobart, Bone Bouquet, Lavender Review, Vagabond City Lit and Vending Machine Press. Visit her at www.erinmcintoshofficial.com.
.
Amy Miller, Mountain Guide (Poetry)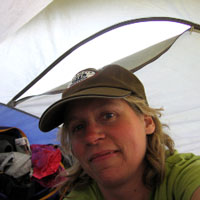 Amy Miller's poetry has appeared in Bellingham Review, Nimrod, Rattle, Tinderbox, Willow Springs, and ZYZZYVA. She won the Cultural Center of Cape Cod National Poetry Competition, judged by Tony Hoagland, and has been a finalist for the Pablo Neruda Prize and the 49th Parallel Award. Recent chapbooks are Rough House (White Knuckle Press) and I Am on a River and Cannot Answer (BOAAT Press). She works as the publications manager for the Oregon Shakespeare Festival and blogs at writers-island.blogspot.com. Horses broke her heart long ago, but she keeps returning to them.
Matthew Mogavero, Pushing Things (Poetry)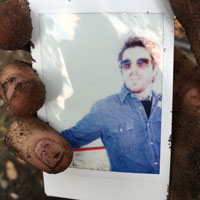 Matthew Mogavero is from Florida. He studied English and Creative Writing at the University of South Florida in Tampa. His work appears in PANK and The Four Cornered Universe.
.
.
Ben Nardolilli, Affirmation (Poetry)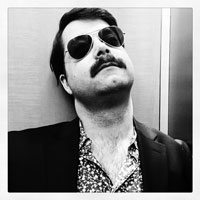 Ben Nardolilli currently lives in New York City. His work has appeared in Perigee Magazine, Red Fez, Danse Macabre, The 22 Magazine, Quail Bell Magazine, Elimae, fwriction, Inwood Indiana, Pear Noir, The Minetta Review, and Yes Poetry. He blogs at mirrorsponge.blogspot.com and is looking to publish a novel. Ben is a Cleaver Emerging Artist.
.
Olivia Parkes, The Half Glass (Flash)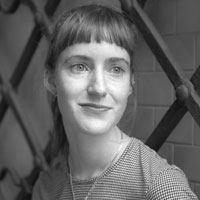 Olivia Parkes is a British-American writer and painter based in Berlin. Her work has been published in Hayden's Ferry Review, The New Haven Review, Stand Magazine, Gone Lawn, and Blue Five Notebook. She was awarded second prize in The Exposition Review's Flash 405 "Metamorphosis" contest in 2016. Olivia is a Cleaver Emerging Artist.
.
Karl Plank, What He Saw and When the Moon Was New (Flash)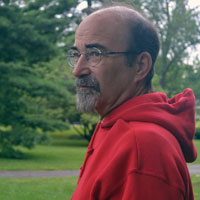 Karl Plank's recent work has appeared in Notre Dame Review, Beloit Poetry Journal, New Madrid, Zone 3, Limestone, Spiritus, and in other publications. He is a past winner of the Thomas Carter Prize (Shenandoah, 1993) and a Pushcart nominee. Since 1982, he has taught at Davidson College where he is the J.W. Cannon Professor of Religion.
Kelly R. Samuels, Phase Three of Baz Luhrmann's Red Curtain Trilogy (Fiction)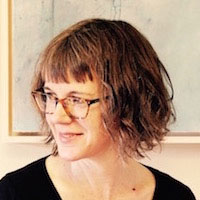 Kelly R. Samuels diligently works as an adjunct English instructor near what some term the "west coast of Wisconsin." She writes both fiction and poetry. Her work has most recently appeared in PoetsArtists's JuJuBes, online at apt, and in Off the Coast. Kelly is a Cleaver Emerging Artist.
.
Thom Sawyer, Spring Street (Art)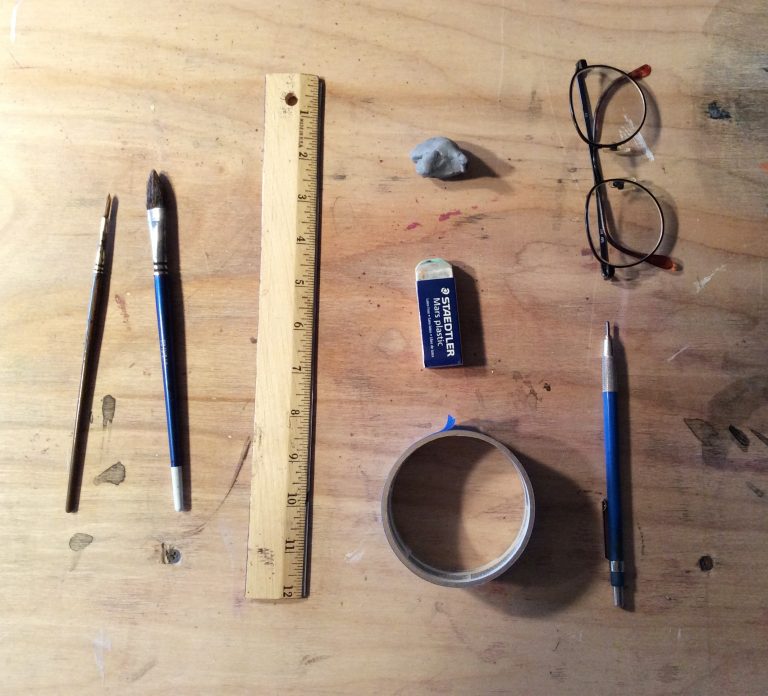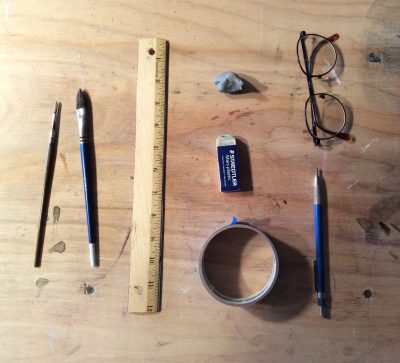 Thom Sawyer lives and works in New Mexico and Washington State. He received an MFA from the University of Pennsylvania and a BFA from Carnegie Mellon University. His work has been exhibited in solo and group venues including the Corcoran Gallery of Art (Washington, DC), The Contemporary Austin (Austin, Texas), the Creative Arts Workshop (New Haven, Connecticut), the Sierra Arts Foundation (Reno, Nevada), the Washington Street Art Center (Somerville, Massachusetts), C. Grimaldis Gallery (Baltimore, Maryland), ARC Gallery (Chicago, Illinois), the Indianapolis Art Center (Indianapolis, Indiana) and Rogue Community College (Grants Pass, Oregon). His most recent show, titled 36 Views of Baylor Canyon, took place at the Branigan Cultural Center in Las Cruces, New Mexico. Sawyer began his series Spring Street in 2012. Between 2010 and 2012 in southern New Mexico, he completed 36 Views of Baylor Canyon, a series of color pencil drawings focused on the intersection, or collision, between a private, domestic world and a larger, more far reaching global view. Since 2003 he has continued work on another series, Julia's Garden, which examines aspects of love, language and the landscape. More images and information may be found at his website: thomsawyer.net
Orlando Saverino-Loeb, The  Maestro (Illustrator) Orlando Saverino-Loebi is a Philadelphia-born artist. He graduates with a fine arts degree in painting and drawing and a minor in Italian from Temple University's Tyler School of Art in December 2016. He specializes in painting, using acrylic paint with an assortment of other mediums. His thesis exhibition at the Stella Elkins Tyler Gallery was entitled Individualized Pareidolia. He is a dual citizen of the U.S. and Italy and has lived there for two summers studying art and Italian. He began his college career at the University of Cincinnati to study industrial design for one year before transferring to Tyler. He has shown his work at Infusion lounge in Philadelphia and the Philadelphia Art Collective. You can follow his work on Instagram @orlandosaverinoart. Orlando is a Cleaver Emerging Artist.
Kimberly Ann Southwick, wednesday, february 18th, 2015 (Poetry)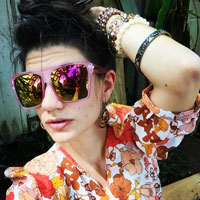 Kimberly Ann Southwick is the founder and editor in chief of the print literary arts journal Gigantic Sequins. Her most recent chapbook is EFS & VEES (Hyacinth Girl Press, October 2015). Her poetry was a finalist for the 2016 Yemassee Poetry Prize and a semi-finalist for the Beecher's Magazine 2016 Poetry Prize. She currently blogs for Ploughshares and lives in Breaux Bridge, Louisiana where she is pursuing her PhD in English/Creative Writing at the University of Louisiana at Lafayette. This May, she is starring in Revision, a production by the Milena Theater Group. Visit kimberlyannsouthwick.com for more.

John Timpane, Winter Beforelight (Poetry)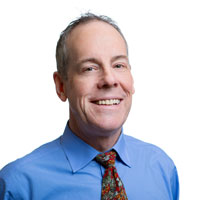 John Timpane is the Books and Fine Arts Editor/Writer for The Philadelphia Inquirer and Philly.com. His work has appeared in Sequoia, The Fox Chase Review, Apiary, Painted Bride Quarterly, The Philadelphia Review of Books, The Rathalla Review, Per Contra, Vocabula Review, and elsewhere. Among his books is a chapbook, Burning Bush (Judith Fitzgerald/Cranberry Tree, 2010). His poem "In a Dry Month" appears in Issue No. 1 of Cleaver  and his poem "A Cricket in Washington Square Park" appears in Issue 14. He is the spouse of Maria-Christina Keller. They live in New Jersey.
April Vázquez, Scapegoats (Fiction)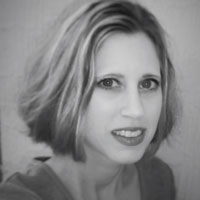 A native of the North Carolina foothills, April Vázquez holds a B.A. in Literature and Language from the University of North Carolina at Asheville and an M.A. in the Teaching of English as a Second Language from the University of North Carolina at Charlotte. April lives in León, Guanajuato, Mexico, where she reads, writes, and homeschools her daughters, Daisy, Dani, and Dahlia. Her work has been published or is forthcoming in The Missing Slate, Windhover, The Fieldstone Review, Eclectica, Foliate Oak, The New Plains Review, and others.
Shira Walinsky, TBD
Josh Wagern, No Repeat Customers (Fiction)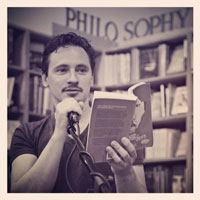 Josh Wagner is currently on the move, trying to live in a different country every three months. He's written four novels (including Shapes the Sunlight Takes, Smashing Laptops, and Deadwind Sea), the collaborative novella Mystery Mark, three graphic novels (notably the award-winning Fiction Clemens), a collection of plays titled Bleached Bones, and a book of shorts called Nothing in Mind. His work has been published by Cafe Irreal, Not One of Us, Medulla Review, Lovecraft eZine, Asymmetrical Press, and Image Comics. More at www.joshwagner.org
Casey Whitworth, A Land More Beautiful Than Here (Fiction)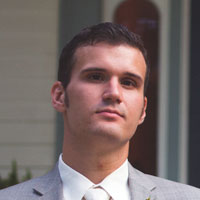 Casey Whitworth is an MFA candidate in fiction at Florida State University and the assistant programs manager of The Southeast Review. Recently, he won the Blue River Editors' Award for Fiction, the Green Briar Review 2016 Fiction Prize, and the Sixfold short story contest. He lives with his wife in Tallahassee and is currently at work on a novel. Join him on Twitter @CaseyWhitworth_. Casey is a Cleaver Emerging Artist.
.
†Jack Wills, Intern (Flash)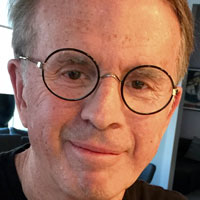 Jack Wills was born prematurely and raised, also prematurely, in a small town in central Pennsylvania. A retired physician, his passions are writing , music, his wonderful family, and staying alive to see what happens next. Jack is a Cleaver Emerging Artist.
.
.
Geraldine Woods, Fractious (Flash)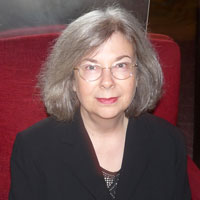 The author of many nonfiction books, Geraldine Woods has been writing short stories since she was seven years old, when she submitted her first effort to the children's column of a local newspaper. She blogs on language at www.grammarianinthecity.com. A lifelong resident of New York City, Woods loves her family, the Yankees, and Jane Austen.