WEDNESDAY, FEBRUARY 18th, 2015 by Kimberly Ann Southwick
WEDNESDAY, FEBRUARY 18th, 2015
by Kimberly Ann Southwick
the glass of water he breaks
after our only night out this week,
a slow drown for him at the bar,
almost ruins a roll of postage stamps
when he comes home and falls down.
i am holding his eyeglasses.
i'm not even sure how
and you move away from him, from us.
ziggy comes over to me
so that i will scratch behind his ears—
he is the other dog, he is not our dog, you are
the dog.
the sadness we feel is selfish.
i keep saying, she doesn't want us
to be sad. i want to talk about
your spirit your soul your heart of hearts
like these things make sense, like
i even believe in them—
i like to imagine that the best dogs
are reincarnated into the best humans.
i don't touch my stomach.
it's the year of the goat.
i tuck my horns away.
four days of medicine
means going back for four more.
eight is a special number in chinese culture.
we never knew your birthday. let us celebrate
the life-death binary every new moon
in your name, in the name of the year
of the goat, in the name
of the power of eight.
my dad says hope on the phone,
he says when i go on the phone, he says
you never know and bring her by
one more time to me on the phone.
desi says she'll be over for a hug
on saturday. geoff and i, we
try not to say too much
about it, really, at all.
---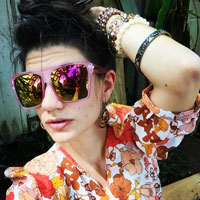 Kimberly Ann Southwick is the founder and editor in chief of the print literary arts journal Gigantic Sequins. Her most recent chapbook is EFS & VEES (Hyacinth Girl Press, October 2015). Her poetry was a finalist for the 2016 Yemassee Poetry Prize and a semi-finalist for the Beecher's Magazine 2016 Poetry Prize. She currently blogs for Ploughshares and lives in Breaux Bridge, Louisiana where she is pursuing her PhD in English/Creative Writing at the University of Louisiana at Lafayette. This May, she is starring in Revision, a production by the Milena Theater Group. Visit kimberlyannsouthwick.com for more.