PUSHING THINGS by Matthew Mogavero
Matthew Mogavero
PUSHING THINGS
I threw my sandwich wrapper out in a trash can. On
the side of the trash can was the word LIMITLESS.
I threw out my sandwich wrapper,
I threw out my clothes and toiletries from my
suitcase,
I threw out my suitcase, I took my clothes off and
pressed them through the rim of that trash can.
A family of seven walked by and then they walked
away a family of three.
I threw out the airplane,
and then threw out my useless ticket.
I threw out the airport terminal, including the free
charge stations and vendor booths,
I threw away the highway that leads here along with
Mike (on his way to work, which I also threw
away) and his car which got me here.
An announcement came through on the intercom
and I pushed that into the trash also.
I went through my phone book throwing all my
contacts away. I felt a little sad about it
but then I also threw that away.
I also threw away any regret before it stopped me
from testing the limits of the moil of this impressive
and miserable trash can.
---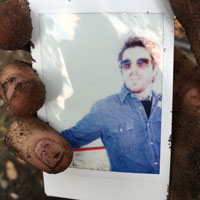 Matthew Mogavero is from Florida. He has a B.A. in English and Creative Writing at the University of South Florida in Tampa. His work appears in PANK and The Four Cornered Universe. 
Image credit: Allef Viniciuf on Unsplash