CHAMELEON and CAMERA MAN by Justin Jannise
Justin Jannise
TWO POEMS
CHAMELEON
He liked to watch me change.
I slipped a bra strap over my left shoulder.
The room darkened.
As if I could maintain myself.
I dream of living under a bluer star,
a sky more deviant with color.
◊
CAMERA MAN
I'm not a pet owner.
If I carry a leash, it's attached
to a collar around my neck.
I own a neck, and I own the slack
in the leash (lease).
I wander around in my car,
in my city, my city-state.
Because the naked eye adjusts
to changes in light, it's not easy
to see how dark the city is (was)
but you can see the road's shoulders
and muscular jaw.
Forget the steel honeycomb of pipe,
soon-to-be smoke stacks, piled
and tied down to the back
of a Mack truck.
I went to the dog park
by accident. I guess I thought
it was a people park; there
were people there, too,
holding their leashes.
We stood around and watched
the animals, their joy
protected by a double gate,
running wild (unleashed),
running uninhibited through the
shallow pond,
chasing the scent of wet fur,
which was everywhere (nowhere).
Now would be
an inappropriate time to zoom.
---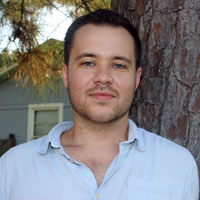 Justin Jannise received his MFA in poetry from the Iowa Writers' Workshop. His work has appeared in North American Review, The Yale Review, and Zocalo Public Square, among other places. He lives in Houston.