STILL LIFE IN A SHIVERING TOWN by Matthew Gellman
STILL LIFE IN A SHIVERING TOWN
by Matthew Gellman
Get cozy. You pull me
under starlit covers, coax
the past from my throat.
The blue-veined suburbs.
Winters gathered like sticks.
My father, when he was there.
Face-first mornings pressed
to the blacktop, the boyish
crackle of skin on ice. And
in the window, a comet
falling, clearing a path
through the trees.
---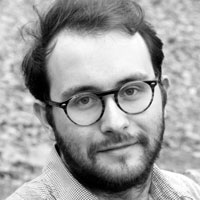 Matthew Gellman's poems are featured or forthcoming in Thrush, H.O.W. Journal, Lambda Literary, Poetry Quarterly, DIALOGIST, Two Peach, and elsewhere. His poem "Trip" appeared in Issue No. 14 of Cleaver.  "Cause" appeared in Issue No. 15. He is the recipient of an Academy of American Poets prize and a scholarship from the NYS Summer Writer's Institute. He lives in New York and is currently an MFA candidate at Columbia University.
Image credit: Aaron Burden on Unsplash