THE UNBORN by Kika Dorsey
THE UNBORN
by  Kika Dorsey
They are cutting down all the trees for Christmas.
Pine and spruce lay bundled on warehouse floors,
and I drink cognac in the corners of silent rooms,
red oriental rugs bursting with flowers and leaves,
warm feet wrapped in wool,
my body a river where the man capsized,
my body that I gave away,
all of it.
Cradled in me were three babies:
one a riverbank where the father crawls,
one the mica embedded in stone,
one was never born,
and it is Christmas,
fields of stumps and birth of son
on the frozen ground
and trees we unwrap and climb with eyes
and cover with tinsel and lights.
I never meant to make land fallow.
I believed in kind fathers.
I believed sons were gods
and my daughter would give birth to me.
I pulled them both out of me.
I cut their cords and heard them cry.
They grew in moonlight.
My son lost his boat.
My daughter glinted in stone and rose.
The unborn one reached high from seed and water,
and I hung on her a bulb.
It was silver.
It was mine.
---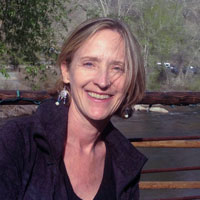 Kika Dorsey is a poet and professor living in Boulder, Colorado. She wakes up at sunrise every morning and crafts poetry out of dreams, myths, her body, and her travels. Her poems have been published in The Denver Quarterly, The Pennsylvania Literary Journal, The Indiana Voice Journal, The Dr. T.J. Eckleburg Review, KYSO Flash, The Columbia Review, among numerous other journals and books. She has published two books, Beside Herself  (Flutter Press, 2010), followed by her full-length collection, Rust (Word Tech Editions, 2016). Currently, she is a professor of English at Front Range Community College and the poetry editor of Plains Paradox. She lives with her husband, two children, and a mischievous dog and cat. When not writing or teaching, she taxis her teenagers to activities, swims miles in pools, and runs and hikes in the open space of Colorado's mountains and plains.
Image credit: Olia Gozha on Unsplash