WHAT HE SAW and WHEN THE MOON WAS NEW by Karl Plank
TWO FLASH PIECES
by Karl Plank
What He Saw
What Phi Dees saw that morning may have disturbed him. At least he has not forgotten and has noted the way the memory prowls unfettered in his mind. What happened would seem to be a simple matter; indeed, natural. A neighborhood cat down low in the grass, inching toward the feeder, leaping through the air to bite a finch off its perch. No skirmish or even sound of a ruffle. There and then not. And the cat turning to look back in his direction.
But what he saw was this: a view of himself, looking up from his reading, observing too quietly the silent scene. Even waiting for its denouement, not unlike when he once watched someone fall slowly down a flight of stairs.
◊
When the Moon was New
When the moon was new Phi walked through the woods. Leaves were yet to turn, the canopy intact. In the late afternoon, though, the air had begun to cool. Had you been with him, you might have thought of a long-sleeved shirt, perhaps a light sweater. But his arms were bare, and he wore a cap as he moved over the soft path. A fallen limb, here; cobbler's pegs, there. He noticed.
He may have had a destination in mind. At the pond, he shared the bank with a family fishing. As they cast their lines, so he tossed scraps of rye bread from a baggie. He lobbed them into the water watching the slight ripple of rings and waited for them to sink like sins sent to the depths of the sea.
---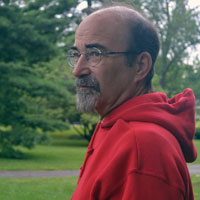 Karl Plank's recent work has appeared in Notre Dame Review, Beloit Poetry Journal, New Madrid, Zone 3, Limestone, Spiritus, and other publications. He is a past winner of the Thomas Carter Prize (Shenandoah, 1993) and a Pushcart nominee. Since 1982, he has taught at Davidson College, where he is the J.W. Cannon Professor of Religion.