SEVEN PIECES by Karen Donovan
SEVEN PIECES
by Karen Donovan
Candelabrum
Lighting for your soul in purgatory, for deep nights at the end of the dock, for grave-tenders on vacation, for the silencing of aspersions. Discounts for camping without a lantern, for al fresco dinners at the café of never mind, for attending the flatbed truck parade, for packing a canyon with parabolas. Call for a second lighting tomorrow, for delivery of your complimentary rope ladder, for the flame annuity option, for your name on this grain of pollen. Twelve tapers included.
Other floral borders I have known
Roses embroidered on scalloped edges of aprons and baby blankets and necklines of ball gowns of debutantes. Daisies tattooed in circlets around ankles of girls running barefoot on beaches. Tulips printed by hand above chair rails in dining rooms by decorators using templates on sale from Home Depot. Sunflowers crayoned in green along bottoms of love notes. Violets painted on lips of teacups saved only for visitors. Lilacs of frost burned onto north windows in bedrooms of invalids. Grape ivy carved in dark granite of gravestones standing silent in snow.
Also known as leaves
The vernal feathers of my disposition. Flags of many nations. Rain tympani. Pirates of light. Contentious essays submitted for an ungraded course in economics. Some machinery we couldn't invent. Breathers and tremblers. Random tongues for wind. Salad for caterpillars. The soon-to-be-fallen. The soon-to-rise-again.
Bull's-eye
The preacher said that love was more important than skill. That the world will bow down before technique but never give itself in answer, never yield a future in return. No, that the new must be loved into existence. We had just been singing, and now we were listening, and as he went on I began to argue with him in my head, wishing his idea to be true, feeling that it must be true, fearing that it was not true. I measured his words against everything. My hands hurt, so I must already have been desperate for a long time. Outside the chapel windows, a Saturday afternoon in May. Sunlight pressed on each leaf with exactly the right amount of weight. What else had I expected? My gift? What I thought I was hanging onto. What was already in flight.
Thorns
If you want to see a tall bull-thistle in bloom I can take you right now. It's standing about ten feet in from the edge of the meadow off Allin's Cove, down at the end of Third Street, surrounded by an entourage of weed sycophants and miscellaneous grasses overshadowed by its weird magnetic unapproachable royalty. This is not the kind you can eat. It's okay to confess that you find it irresistible, that it's pulling at you, that you feel a bit like Briar Rose as you put out your hand as if. The iron in your blood is already jumping. Go on. Touch it.
Repentance
One day, after a fearsome battle, the king sent his knights away and fell asleep on the riverbank. His head upon a pillow of moss, he dreamed of a kingdom hidden inside this one, a world aflame but not consumed, skyborne yet bound to earth. He had never heard birdsong so sweet. He set his shield down and a sapling sprang up. He unstrapped his sword and it dissolved into a cloud of butterflies. Because this is a medieval story, in the distance a maiden came riding a black colt. Her robes were golden. The colt's mane was blood red. An oracle sounded from within his own head: Because we know we are not alone. He woke to darkness and walked through the forest, following campfires all the way home, thinking, Whatever happens next is going to be good.
Absolution
Wait until rain stops. Go out directly and walk around until you find ideal leafy tree. Stand underneath. Reach up and take hold of lowest branch. Shake. Repeat as needed.
---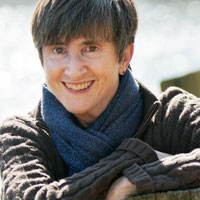 Karen Donovan is the author of Fugitive Red, which won the Juniper Prize for Poetry. Her new book of poems, Your Enzymes Are Calling the Ancients, won the Lexi Rudnitsky Editor's Choice Award from Persea Books and was published in 2016. These 7 small essays are from a collection called "Aard-vark to Axolotl," written in collaboration with the engravings in her grandfather's 1925 Webster's New International Dictionary. Other essays from the collection have appeared in Diagram, Sweet, Web Conjunctions, Conduit, and Smokelong Quarterly. She co-edited the prose journal ¶: A Magazine of Paragraphs and works in Providence as a writer.