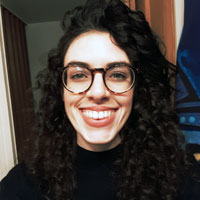 †Marie Baleo, Five Stars (Flash). Marie Baleo is a French writer born in 1990. Her work was nominated for a Best of the Net award in 2017 and has appeared or is forthcoming in Tahoma Literary Review, Litro Magazine, Maudlin House, Split Lip Magazine, Cease, Cows, Gone Lawn, The Penn Review, Jersey Devil Press, The Nottingham Review, Five 2 One Magazine, Hypertext Magazine, Five on the Fifth, Spilled Milk, and elsewhere. She is currently on the masthead of Panorama: The Journal of Intelligent Travel. Marie grew up in Norway and Lebanon and received a B.A. from Washington University in St. Louis and an M.A. from Sciences Po Paris.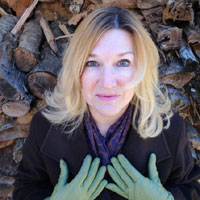 Tina Barr, Tock Tank (Poetry). Tina Barr's third full-length book, Green Target, won the 2017 Barrow Street Press Book Prize, judged by Patricia Spears Jones, and is forthcoming in Fall, 2018.  Her poem "Green" appeared in Cleaver's Issue 18; "Pot of Gold" appeared in Issue 13.
.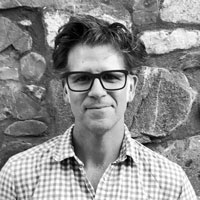 Curtis Bauer, In Honor of Dictation & Underline Books by Fabio Morábito (Flash, translator). Curtis Bauer is the author of two poetry collections, most recently The Real Cause for Your Absence. He is also a translator of poetry and prose from the Spanish; his publications include the full-length poetry collections Faint Blood, by Jeannette L. Clariond, Eros Is More, by Juan Antonio González Iglesias, and From Behind What Landscape, by Luis Muñoz. He is the publisher and editor of Q Avenue Press Chapbooks, and the Translations Editor for From the Fishouse and Waxwing Journal. He teaches Creative Writing and Comparative Literature at Texas Tech University in Lubbock, Texas.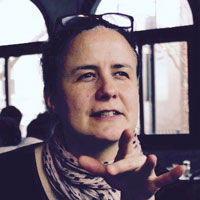 †Sylvie Bertrand, From North Dakota to Manitoba (Flash). Sylvie Bertrand writes short stories and is working on her first novel. She was nominated for the 2017 PEN/Robert J. Dau Short Story Prize for Emerging Writers, was a finalist for the 2017 Glimmer Train's Very Short Story contest, and received a 2018 Pushcart Special Mention. She has an MA in Anthropology from Princeton University. She teaches at the Writers Studio and is currently the assistant fiction editor for Epiphany, a literary journal.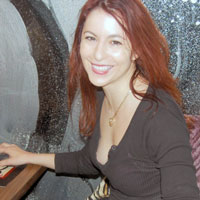 Michelle Brooks, Vacation Bible School (Poetry). Michelle Brooks has published a collection of poetry, Make Yourself Small (Backwaters Press), and a novella, Dead Girl, Live Boy (Storylandia Press). A native Texan, she has spent much of her adult life in Detroit. She has recently completed a poetry collection, Flamethrower.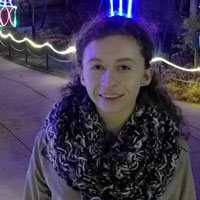 †Grace Coberly, The Collected Drafts of Jessica's Christmas Card to her Ex-Husband (Fiction). Grace Coberly grew up in the suburbs of Chicago. Her work has appeared in COUNTERCLOCK, Border Crossing, and Iceview Magazine. An alum of the Iowa Young Writers' Studio and the Adroit Mentorship Program, she was also the first-place winner of the LSSU High School Short Story Prize and a fiction finalist in the Young Authors Writing Competition at Columbia College, both in 2017. She is a freshman at Haverford College.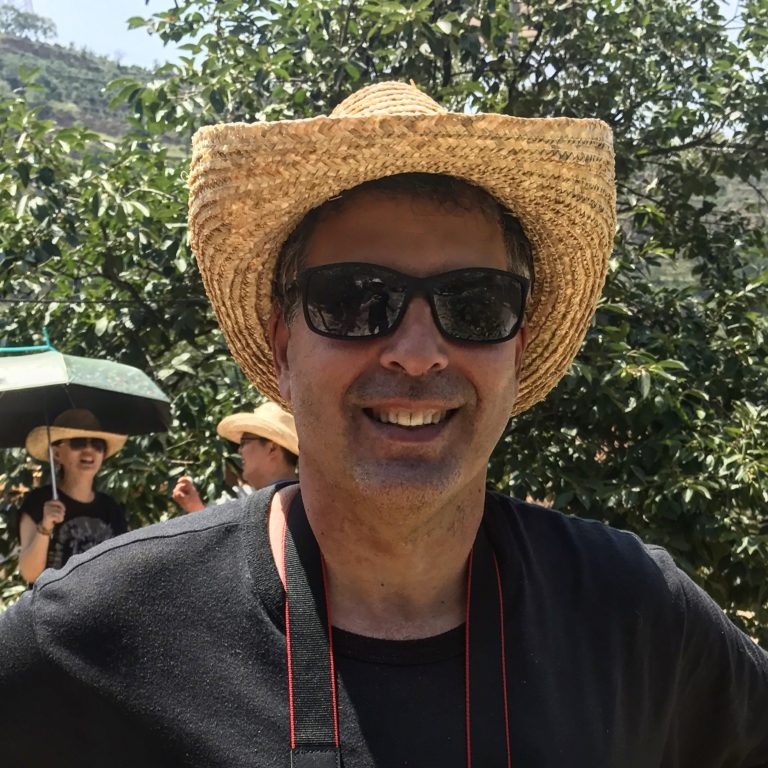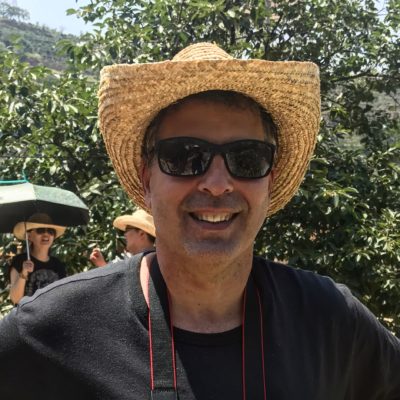 Matthew Courtney, Living as Art (Art). Matthew Courtney lives and works in Philadelphia as a sculptor and teacher. He received his BS at the University of the Arts and his MFA at Kent State University. A recipient of several fellowships and residencies, he currently teaches at the University of Pennsylvania, the University of the Arts, and Drexel University. Courtney's recent exhibitions in Philadelphia include New Work (House Gallery) and Divergences (Cerulean Gallery). In 2015 and 2017 he was selected as artist-in-residence at Lanzhou City University in Lanzhou, China, where his work was exhibited in Post Painted Pottery. View Courtney's complete works at matthewcourtneyart.com/home.html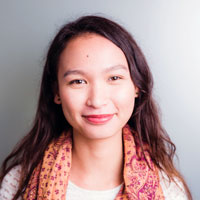 Soleil David, Seoul in October (Poetry). Soleil David was born and raised in the Philippines. She is a 2017 PEN Center USA Emerging Voices Fellow and a Graduate Scholars Fellow at Indiana University, Bloomington, where she is pursuing her MFA in poetry. Her poetry and prose have been published in Our Own Voice, The Philippine Daily Inquirer, Pittsburgh Poetry Review, Santa Ana River Review, The Margins and Day One.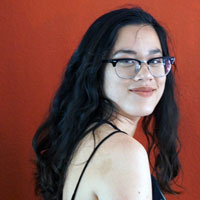 †Ollie Dupuy, Beauty in Eleven Encounters (Creative Nonfiction). Ollie Dupuy is a junior at Orange County School of the Arts in Southern California, where she studies creative writing and is an editor for Inkblot Literary Magazine. She enjoys history (America's, the world's, yours) and opportunities to overdress. Her work has appeared in Fredericksburg Literary and Art Review, and Gravel.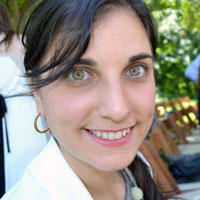 Jennifer Fliss, Mise en Place (Fiction). Jennifer Fliss is a Seattle-based fiction and essay writer. Her work has appeared in PANK, The Rumpus, Necessary Fiction, Hippocampus, and elsewhere. She can be found on Twitter at @writesforlife or via her website, www.jenniferflisscreative.com
.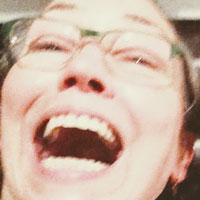 Lise Funderburg's Id, Exit Strategies (Creative Nonfiction). Lise Funderburg's id is based in Philadelphia and has done little or nothing of note, except to get Lise Funderburg in trouble from time to time.
.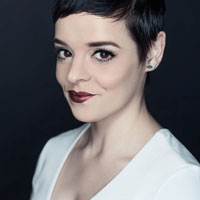 Mag Gabbert, Toucan (Poetry). Mag Gabbert is currently a PhD candidate in creative writing at Texas Tech University, and she previously received an MFA from The University of California at Riverside. Her essays and poems have been published or are forthcoming in journals including 32 Poems, The Rattling Wall, The Rumpus, The Nervous Breakdown, LIT Magazine, Sugar House Review, and Sonora Review, among other venues. Mag also serves as an associate editor for Iron Horse Literary Review. For more information, please visit maggabbert.com.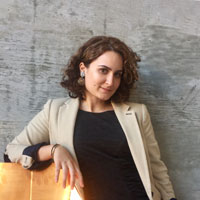 †Nikoletta Gjoni, Towards Avalon (Fiction). Nikoletta Gjoni emigrated from Albania in 1990 at the age of three and was raised in the suburbs of Washington D.C. She studied English Literature at the University of Maryland, Baltimore County (UMBC). As an undergraduate, she was one of 33 students selected to undertake university-funded research in Albania, where she focused on the censorship of news and literature under the Communist regime of the 1950s-1980s. After graduating, Gjoni worked in broadcast news for several years before leaving to focus on her writing and to pursue work in the nonprofit sector. She has recently completed a debut collection of linked short stories about people living in Communist Albania, spanning the 1970s through to the present day. Towards Avalon is her first published story and has been nominated for a PEN/Robert J. Dau prize.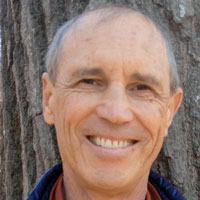 C. John Graham, The Law of Attraction & Indistinguishable from Background (Poetry). C. John Graham's poetry has appeared in The Laurel Review, Blue Mesa Review, Birmingham Poetry Review, Taos Journal of Poetry and Art, and other publications. His manuscript, Degrees of Freedom, was a finalist in the 2011 Subito Press and 2014 Slope Editions contests. He lives in Santa Fe and retired as the safety manager for Los Alamos National Laboratory's particle accelerator facility. He is building a small airplane, serves as a search-and-rescue pilot for Civil Air Patrol, and continues a lifelong spiritual inquiry.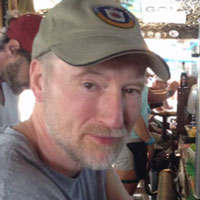 Greg Jenkins, Storm Watch (Flash). Greg Jenkins is the author of four books, including his recent novel A Face in the Sky, and dozens of short stories. His work has appeared in such journals as Prairie Schooner, Prism International, Chicago Quarterly Review, South Dakota Review, and Mensa Bulletin.  He has also had a number of plays produced.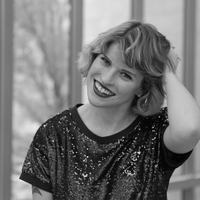 Kelsey Ann Kerr, Perfusionist (Poetry). Kelsey Ann Kerr has a great interest in loss: holes both metaphorical and physical of the heart, holes in life left by the loss of parents, cauterized by love. She teaches writing composition at the University of Maryland and American University and holds an M.F.A. in Poetry from the University of Maryland. Her work can be found, or is forthcoming, in Slippery Elm Literary Journal, Stirring: A Literary Collection, New Delta Review, Burningword Literary Journal, Mezzo Cammin, and The Sewanee Review, and The Atlanta Review, among others. Her poetry also has been nominated for Best of the Net 2017.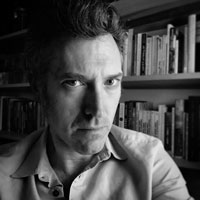 Brendan Lorber, Protocol and Deviance & One With the Wind  (Poetry). Brendan Lorber is a writer and editor. His first book If this is paradise why are we still driving? (Subpress) was released in Fall 2017. He's the author of several chapbooks, most recently Unfixed Elegy and Other Poems (Butterlamb). Since 1995 he has published and edited Lungfull! Magazine, an annual anthology of contemporary literature that prints the rough drafts of contributors' work in addition to the final versions in order to reveal the creative process. He lives atop the tallest hill in Brooklyn, New York, in a little castle across the street from a five-hundred-acre necropolis.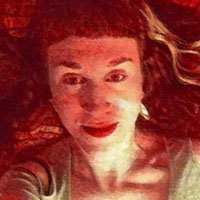 Jennifer MacBain-Stephens, Naming Names (Poetry). Jennifer MacBain-Stephens lives in Midwest and is the author of three full length poetry collections: Your Best Asset is a White Lace Dress (Yellow Chair Press, 2016), The Messenger is Already Dead (Stalking Horse Press, March 2017), and We're Going to Need a Higher Fence, tied for first place in the 2017 Lit Fest Book Competition. Her work has been nominated for Best of the Net and the Pushcart Prize. Her chapbook She Came Out From Under the Bed (Poems Inspired by the Films of Guillermo del Toro) was published by Dancing Girl Press. Recent work can be seen at Prelude, Kestrel, Yalobusha Review, decomp, and Inter/rupture. More at her website.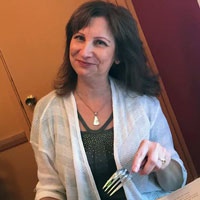 Lorri McDole, Waiting for the Glue to Hold (Flash). Lorri McDole's short fiction and nonfiction pieces have been published in The Writer, Sweet: A Literary Confection, The Offing, Eclectica, New Madrid, Epiphany, and Brain, Child, as well as in several anthologies that include the forthcoming Flash Nonfiction Funny. Her essay "Storms of the Circus World," which was a finalist for the Talking Writing Prize for Personal Essay, was nominated for a 2017 Best of the Net Award. She lives in the Pacific Northwest with her family.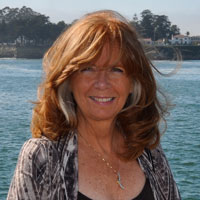 Mary Ann McGuigan, Suffer the Children (Fiction). Mary Ann McGuigan's short stories have appeared in North American Review, The Sun, Prime Number, Grist, Into the Void, and other journals, and they've been nominated for the Pushcart Prize and Sundress Publications' Best of the Net. Her short story collection, Pieces, is now available from Bottom Dog Press. Her novels, one a finalist for the National Book Award, are ranked as best books for teens by the Junior Library Guild, the New York Public Library, and the Paterson Prize. You can find her at www.maryannmcguigan.com and on Facebook.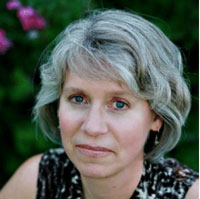 Amy Miller, Resistors (Poetry). Amy Miller's full-length poetry collection The Trouble with New England Girls won the Louis Award and will be published by Concrete Wolf Press in 2018. Her writing has appeared in Gulf Coast, Willow Springs, and ZYZZYVA, and her chapbooks include I Am on a River and Cannot Answer (BOAAT Press) and Rough House (White Knuckle Press). Her poem "Mountain Guide" appeared in Issue 16 of Cleaver. She won the Cultural Center of Cape Cod National Poetry Competition, judged by Tony Hoagland, and has been a finalist for the Pablo Neruda Prize and 49th Parallel Award. She lives in Oregon. More information at her website.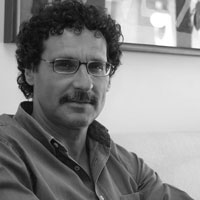 Fabio Morábito, In Honor of Dictation & Underline Books, trans. Curtis Bauer (Flash). Fabio Morábito was born in Alexandria, Egypt in 1955 to Italian parents. He moved to Milan when he was five, and when he was fifteen moved to Mexico City, where he currently lives and works in the Autonomous University of Mexico. Morábito is the author of four poetry collections; two novels, including Caja de herramientas (Fondo de Cultura Económica, 1989), which was translated into English by Geoff Hargreaves and published by Xenox Books in 1996; five books of short stories; and three books of essays, including El idioma materno (Sexto Piso, 2014). He is the recipient of numerous awards and honors, including the Premio Nacional de Poesía Aguascalientes, the Premio White Raven, and the Premio Antonin Artaud. Morábito is also a prolific translator, and has translated the complete works of Eugenio Montale and Aminto de Torquato Tasso into Spanish. Though much of Morábito's work has been translated into French, German, Italian, and Portuguese, relatively little has been translated into English.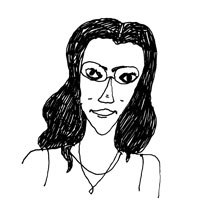 Tahneer Oksman, BERLIN STORY: Time, Memory, Place (Graphic Narrative, Introduction) is a writer, teacher, and scholar based in Brooklyn, NY.  Her criticism on women, visual culture, and memoir, as well as some personal essays, have appeared in the Los Angeles Review of Books, The Comics Journal, the Forward, Public Books, The Guardian, and Lilith. An Assistant Professor of Academic Writing at Marymount Manhattan College, her first scholarly monograph is"How Come Boys Get to Keep Their Noses?: Women and Jewish American Identity in Contemporary Graphic Memoirs (Columbia University Press, 2016).  She is currently working on a book exploring memoirs of absence, loss, and grief. Author portrait by Liana Finck.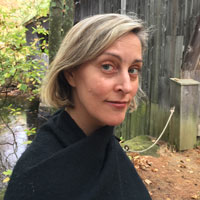 Cheryl Pappas, This Violent and Cherished Earth (Fiction). Cheryl Pappas is a writer from Boston. Her work has appeared or is forthcoming in The Bitter Oleander, SmokeLong Quarterly, Tin House, Essay Daily, and Mulberry Fork Review. She is currently writing an essay about Jules Romains's novel The Death of a Nobody and is at work on a short story collection. She holds an MFA in Fiction from Bennington Writing Seminars. You can find her at cherylpappas.net and @fabulistpappas.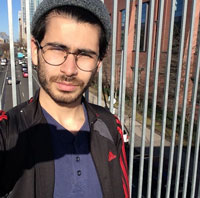 †David Satten-López, Peety (Washington, D.C., 1959) (Fiction). David Satten-López is a student of New Historicism and Gorgias; he likes cooking and taking walks on the beach. He hates Enlightenment humanism; he loves cats. His favorite writers are Baldwin, Cervantes, Carver, and Cisneros; Césaire, Wynter, Hartman, and Moten; NourbSe Philip, Springsteen, Brandy, and Badu. A formative moment for his writing is listening to Max Roach's and Abbey Lincoln's "Triptych." Follow him on Twitter @pocospeed.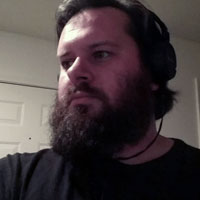 Matthew Schmidt, Kevlar on Our Backs (Poetry). Matthew Schmidt is working on a PhD in English at the University of Southern Mississippi. His poems have been published or are forthcoming in 3:AM, CALAMITY, Hobart, Territory, and elsewhere. He is an associate poetry editor at Fairy Tale Review.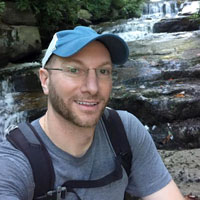 Paul Siegell, *GABRIEL* (Poetry). Paul Siegell is the author of the forthcoming Take Out Delivery (Spuyten Duyvil, 2018), as well as wild life rifle fire, jambandbootleg and Poemergency Room. He is a senior editor at Painted Bride Quarterly and has contributed to American Poetry Review, Black Warrior Review, Rattle, and many other fine journals. His poetry appeared previous in Cleaver's Issue 13. Kindly find more of his work—and concrete poetry t-shirts—at [email protected] eYeLeVeL, his website, and @paulsiegell.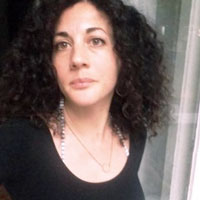 Kyra Simone, STEREOCARDS: Doubles (Poetry). Kyra Simone is a writer and editor based in Brooklyn. Her work has appeared or is forthcoming in The Atlas Review, Black Clock, The Brooklyn Rail, Conjunctions, Little Star, Prelude, Vestiges, and The Wrong Quarterly, among other journals. She is a member of the editorial collective at Ugly Duckling Presse.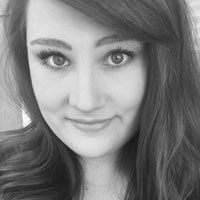 Erin Slaughter, Beastly (Poetry). Erin Slaughter holds an MFA in Creative Writing from Western Kentucky University. She has been a finalist for Glimmer Train's Very Short Fiction Contest, and was nominated for a Best of the Net Award and a Pushcart Prize. You can find her writing in River Teeth, Bellingham Review, Sundog Lit, Tishman Review, and elsewhere. She is the author of two poetry chapbooks: Elegy for the Body (Slash Pine Press, 2017), and the forthcoming GIRLFIRE (dancing girl press, 2018), and is editor and co-founder of literary journal The Hunger. She lives and teaches writing in Nashville.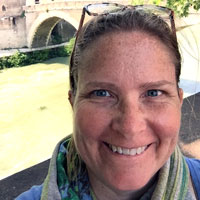 Kate Spitzmiller, The Song of St. George (Fiction). Kate Spitzmiller writes historical fiction from a woman's perspective. She is a flash fiction award-winner, with two pieces published in the anthology Approaching Footsteps. Her flash piece "Brigida" has been nominated for a Pushcart Prize. Her debut novel, Companion of the Ash, is set for release in 2018 by Spider Road Press. She lives in Massachusetts where she tutors junior-level hockey players as her day job. You can visit her blog at www.katespitzmiller.com.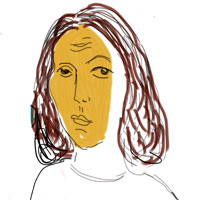 Emily Steinberg, BERLIN STORY: Time, Memory, Place (Graphic Narrative) is a painter and graphic novelist, earned her M.F.A. and B.F.A. from the University of Pennsylvania and has shown her work widely in New York and Philadelphia. Most recently, she exhibited in a solo show at SFA Gallery, Frenchtown, NJ, and at the Woodmere Museum in Philadelphia. Her graphic novel memoir, Graphic Therapy, can be read online at Smith Magazine. Her short comic, Blogging Towards Oblivion, was included in The Moment(Harper/Collins). Her visual narratives, A Mid Summer Soirée (2015),  Broken Eggs (2014) and The Modernist Cabin(2013) have been published in Cleaver. She currently teaches painting, graphic novel, and the History of Comics at Penn State Abington. She lives in Philadelphia.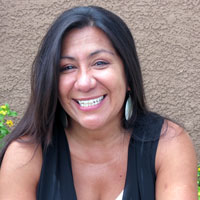 Angelique Stevens, The Outline of Empty Spaces (Creative Nonfiction). Angelique Stevens' non-fiction can be found in The Chattahoochee Review, Cleaver (Issue 8, Issue 11, &  in Life as Activism), Shark Reef, and a number of anthologies. Her essay "Exposure" won Silver in the Solas Award for Best Women's Travel Writing 2013 and her experimental essay, "Spiral" was published in the anthology, Friend Follow, Text, which was nominated by Foreward Review for Best Anthology of the Year. She teaches creative writing and genocide literature in Upstate New York and she is a founding member of Straw Mat Writers, with whom she co-authored the collaborative plays, FourPlay for the 2014 and Shitty Lives for the 2015 First Niagara Rochester Fringe Festivals. She holds an MFA from Bennington College and she finds her inspiration in wandering—being in places that push the boundaries of comfort, experience, knowledge, and hunger. She is currently writing a travel memoir about her trip to South Sudan and her experiences growing up in New York State.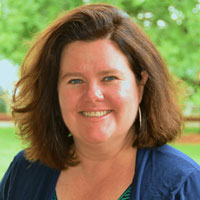 Maura Way, March & Repartee (Poetry). Maura Way is the author of Another Bungalow (Press 53). Her poems have also appeared in numerous journals and magazines including The Chattahoochee Review, DIAGRAM, Verse, Drunken Boat, Beloit Poetry Journal, and The Potomac. Originally from Washington, D.C, Maura is a schoolteacher in Greensboro, North Carolina. You can also find her at mauraway.com and @anotherbungalow.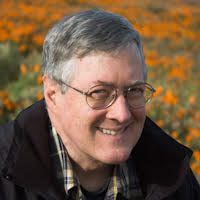 Eric Wilson, Finnish Black Bread (Flash). Eric Wilson's fiction will appear in the spring 2018 issue of Fifth Wednesday Journal. New England Review has published two of his essays, one of which found its way into the Pushcart Prize Anthology, Vol. XLI, 2017. Other work has appeared in Massachusetts Review, Epoch, Carolina Quarterly, Witness, Boundary 2, The German Quarterly and The O. Henry Prize Stories anthology. After a Fulbright year in Berlin, he earned a Stanford Ph.D. in German Literature. He has taught German at UCLA and Pomona College and fiction writing at UCLA Extension.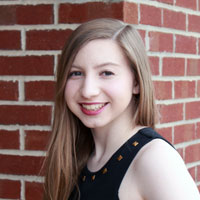 †Rachel Nevada Wood, Pomegranate (Creative Nonfiction). Rachel Nevada Wood is a senior studying Classical Languages and Gender Studies at the University of Pennsylvania. She is from Oklahoma City, Oklahoma and as such is a strong supporter of the Oklahoma City Thunder, fried pickles, and the word "y'all." She currently lives with her best friend and two succulents in West Philadelphia. "Pomegranate" is her first published piece.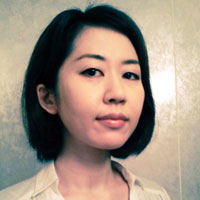 †Yuki Yoshiura, Labeling (Flash). Yuki Yoshiura currently lives, translates, and writes in Tokyo. She grew up in Japan, attended an American Studies MA in New York City, and tends to wander around the world, real and imaginary. This is her first published fiction.
.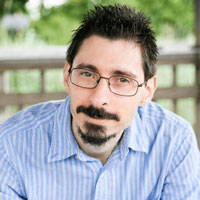 Michael T. Young, The Ration of Independence (Poetry). Michael T. Young's fifth collection, Turpentine, will be published by Terrapin Books in 2018. His other collections include, The Beautiful Moment of Being Lost, Living in the Counterpoint, and Transcriptions of Daylight. He received the Jean Pedrick Award and a Fellowship from the New Jersey State Council on the Arts. His work has appeared or is forthcoming in numerous journals including Cimarron Review, The Cortland Review, Little Patuxent Review, and Lunch Ticket. He lives with his wife, children, and cats in Jersey City, New Jersey.
---