WAITING FOR THE GLUE TO HOLD by Lorri McDole
WAITING FOR THE GLUE TO HOLD
by Lorri McDole
"Ow! Shit! MOTHER of the dear LORD!"
My teenage daughter flies into the kitchen at this Sunday morning blasphemy and then freezes, as if the knife is meant for her. I freeze too, shocked by a surge of envy. I miss being her. Miss flirting with waves instead of the undertow.
When I drop the knife and the bloody bagel, she grabs the phone.
"No, don't come home," I tell my husband. He's been waiting for us to walk into St. Matthew's sanctuary to listen to him sing Awesome God and Wade in the Water. "It's not that bad."
That's my new mantra, and whenever I say it, I see it, like it's the title of a book: It's Not as Bad as It Looks. But when he waffles, torn between faith (or at least the Lutheran Church) and family, the invisible tide heaves, threatening to spill my irreverent thoughts onto the shores of our endangered family: Get your fucking ass home, now!
Later, at Urgent Care, the doctor treats my thumb with Dermabond adhesive. Giddy to be in someone else's hands, I brag about all the things we fix at home with Super Glue: belts, sandals, sunglasses, bras. I want him to think I'm funny, and brave—I survive knives! And bankruptcies! I've survived, so far, myself.
But the doctor doesn't laugh or even smile, just says, "Then this should work just fine," as he presses my wound closed and waits for the glue to hold.
---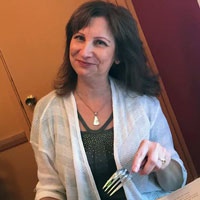 Lorri McDole's short fiction and nonfiction pieces have been published in The Writer, Sweet: A Literary Confection, The Offing, Eclectica, New Madrid, Epiphany, and Brain, Child, as well as in several anthologies that include the forthcoming Flash Nonfiction Funny. Her essay "Storms of the Circus World," which was a finalist for the Talking Writing Prize for Personal Essay, was nominated for a 2017 Best of the Net Award. She lives in the Pacific Northwest with her family.
Image credit: Pratiksha Mohanty on Unsplash