TWO POEMS by C. John Graham
TWO POEMS
by C. John Graham

THE LAW OF ATTRACTION

.
Geometrically speaking, lines
are illusion because lines have no width.
Yet we know the end from the beginning.
Velocity differs from speed
in that the latter lacks direction. At five
hundred miles per hour, a jet never
reaches the horizon.
*
The lieutenant says his mission
was accomplished.
………………………..So praise him
on the customary occasions. Any
hesitation
……………is a clip of bullets
or an orchard of flowering plums. Until
a lingering haze evaporates
from the hillside wild, until an assenting
heaven arcs stars. And still,
the canvas assembles its light—
the moths are drawn.
---
INDISTINGUISHABLE FROM BACKGROUND
The moon is gravity's drudge,
plunging perpetually
over the horizon.
………………………One face
is on fire; the other
sees only stars.
*
A solar flare spills its cargo
of particles over the tundra, searing
Earth's thin skin of gas.
……………………………….The green
blossom of oxygen
sits quietly in your lungs.
*
A few atoms of atmosphere drag
the space station down three hundred
feet a day.
…………….Its fate
is flaming debris.
*
At forty thousand feet, the brain
goes black in thirty seconds.
………………..Inside
the jet, I can't hear
the sound of the jet.
*
If the cat is sawn
in half,
………..it is still both
alive and dead. Among
a million species,
the human race amounts
to a rounding error.
The last sentence is from New Scientist, May 2015
---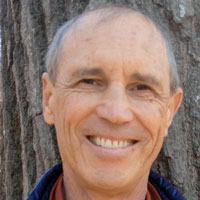 C. John Graham's poetry has appeared in The Laurel Review, Blue Mesa Review, Birmingham Poetry Review, Taos Journal of Poetry and Art, and other publications. His manuscript, Degrees of Freedom, was a finalist in the 2011 Subito Press and 2014 Slope Editions contests. He lives in Santa Fe and retired as the safety manager for Los Alamos National Laboratory's particle accelerator facility. He is building a small airplane, serves as a search-and-rescue pilot for Civil Air Patrol, and continues a lifelong spiritual inquiry.