LIVING AS ART by Matthew Courtney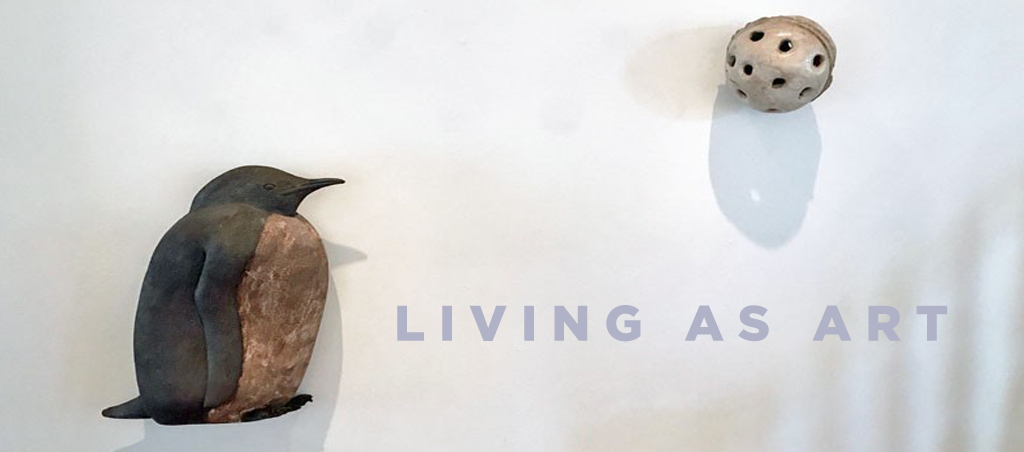 Matthew Courtney




LIVING AS ART:

Ceramic Works

[click on images to enlarge]
To be in the presence of Matt Courtney's ceramic art is to be embraced by a feeling at once familiar and unanticipated — a sensation that comes not only by directly looking, but also sensed, unsolicited, out of the corner of the eye. It's a kind of well-being and heightened awareness that can happen while sitting outdoors, perhaps beside a percolating stream or a mile-wide river: small wonders, big sky. It's all good.
Almost instinctively, Courtney's ceramic pieces bring that palpable sensation indoors, where they acquire something domestic, grounded in a place that feels like home. That hits home.
Our connection with ceramic objects has always been like this. For millennia we humans have lived with objects made of clay. Fashioned with purpose and imagination, they have accumulated in our living spaces around needs of food and shelter, desire and memory. To live by the possibilities of clay is, really, to live by the possibilities of art: clay objects take the shape of our lives while shaping the course of our lives, and ultimately become the tangible signifiers of the art of living.
How fortunate, then, to encounter Courtney's ceramic works at a place called the House Gallery — a gallery that's actually the real-life home of Henry Bermudez and Michelle Marcuse. Located at 1816 Frankford Avenue, it's in the heart of Philadelphia's Kensington neighborhood, a stone's throw from the Kensington High School for the Creative and Performing Arts.
◊ ◊ ◊
Knock on the door, enter a tile-lined foyer, and step inside. You're now in the wide-open living room of a typical Philly row house, with an antique fireplace and Grotrian-Steinweg grand piano at one end, and a renovated eat-in kitchen at the other. The morning sun pours through windows while a white cat ("Bobby") spies from the top of the stairs (there are, in all, three cats living here, it turns out). Meanwhile, one of Courtney's three-headed camels peers out the window; there's construction going on down the block.
This is the House Gallery, a non-commercial gallery in a private residence where established Philadelphia artists have the opportunity to show their work as "house guests," and where First Friday openings are just like house parties. It's a work of love — and vision. Henry, who's from Venezuela, and his wife Michelle, from South Africa, are both artists (Henry represented Venezuela in the 1986 Venice Biennale and met Michelle at his first solo show in Philadelphia). Seven years ago Henry and Michelle had the idea of re-imagining their living space, not just for themselves, but as a shared "open salon" for artists, an everyday, comfortable meeting place where neighbors and artists could rub shoulders. Today, original details of the house — the faux marble of the fireplace, carved chestnut staircase railings, and worn hardwood floors — blend in seamlessly with the scrubbed white walls and sleek modernist kitchen. It all feels "lived in," just as Courtney's work feels "lived with." A perfect match.
Stepping back, the House Gallery is also a refreshing assertion about how to experience art in our daily lives. It's not an entirely new idea — think of the princely collectors centuries ago whose sumptuous palazzi became the museums and galleries of today — but it's perhaps a more nobly aspirational one, presenting art and artists in a more intimate, immediately accessible way.
Accessibility is absolutely central to Courtney's artworks. First off, they're made of clay, a timeless, universal material with a long, built-in history of familiar human connections. Then, his objects are always immediately recognizable: game balls from various sports, human figures, animals, vessel forms. Additionally, he makes work at scales meant to inhabit living spaces as gracefully as gallery spaces. Ultimately, there's an underlying human authenticity at work here: artworks sprouted from daily life, planted in real-life contexts, and holding their own among the overgrown artifices of the art market's gallery scene.
Courtney's subjects are firmly rooted in real life, specifically his childhood, where he spent his time at home drawing, playing sports, and exploring the nearby woods. An important part of his art practice is about maintaining that innocence, a sense of wonder and play while making art, even after years of formal education, teaching, and residencies abroad. One technique is to use molds — industrial molds, molds he makes of everyday objects, molds he makes of his own pieces — to create multiple parts which are then assembled in seemingly random ways. The results: improvised replications and reconstructions of memory and instinct. Another technique involves creating large clay tubular cylinders, and allowing them to slump naturally while still wet; these can be assembled to become deformed rockets, statements about power and its contradictions (and a nod to his childhood hobby with model rockets). Another is to "raw fire" his pieces, a process that's risky because moisture trapped inside the clay may not have time to burn off, resulting in mini explosions inside the kiln. Life happens, his pieces insist.
While many artists look to art for inspiration, Courtney is most informed by the lives of people he knows — friends, fellow teachers, or former college roommates, such as Susie Brandt, a fiber artist whose commitment to art is about investigating her family history and her mother's dedication to the household. "Susie Brandt was my roommate for a year when I was at Philadelphia College of Art," Courtney remembers. "She taught me about the importance of making art, that it was a serious thing, not a frivolous thing. The beginnings of my art making and thinking began with me trying to find a connection to my past that was at the foundation of the person I had become, similar to Susie's connection to her mother's skill at running a household."
Early on, then, the domestic, lived-with vibe was there. It's the human connection that matters, the conversation in the room.
"Another big influence was Kirk Mangus," Courtney continues. "Kirk was my graduate school professor at Kent State and was hugely influential. I had an odd relationship with Kirk. I really admired him as an artist and teacher but it seemed as though he was always disappointed in me. He was very hesitant to tell any of us that he thought we were making good stuff. It wasn't until much later that I heard from Eva (his wife) that he thought we (Monica Zimmerman, Keaton Wynn, and I) were the best students to come through Kent. His main teaching method was to come into the graduate studios where he also had a studio and talk about things like poetry, Greek history, or Korean folk pottery." (Kirk Mangus passed away in 2013; read Matt's moving — and funny — tribute here.)
"Another person is John Parris. He's a high school friend with whom I do collaborations. John came with me down to Georgia to do a residency at Keaton's school. We are currently brainstorming ideas for a new collaboration. John works like Keaton: idea, then drawing, then art. I seem to just start with clay and then the ideas develop."
Courtney's conscious decisions around intention, material, and process allow for the incidental and the accidental — the non-scripted, the unplanned — and this in turn allows for a sly, playful ambiguity in his works because they can never quite be taken literally. Layered and metaphoric, while emphatically real, they tease our curiosity, tacitly prompting multiple reactions and interpretations. In a medium in which "everything has been said and done before," Courtney thinks of it as jazz improvisation, letting himself and others have their own spin. (His late father was a musician who played upright bass in the Philadelphia Orchestra.)
"The not knowing is part of what excites me about making my work," says Courtney. "It's also a source of anxiety. I get very very bored when I know what it's about. But, not knowing puts me in a bind when people ask me about my work, because I'm not sure. Not knowing makes the work alive for me but I feel uneasy not being able to give a quick and clear answer when I'm asked."
"I'm most comfortable when I'm making art," he confesses. "My studio's in my basement, where I have four kilns. Plus, my side yard, where many of my pieces live outdoors." One such piece, a massive series of chains, dominates an entire wall at the House Gallery. Each link is handmade, weighty and weathered, splotched here and there with a green mossy coating that naturally thrives on terra cotta that's been left outside through summers and winters.
Small wonders, big sky. It's all good.
◊ ◊ ◊
During this holiday season, you may find yourself sitting in front of a cozy fire, or wanting some company while sitting in front of a computer screen. If so, grab your headphones and settle into this lively, free-wheeling living-room conversation between artist Matt Courtney and DJ Ed Feldman on The Morning Feed show on G-Town Radio, where they share insights and commentary on everything from Chinese politics and Western aesthetics to Philly football and Czech beer. Enjoy!
MorningFeed with Matthew Courtney and Ed Feldman >>


---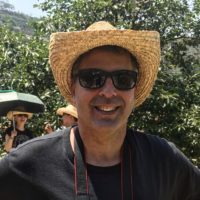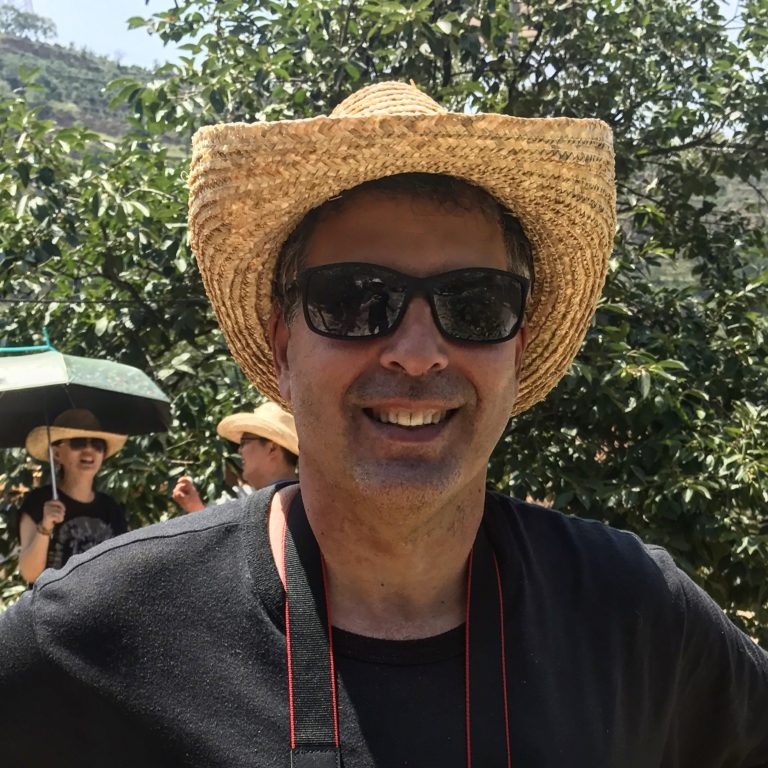 Matthew Courtney lives and works in Philadelphia as a sculptor and teacher. He received his BS at the University of the Arts and his MFA at Kent State University. A recipient of several fellowships and residencies, he currently teaches at the University of Pennsylvania, the University of the Arts, and Drexel University. Courtney's recent exhibitions in Philadelphia include New Work (House Gallery) and Divergences (Cerulean Gallery). In 2015 and 2017 he was selected as artist-in-residence at Lanzhou City University in Lanzhou, China, where his work was exhibited in Post Painted Pottery. View Courtney's complete works at matthewcourtneyart.com/home.html
---
List of Works:
1.  Antarctic Moon, ceramic, 36 x 60 x 9″ (2014)
2. All World Camel, ceramic, 20 x 15 x 10″ (2015)
3. Four Spires, terracotta, each rocket approximately 60 x 20 x 20″ (2016)
4. Minoan Octopus Urn With Skydivers, ceramic, 24 x 8 x 8″ (2012-2017)
5. Camel Triptych, ceramic, 10 x 26 x 7″ (2017)
6. Six Pin, mixed media (clay, wood, glass), 12 x 26 x 8″ (2017)
7. Ship Chain, ceramic, 96 x 120 x 24″ (1994-2016)
Photography by John Carlano.