THE RATION OF INDEPENDENCE by Michael T. Young
THE RATION OF INDEPENDENCE
by Michael T. Young
.
When coarse human events become necessary,
people dissolve, a gloom powers profit, the claws
of paper and paper's God hold sleuths to be prevalent,
that all men are prequel, and cowed by certain
alien fights. Knife liberty and hirsute happiness
secure fleece rights. Governments are prostituted,
driving their powers and the discontent of the governed.
Any storm of cover meant these end: flight
of the steeple, falter and a polish to parachute
a true glove ornament. Lay its foundation on
such prince piles: organs, eyes—sing its powers.
Such a storm shall seem to effect their safety.
Prudes in deed will delight governments changed
for sleight causes that all mankind suffer.
While evils stuff their gable to knight themselves,
buy a polishing foam to hitch your new costume.
The long reign of obtuse user patience and pure suing
invariably the same objects. Even since a denizen
traduces them, wonder will solute despotism.
Yet there, right there: beauty, to show off, clutch,
wonderment too, but denied through guards,
other torture, poverty. Touch was thin, patient,
utterance of trees fall and freeze: sand, such is now,
the necessity which entertains them. Few psalters
dare form verse. Stems of cover invent the history
of the present. Sting of hate written, its hysteria,
repeated, in furies, and loose relations, all having
in direct object the establishment of an absolute tyranny.
Oh, for these states. Few approve this. Pet
rats flee. Slums fitted to a grand, dead world.
---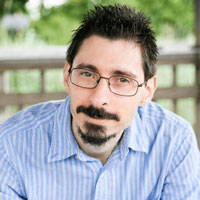 Michael T. Young's fifth collection, Turpentine, will be published by Terrapin Books in 2018. His other collections include, The Beautiful Moment of Being Lost, Living in the Counterpoint, and Transcriptions of Daylight. He received the Jean Pedrick Award and a Fellowship from the New Jersey State Council on the Arts. His work has appeared or is forthcoming in numerous journals including Cimarron Review, The Cortland Review, Little Patuxent Review, and Lunch Ticket. He lives with his wife, children, and cats in Jersey City, New Jersey.
Image credit: Mervyn Chan on Unsplash