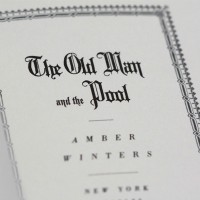 Anastasiya Shekhtman (THE OLD MAN AND THE POOL) is a senior Communication Design major at the University of Pennsylvania, minoring in Russian and Creative Writing. Displaced from Ukraine at the age of four, Anastasiya is currently chasing childhood images, sorting the real from the imagined, only to blur them again in her work. Until recently, Anastasiya lived in a love triangle between writing and design. Then she found her heart in the overlap. Visit her at  www.anastasiyashekhtman.com.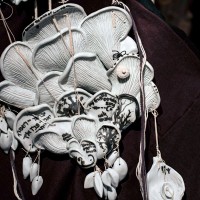 Laura Mecklenburger ("VULNERARY" AND AN ART WITCH) is a recent MFA graduate in Ceramics at Penn State University, living in Philadelphia. Her ritual-based installations and objects consist of mixed media and works on paper as well as clay, and sometimes involve performance. Mecklenburger has taught introductory Ceramics at Penn State and with the Claymobile outreach program at the Clay Studio, and she has presented on the topic of ritual in art at the National Council on Education for the Ceramic Arts (NCECA). Mecklenburger received her BA at Swarthmore College, and went on to study at the University of Massachusetts Dartmouth and Tyler School of Art before arriving at Penn State.  She hopes to build an integrated art practice that truly serves the community.
Brennan Cusack (HOW TO MASTER SOCIAL MEDIA) grew up in Santa Barbara, California. She graduated from Cate School in 2011 and is currently a junior at the University of Pennsylvania studying English with a concentration in Creative Writing. She recently arrived back from a semester abroad in Turkey.
.
.
Alina Grabowski (SCORCHER) is a sophomore at the University of Pennsylvania studying English and creative writing. Her writing has been recognized by the YoungArts Foundation and the Scholastic Writing Awards, and she was a Presidential Scholar in the Arts semifinalist in 2012. She recently participated in ICA Philadelphia's 7 Writers program celebrating the museum's 50th anniversary.
Juniper Green (DEGENERATIVE DISEASES OF THE BRAIN) is a writer at the very beginning of her career. After long periods of aimless wandering she has settled in Edinburgh, Scotland, where she is working on her portfolio as well as editing her first novel. Previously her work has appeared online in Foliate Oak and The Dying Goose.
.
.
Jason Kapcala (BUNGALESE CONSTRICTOR) lives in Morgantown, West Virginia, where he runs a series of community writing workshops for adult students. His writing has been published in Blueline, Santa Clara Review, The Summerset Review, and The Good Men Project Magazine. He is currently shopping a novel and working on his next book about a small-time rock band from a ghost town in central Pennsylvania. His website is www.jasonkapcala.weebly.com.
Jamie Lin (FLESH AND BLOOD) lives, teaches, reads and writes in Singapore. His work can be found both in print and online in Flash Magazine (UK), Relief, and QLRS. A chapter in a nonfiction anthology Altogether Elsewhere is forthcoming from Math Paper Press in 2014.
.
Molly McGinnis (BETTER) is a freshman at American University in Washington, D.C. She is the recipient of two national American Voices Medals through the Scholastic Art and Writing Awards, and has been published in The Sierra Nevada Review, The Adroit Journal, and American Literary Magazine. In her next life, she would like to be Aubrey Plaza or Hillary Clinton, even though that's a little unrealistic.
Rachel Estrada Ryan (HUNGRY) is a writer and graphic designer. Her freelance consulting firm, Both is Better LLC (www.bothisbetter.com), serves authors, nonprofits, the health care sector, and businesses large and small. Over the past decade, she's written more than forty essays and articles for local, corporate, and national newsstand publications. This is her first published piece of fiction. She is a graduate of the University of Pennsylvania, and lives in New York with her husband and three children (and one more on the way).
Gabriel Ojeda Sague (PLACES TO WALK OUT TO) is a fiction and poetry writer currently residing in Philadelphia where he studies at the University of Pennsylvania. His work has been published in Apiary and the Daily Pennsylvanian, and in his collection JOGS, a poetic rewriting of the 1977 book The Joy of Gay Sex.
When Daniel W. Thompson (DAFFODILS) was a child, his grandfather paid him five dollars an hour to clean up frozen cow patties and pull stones out of the vegetable garden. Now he lives in downtown Richmond, VA, with his wife and daughter cleaning up diapers and dog fur—no compensation offered. His stories can be found in Bartleby Snopes, Jersey Devil Press, and Literary Orphans, among others.
Shannon Sweetnam (MIRABEL RIVER GIRL, CHAMPION SPELLER) is a Chicago-based fiction writer whose work has appeared most recently in terrain.org, Crab Orchard Review and Georgetown Review. She was a finalist for both the 2012 and 2013 SLS Summer Literary Seminars, finalist for AROHO's 2013 Orlando Prize for Short Fiction, finalist for the 2013 David Nathan Meyerson Fiction Prize, semi-finalist for the 2012 Katherine Anne Porter Prize for Fiction, winner of the 2010 Jack Dyer Fiction Prize, and recipient of an Illinois Arts Council grant. She currently works as a writer at Oakton Community College in Des Plaines.
B.A. Varghese (ALL GOOD THINGS) graduated from Polytechnic University in New York in 1993 and has been working in the Information Technology field ever since. Inspired to explore his artistic side, he is currently working toward a degree in Creative Writing from the University of South Florida. His works have appeared in Apalachee Review, Rose Red Review, The Camel Saloon, Foliate Oak, and other literary journals. More at www.bavarghese.com.

Anthony Wallace (BLACK RAINCOAT, BLUE STOCKINGS) is a Senior Lecturer in the Arts and Sciences Writing Program at Boston University, where he is also Co-director of "Arts Now," a curriculum-based initiative to support the arts at BU. Tony has published poetry and fiction in literary journals including CutBank, Another Chicago Magazine, the Atlanta Review, River Styx, Sou'wester, 5-Trope, the Republic of Letters, and Florida Review. His short story "The Old Priest" won a Pushcart Prize and was published last fall in Pushcart 2013. His short story collection The Old Priest is the winner of the 2013 Drue Heinz Literature Prize and was published in September by the University of Pittsburgh Press.
Nicole Callihan (IN THE MEWS) writes poems, stories, and essays. Her work has appeared in, among others, The L Magazine,Cream City Review, Forklift, Ohio, and Painted Bride Quarterly. Her books include the 2012 nonfiction Henry River Mill Village, a documentation of the rise and fall of a tiny mill village turned ghost town in North Carolina, which she co-wrote with Ruby Young Keller, as well as SuperLoop, a collection of poems published by Sock Monkey Press in early 2014. Read Anna Strong's review of SuperLoop here.
Lauren Hall (THE MISER and POSSUM) received the 2012 William Carlos Williams Prize for Poetry at the University of Pennsylvania. Her work has appeared in NANO Fiction, The Conium Review, Eunoia Review, Apiary, and Fiction Writers Review. Lauren lives and writes in Boston, where it is probably still snowing.
Zachary Lundgren (BRANDED) received his MFA in poetry from the University of South Florida and his BA in English from the University of Colorado at Boulder and grew up in northern Virginia.  He has had poetry published in several literary journals and magazines including The Louisville Review, The Portland Review, Barnstorm Journal, The Adirondack Review, and the University of Colorado Honors Journal.  He was nominated for the 2012 AWP Intro Journals Award and was awarded the Estelle J. Zbar Poetry Prize in 2012.
George Moore (PSYCHOGENIC FUGUE) is the author of two new collections, The Hermits of Dingle (FutureCycle Press, 2013), and Children's Drawings of the Universe (Salmon Poetry, 2014).  He splits his time between Colorado, where he teaches at the University of Colorado in Boulder, and Nova Scotia, where he and his wife, Canadian poet Tammy Armstrong, are fixing up a cottage on the southern coast. His work has appeared in The Atlantic, Poetry, North American Review, and internationally for a number of years.
Patricia Colleen Murphy (THE BIRTH OF NO) teaches at Arizona State University where she is the founding editor of Superstition Review. Her writing has appeared in many magazines including Calyx, The Massachusetts Review, New Orleans Review, Seattle Review, Cimarron Review, Kalliope, Quarterly West, American Poetry Review, Green Mountains Review, Indiana Review, and The Iowa Review. Her poems have received awards from The Madison Review, The Bellevue Literary Review, Gulf Coast, and others. She runs LitMagLunch.com where she writes reviews of Lunches and Literary Magazines.
Kim Suttell (SHACKLED) is a poet living in New York City where she doesn't make a living writing poems, but who does?  She has had work published in journals such as Right Hand Pointing, Penny Ante Feud, Geist, The Cortland Review, and other journals. Please visit them at page48.weebly.com.
.
Kathy Lou Schultz (JACKSON LISTENS TO THE BIRDS) is the author of four collections of poems, most recently Biting Midge: Works in Prose(Belladona) and Some Vague Wife (Atelos). Her monograph, The Afro-Modernist Epic and Literary History: Tolson, Hughes, Baraka, is part of the Modern and Contemporary Poetry and Poetics Series from Palgrave. Schultz's articles have appeared in a wide variety of scholarly journals including Contemporary Literature, Journal of Modern Literature, and Jacket2. She is Associate Professor of English at the University of Memphis, where she directs the English Honors Program and teaches courses in African American and Afro-Diasporic literature, poetry and poetics, and modernism.
J. C. Todd (ON THE ROMANCE OF PARKLAND) is the author of What Space This Body (Wind Publications, 2008). Her work has appeared in the Paris Review, The American Poetry Review, Virginia Quarterly Review, Big Bridge, Wild River Review, and elsewhere. She has received fellowships from the Pennsylvania Council on the Arts, Leeway Foundation, Virginia Center for the Creative Arts, The Baltic Center for Writers and Translators (Sweden), and the Artist House at Schloss Wiepersdorf  (Germany). Todd teaches in the Creative Writing Program at Bryn Mawr College and the MFA Program at Rosemont. She holds an MFA from the Program for Writers at Warren Wilson College.
Royee Zvi Atadgy (AN EVEN, PERFECT BURN) currently resides in Philadelphia after returning from a three-month stint as a farmer in Israel. He works as a part-time oyster shucker and lives with his cat Bubbles in the Northern Liberties section. In his spare time, he walks around the city aimlessly looking at the architecture. Previous publications include short stories inThe Brasilia Review, Hemingway's Playpen, Nib Magazine, and Daedalus Literary Magazine.
Laurie Blauner (ASSEMBLING AN ANATOMICAL LIFE) is the author of six books of poetry, a novella, and three novels, most recently The Bohemians from Black Heron Press.  She has received several grants and awards, including an NEA and 4culture.  Her work has appeared in The Mississippi Review, New World Writing, Your Impossible Voice, The Nation, The New Republic, Superstition Review, and many other magazines.
Nick Kolakowski (THE GREAT WAVE CARRIES YOU FORWARD) is the author of How to Become an Intellectual, a book of comedic nonfiction that covers (and sometimes, lovingly skewers) everything from ancient Greek tragedies to Albert Einstein. His work has appeared in The Washington Post, McSweeney's, The Evergreen Review, Satellite Magazine, Carrier Pigeon, and Shotgun Honey, among other publications. He's also  He lives and writes in New York City.
Thompson Mayes (PIGEON) is a graduate of the Johns Hopkins Masters program in writing and wrote "Pigeon" while studying in Florence, Italy.  Currently living in Rome, Tom is the recipient of the National Endowment of the Arts Rome Prize in Historic Preservation from the American Academy in Rome, where he is writing about why old places matter.
Olive Mullet (IN SEARCH OF DEATH) is a retired English professor who taught composition and humanities for twenty-five years at Ferris State University in Michigan. She is currently a book reviewer for NewPages.com. Her work has appeared in Red Cedar Review, Sliverofstone,Dark Matter, The Cossack Review, Cigale Literary Magazine, Emerge Literary Journal, and others.
Justin Nicholes (A SAD, LOGICAL CAPITULATION) received an MFA from Wichita State and is the author of the novels River Dragon Sky (2012) andAsh Dogs (2008). His stories have appeared in The Saint Ann's Review, Prick of the Spindle, The Summerset Review, Stickman Review, Sassafras, Outside In, The Medulla Review, and elsewhere. He's the chief editor of The Pavilion and teaches English composition in China.
.
Ray Scanlon (ARACHNICIDE) is a Massachusetts boy. He has grandchildren, and is extraordinarily lucky. No MFA. No novel. No extrovert. Not averse to litotes. His work has been published recently in Prime Number Magazine, Camroc Press Review, and Stymie. Find him on Twitter @oldmanscanlon. On the web he can be found at http://read.oldmanscanlon.com/.
Robert Wexelblatt (MARCH 5, 1953) is professor of humanities at Boston University's College of General Studies. He has published essays, stories, and poems in a wide variety of journals, two story collections, Life in the Temperate Zone and The Decline of Our Neighborhood, and a book of essays,Professors at Play. His novel, Zublinka Among Women, won the Indie Book Awards First Prize for Fiction. His most recent book is a short novel, Losses.
Rick Bailey (ALL EARS) grew up in a one-stoplight town in the Michigan farm belt, then moved to the Detroit area, where he teaches writing at Henry Ford Community College. His essays have appeared in The Writer's Workshop Review, Journal of Microliterature, Ragazine.cc, Defenestration, and Drunk Monkeys among other publications.
.
.
Jane Carroll (WINGS TO GO) is a writer and editor for a nonprofit organization. She studied art at Stockton College and received a master of liberal arts degree from the University of Pennsylvania. Her work has been published on Literary Mama. She lives in Philadelphia with her husband and daughter.
.
Melissa Duclos (CONFESSIONS OF A FACEBOOK MOM) received her MFA in creative writing from Columbia University, and now works as a freelance writer and editor, and writing instructor. She is a regular contributor to the online magazine BookTrib, where she writes book reviews and lifestyle articles. Her fiction has appeared in Scéal literary journal. Her first novel, Besotted, is a work of literary fiction set in Shanghai, for which she is seeking representation. She lives in Portland, OR, with her husband, two children, and Yorkshire Terrier, Saunders.
Michael G. Smith (BEYOND RIVER, BEYOND CANYON) is an early-retired chemist. His poetry has been published in many literary journals and anthologies, including Borderlands: Texas Poetry Review, Cider Press Review, the Kerf, Nimrod, the New Mexico Poetry Review, the Santa Fe Literary Review, Sulphur River Literary Review and Superstition Review. He has had writing residencies at Jentel (Banner, WY) and with the Spring Creek Project (Oregon State University) at Shotpouch Cabin and the HJ Andrews Experimental Forest. His website is michaelgsmithpoetry.com.
Mary van Ogtrop (THE LAST ONE IN) has published prose and poetry in the Haverford Review and The Spur Journal. Her current work investigates the boundaries of nonfiction through experiments with fact-based storytelling. A Delaware native, Mary currently lives in San Francisco, where she works at music service Rdio as a senior copywriter while pursuing an MFA in creative nonfiction at the University of San Francisco.
Shannon Viola (IN MY TIME) has been published in the 2006 edition ofAnthology of Short Stories by Young Americans, Teen Ink, and Calliope, and she recently won the 2013 Mayborn National History Writing Contest. Shannon has attended the New England Young Writers Conference at Bread Loaf, and she runs a local writing group in her hometown.