IN THE MEWS by Nicole Callihan
Nicole Callihan
IN THE MEWS
Two feuding gardens are thought to be responsible for the most recent blooming. According to the rain, in late summer, a band of tiger lilies recruited a pack of peonies, and those peonies, comely as they seem, have been holding stamens against the backs of wandering clouds. I'm ashamed to admit that I don't really notice when things blossom on the other side of town. In my tidy neighborhood, I tend to my little potted plants and sing them well, hardly ever forgetting to water them. Nights, I wipe their leaves with a soft, clean towel. It's true what they say about talking to them: my baby gets bigger and bigger, flush and blush; the window crowds with her brush. I had thought my street so safe, my safe street, I might have called it, even though it is a city street and not even country roads are safe, what with their rocky turns and sandy hooks. Neighbors say they heard the blooming but decided it was just a truck. Me: I sat on the corner seeking solace from the concrete and stuffing petals into the little prayer pockets of my mouth.
---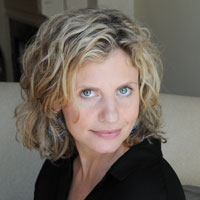 Nicole Callihan writes poems, stories, and essays. Her work has appeared in, among others, The L Magazine, Cream City Review, Forklift, Ohio, and Painted Bride Quarterly. Her books include the 2012 nonfiction Henry River Mill Village, a documentation of the rise and fall of a tiny mill village turned ghost town in North Carolina, which she co-wrote with Ruby Young Keller, as well as SuperLoop, a collection of poems published by Sock Monkey Press in early 2014. Read Anna Strong's review of SuperLoop here.
Image credit: wavingatyou on Flickr
Read more from Cleaver Magazine's Issue #5.