PSYCHOGENIC FUGUE by George Moore
PSYCHOGENIC FUGUE
by George Moore
Every time I leave home I begin a new life.
I am a boy again, sometimes a girl.
My memories are so discrete that they talk to each other,
gather in rooms, develop friendships without knowing.
My wives and husbands are the victims of love.
My children all disappear into the crowded river of years.
I like to think I was once an artist,
once a musician, a technician, a gambler, a fool.
In the end, I can only recover who I am,
after the sun warms my many faces,
there is nothing left but the moist earth, the call
of exotic birds, and then I rise from a dozen graves.
---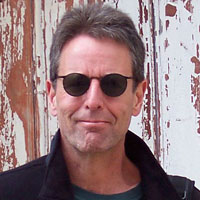 George Moore is the author of two new collections, The Hermits of Dingle (FutureCycle Press, 2013), and Children's Drawings of the Universe (Salmon Poetry, 2014).  He splits his time between Colorado, where he teaches at the University of Colorado in Boulder, and Nova Scotia, where he and his wife, Canadian poet Tammy Armstrong, are fixing up a cottage on the southern coast. His work has appeared in The Atlantic, Poetry, North American Review, and internationally for a number of years.
Image credit: ciadephoto on Flickr